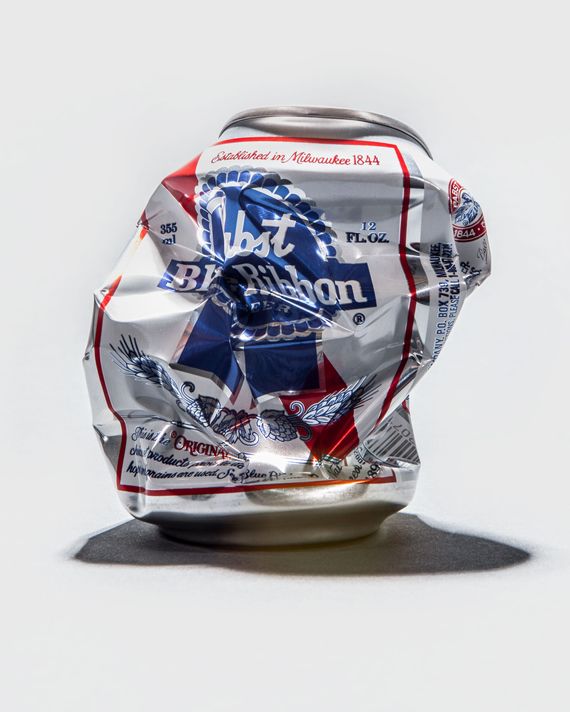 A lawsuit could decide the beer's fate.
Photo: Jed Egan
There was a time, not so long ago, when Pabst Blue Ribbon and the term "hipster" were more or less synonymous. The watery budget brew was catnip for urban creatives, and business was thriving. In 2003, when the Times first took notice of PBR's bike-messenger cachet, the paper reported that sales had risen 5.3 percent the year before. It was the start of a boom. By 2009, sales were growing by 25 percent. In 2011, someone went on record with the Chicago Tribune to call it "the nectar of the hipster gods." David Chang put it on tap when he opened a Momofuku outpost in Toronto.
The beer's cultural bona fides were always something of an instant cliché, but now PBR is in danger of receiving the ultimate badge of hipster credibility: being killed by big business.
Despite the name of the Pabst Brewing Company, they don't brew the PBR that was beloved by everyone living in Williamsburg in 2009. For years, Pabst has outsourced its beer-making to MillerCoors, a relationship that has suddenly gone sour. The two companies are locked in a half-billion-dollar court battle that, some say, could spell the end of PBR, as well as many other beer brands that Pabst owns. Pabst currently pays MillerCoors nearly $80 million a year to brew its beer; MillerCoors says that, after 2020, it may no longer have the necessary resources available, and is threatening to let the contract expire unless Pabst agrees to a fee that's closer to $200 million per year, an amount that Pabst contends would "bankrupt us three times over."
"They should've been building big Budweiser-esque breweries all around the country 20 years ago," says Matt Simpson, who runs the beer-consultancy business Beer Sommelier. Instead, if the deal really does end, Pabst will struggle to live on because there's just no place available to brew as much beer as they need (which, in the industry, is measured in "barrels"). "It becomes an existential issue for Pabst," says Eric Shepard, the executive editor of the trade publication Beer Marketer's Insights. The four to four-and-a-half million barrels of brewing capacity that the company needs, Shepard explains, "are just not out there."
The Pabst Brewing Company got its name in 1889 when Frederick Pabst, a German sea captain, decided on a career change after running his ship aground off Lake Michigan. He bought his father-in-law's brewery, Best and Company. In 1893, Pabst's beer did win a brewing competition at the 1893 Chicago World's Fair, which the company celebrated by tying blue silk ribbons around every beer for the next three decades. The thought of a world without PBR is shocking, if only because throughout its nearly 200 years of existence, PBR has been more or less unkillable. (Pabst survived prohibition by selling millions of pounds of Pabst-ett, a "delicious cheese food" that bore an uncanny resemblance to Velveeta.)
Ownership jumped around in the ensuing years, and Pabst closed its flagship Milwaukee brewery in 1996. When Pabst's last brewery, in Fogelsville, Pennsylvania, closed in 2001, it shifted brewing responsibilities to Miller. In the meantime, Pabst was also focused on buying plenty of beer brands that weren't PBR, including Lone Star, Schlitz, and Schaefer ("the one beer to have when you're having more than one"). "We own 77 brands, and 50 of them are dormant," current owner Eugene Kashper told a New Jersey paper in 2015. "We have a virtual monopoly on American heritage brands."
What Pabst doesn't own is a brewing complex to make its beer. The company did recently offer $100 million for a shuttered facility in North Carolina, but that brewery's owner, which is — wait for it — MillerCoors, made a counter offer of $750 million, effectively ending negotiations.
Pabst is stuck. Its products are brewed, packaged, and distributed by a rival who seems to have no interest and, MillerCoors's lawyers argue, no obligation to keep the relationship alive. Now, according to the AP, Pabst "is seeking more than $400 million in damages and for MillerCoors to be ordered to honor its contract."
The situation for Pabst is precarious enough that people in the industry have started to openly wonder what happens if, or when, the deal with MillerCoors expires. Cornell University brewing expert Kaylyn Kirkpatrick  says the logistics of brewing as much beer as Pabst does now "would be very challenging" but not necessarily impossible if Pabst allowed its various brands to be brewed by different companies: "Larger brands like Yuengling could brew some of them. Genesee might have another million barrels of capacity. Maybe Boston Beer Company" — which brews Samuel Adams — "could take another brand."
Simpson, the beer consultant, stresses that regardless of the courtroom outcome, Pabst can only blame itself: "When you contract brew, you do so at the luxury of another brewer," he says. The only good outcome for Pabst is if its lawyers "can prove MillerCoors is acting in bad faith, that there's been a breach of contract." Otherwise, he says, "Pabst is just — to use an industry term — SOL." From there, it might only be a matter of time before we all have to use a different acronym when we talk about PBR: RIP.
After this story's publication, Pabst and MillerCoors reached an agreement to continue brewing PBR and the company's other beers.