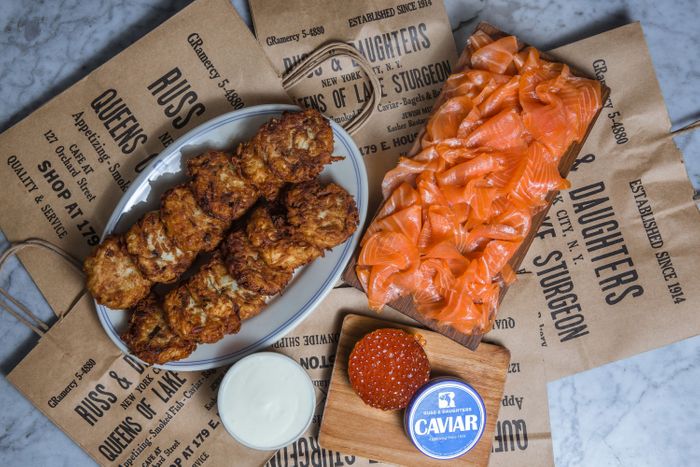 Now that's a spread.
Photo: Scott Heins
This Sunday marks the first night of Hanukkah, which means eight nights of gifts, menorah lighting, and observance. And also: truly amazing food with which to celebrate the holiday. Here are some of the best and brightest ways to partake in Hanukkah, whether it's eating every latke you can find or sitting down for a meal of all the Jewish delights you can imagine. Here's how to celebrate Hanukkah, 2018 in New York City.
Go all-out with the "Chanukah Deluxe" from Russ & Daughters
Whether you're hosting your own shindig or want to give someone else the gift of Hanukkah, you can't go wrong with the $169 Chanukah Deluxe package from Russ & Daughters. For the holiday, the 104-year-old Jewish deli has put together a real spread, featuring 12 potato latkes, one pound of sliced smoked salmon, a jar of creme fraiche, and a tin of Alaskan salmon roe, all in an insulated bag. You can either pick it up in-store, have it delivered, or ship it to someone who isn't lucky enough to live so close to one of the best delis in the world.
Teach the kids about Hanukkah (or just keep them entertained for a few hours) at the Jewish Museum
Unlike Thanksgiving, Hanukkah isn't just about the food. So, for those who want to turn the holiday into something of a learning experience, the Jewish Museum is hosting an artsy and educational Hanukkah Family Day starting at 11 a.m. on December 2. Activities include found-object menorah sculptures, painted holiday scenes inspired by artist Marc Chagall, the story of Hanukkah told through a live drawing performance, and two performances by Josh and the Jamtones. The event is free with museum admission and totally free for children under 18.
Get a box of sufganiyot from Underwest Donuts or Breads Bakery
In case you missed it, the folks at Underwest Donuts make some of the finest doughnuts this city has to offer, so you won't want to miss out on their limited edition sufganiyot, a.k.a. traditional Hanukkah jelly doughnuts. The shop will have two varieties of brioche doughnuts: One with raspberry-pomegranate jam and one with salted caramel milk chocolate cream. Both are topped with mini Stars of David and dreidels, to remind you of the reason for the season. Meanwhile, Breads Bakery, home of the city's best babka, will have their own take on the treats with strawberry, chocolate, vanilla, and halvah varieties at $3.50 each or $33 for a box of 12.
Enjoy a modern Israeli feast featuring a Brooklyn chef at the James Beard House
It's unclear if the timing was intentional, but the James Beard House just so happens to be hosting a modern Israeli dinner on the last day of Hanukkah this year. For the event, they've tapped chef Tomer Blechman of Miss Ada in Fort Greene and Ronen Tenne, the founder of D.C. fast-casual chain Little Sesame, to prepare the meal. They've also recruited Alexis Percival and Patrick Cournot of Ruffian Wine Bar in the East Village to pour all night long. Expect falafel, seared halloumi, braised lamb shawarma, za'atar-crusted salmon and more. Tickets are $140 for Beard House members and $180 for non-members. Buy them here or call 212-627-2308.
Grab a loaf of seasonal olive oil bread at Seven Grams Coffee
Did you know the oil featured in the story of Hanukkah likely would have been olive oil? To mark the holiday, all three locations of coffee shop/bakery Seven Grams Caffé are selling a special loaf made with extra-virgin olive oil and a hint of orange zest. Don't live in New York? The company is also shipping their bread via FoodyDirect.
Get Épicerie Boulud to cater your fancy Hanukkah gathering
If you want a classic Hanukkah meal with a side of French panache, Épicerie Boulud has put together a massive menu of mains and sides that will truly impress. Among the options is a Hanukkah brisket dinner for six with matzo-ball soup, chicken liver mousse, challah, honey apple cakes, and more, as well as herbed potato latkes, a Mediterranean meze platter, sweet potato gratin, and a rack of lamb topped with cipollini onions and an herbed lamb jus. Pick it up in-store or get it all delivered via Goldbely.
Try 25 different takes on latkes at the Brooklyn Museum
It wouldn't be Hanukkah in Brooklyn without the annual Latke Festival at the Brooklyn Museum. On the evening of December 3, the museum will showcase different takes on latkes from 25 different chefs and food purveyors, including Jacob's Pickles, Veselka, and Fonda, with a panel of 14 judges who will be tasked with choosing the best latke in New York City. Attendees, meanwhile, can just sit back and eat as many latkes as their hearts desire. Net proceeds from the event will benefit the Sylvia Center, a nonprofit that teaches cooking skills to young people living in underserved areas. Purchase general admission ($75) and VIP ($120) tickets here.
Line up for free latkes at Katz's Deli in downtown Brooklyn
Should you find yourself near Dekalb Market this Hanukkah, stop by its Katz's Deli outpost for totally free latkes. Each night, the famous Jewish deli will give out potato pancakes to the first 100 people to show up. It's as simple as that.
Laugh at Hanukkah-themed jokes at the Third Annual Chanukahstravaganza
The Marvelous Mrs. Maisel isn't the only place to get a proper dose of Jewish comedy. On Saturday, December 1 at 7 p.m., comedians Lana Schwartz and Ilana Michelle Rubin will gather their favorite Jewish standups for a night of Hanukkah-themed jokes at Union Hall in Gowanus. And in case you get a little peckish, there will also be snacks. Tickets start at $8, buy them here.
Go to Mekelburg's for babka "menschkins"
For those who have a hard time eating an entire loaf of babka (our sincerest sympathies), the Mekelburg's team is marking the Hanukkah season with the permanent addition of babka "menschkins" to the menu at its new Williamsburg location. In case you missed the joke, that's a play on munchkins, so expect delicious little balls of cinnamon-y, enriched dough that pair surprisingly well with babka beer.
Bring the holiday into the future with a thoroughly modern Hanukkah feast from Mile End Deli
Mile End stands out as one of the finest new-school delis here in New York, so it's no surprise that their take on Hanukkah features a few tweaks. For the holiday, the shop will cater your event, providing gluten-full as well as gluten-free latkes with a choice of apple sauce, sour cream, smoked whitefish mousse, caviar creme fraiche, smoked salmon, or trout roe as toppings. You can also order a box of fresh sufganiyot doughnuts, hot dogs in a blanket with maple mustard, za'atar chicken skewers, and schnitzel fingers, if matzo ball soup and chicken liver (also available) don't do it for you. To put in your order, simply call 646-617-3188 or shoot an email to catering@mileenddeli.com.
Eat your way through five courses of Russian-Jewish fare at Casa Publica
On Thursday, December 6, the Jewish Food Society will team up with Casa Pública in Williamsburg to host a multi-course dinner based on Russian Jewish cuisine. In between shots of vodka, chef Sasha Shor (formerly of Tres Carnes) will serve a menu featuring borscht, Cornish hens with garlic and walnuts, latkes with smoked fish, and more, with Fany Gerson of La Newyorkina and Dough Doughnuts on hand for dessert. Former Saveur editor Adam Sachs will also chat with Shor about the importance of preserving family recipes. Purchase tickets here.