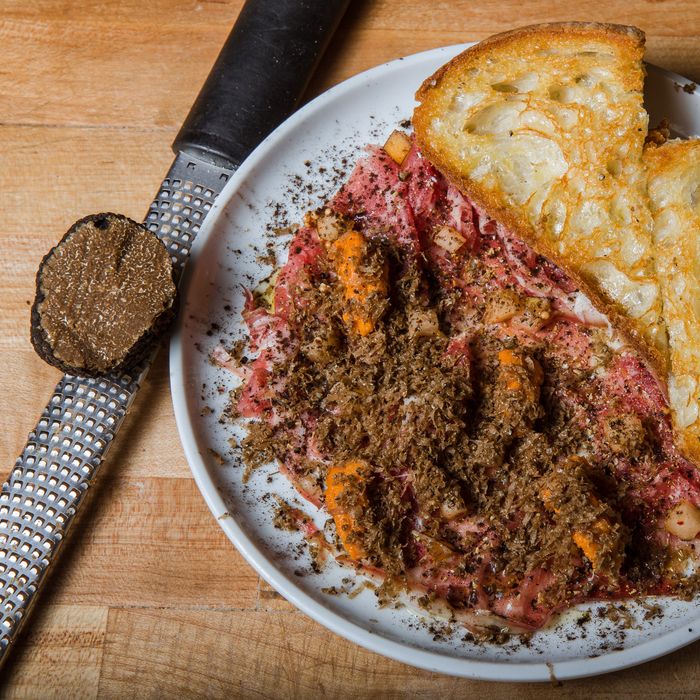 Ferris's dry-aged beef carpaccio with uni and truffles.
Photo: Scott Heins
Truffles are the ultimate autumnal luxury signifier, with servers around the city shaving them onto all manner of pasta, risotto, eggs, steak, you name it. The catch: Any menu item that features the "T"-word can cost nearly as much as a flight to Alba. But that's not always the case, and bargain-minded truffle loons will be happy to know that black truffles can be found at what you might call affordable-ish prices at some of the city's most exciting restaurants. Here's where you can get your fix without busting up your bank account too badly.
Whipped Truffled Cheese and Baguettes
Where: Bistro Pierre Lapin
How Much: Complimentary
Free truffles? So, what's the catch? At this French restaurant, every table is given free bread with whipped cheese made with chopped truffles, preserved truffles, goat cheese, and cream cheese, all rolled in shaved almonds. (The catch, it seems, is that there are other truffle dishes: a $17 truffled matzo ball in consommé and a $47 pommes aligot with truffes.)
Dry-aged Beef Carpaccio
Where: Ferris
Price: $38
The Made Hotel's hit restaurant is one that actually offers a reasonable truffle supplement ($20 for 4 to 5 grams) on a handful of dishes, including an off-menu special of dry-aged beef and Maine uni.
Jumi Truffle Raclette
Where: Foster Sundry
Price: $34.99 for a pound
Thinking about truffling your dinner party? This excellent raclette, which only recently entered the U.S. market, is smooth, creamy, and dotted with truffle, giving it an added layer of savory earthiness.
Boudin Blanc
Where: Frenchette
Price: $24
The Underground Gourmet says Frenchette's lunchtime boudin blanc is one of the best new things to eat in New York. Make it even better with shaved truffles for a mere $5 more, and have a $9 appetizer of sliced mortadella on a brioche bun with pecorino and shaved truffles.
Gilded Chicken Dumplings
Where: Little Tong
Price: $12
RedFarm has its truffle soup dumplings; Little Tong has truffle-chicken dumplings served in a truffled chicken broth with royal trumpet threads and arugula, and at a very affordable price.
Toasted-Rye Cavatelli
Where: Narcissa
Price: $24
This cavatelli, made from nutty toasted rye, is served with parmesan, oyster mushrooms, rosemary and thyme, and black truffles.
Rutabaga Tagliatelle
Where: Olmsted
Price: $23
At this neighborhood favorite, faux-tagliatelle made with thinly shaved rutabaga gets tossed in a brown butter sauce with sautéed truffles. That's then topped with shaved parmesan and, for good measure, some chopped truffles.
Tuna Bistec Russe
Where: Saint Julivert
Price: $26
The excellent new seafood spot serves a Sunday special that's a seared blend of beef, tuna, and bone marrow with black truffle and a black garlic mayo.
Truffle Tempeh
Where: Sans
Price: $26
Truffles aren't just for steaks: At this vegan Carroll Gardens restaurant, tempeh made in-house is served with a celery root puree, olive oil, and a garnish of black truffle.
Chestnut Cappelletti
Where: Simon & the Whale
Price: $25
It's twice as nice: There's both a truffled cream sauce and shaved Burgundy truffles in this dish of chestnut cappelletti from the Italian-ish restaurant at the Freehand Hotel.