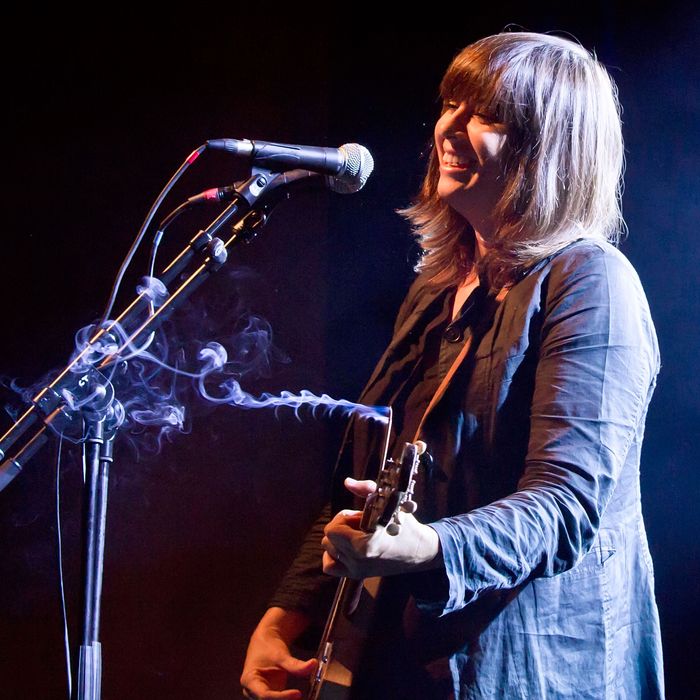 Cat Power.
Photo: Frank Hoensch/Redferns via Getty Images
Events to check out this weekend, November 29 to December 2.
1. See some foliage get lit.
The Christmas trees are here! While you may have missed the lighting of the superstar specimen at Rockefeller Plaza yesterday, there are two opportunities to make up for it today: one at the Central Park Conservancy, which will conclude with the lighting of a flotilla of trees on the Harlem Meer; the other at the New York Stock Exchange, beginning at 2:30 p.m., with free performances by the Rockettes, Ray J, Anastasia the Musical, and more. On Saturday, Astoria Park lights their tree up, and on Sunday, trees all along Park Avenue will be sparkling and Santa will be making a visit to the tree-lighting at the Queens Botanical Garden. Extra stocking stuffers if you hit them all.
2. Be chill.
He may make it all seem effortless but Kurt Vile is one of the most prolific, perfectionistic musicians out there. This year's Bottle It In may have taken him over two years to finish, but he's still made an impressive seven solo albums by the age of 38 (not to mention multiple EPs, his work with the War on Drugsm and a collaborative LP with Courtney Barnett). Plus, he's been a roadie on Portlandia, opened for Neil Young, and — the highest honor, indeed — was an answer on Jeopardy! Catch Vile with his band, the Violators, and opener Frankie Cosmos, tonight at Brooklyn Steel. $1 from every ticket sold goes to the ACLU.
3. Applaud some stellar comedic employees.
His television show may be called Adam Ruins Everything, but tonight at the PlayStation Theater, Adam Conover does the opposite for comedy, with great hair, to boot. After that, you can hit the Bell House on Friday when hit podcast Las Culturistas brings friends onstage to air their grievances in a live edition of "I Don't Think So, Honey!" And on Saturday, Catie Lazarus interviews guests with cool jobs, including Jeffrey Wright and WNYC's Brian Lehrer, for her show "Employee of the Month."
4. Learn lifesaving techniques.
In The Good Swimmer, which runs through this Saturday, December 1, at BAM, a young lifeguard is haunted by the memory of the one person she could not save: her brother, who died in Vietnam. With music by Heidi Rodewald (Passing Strange) and lyrics by Donna Di Novelli, the performance — which is part of the Next Wave Festival — repurposes text from an old lifesaving manual as guidance for young soldiers in the war, and sets it to rock beats.
5. See some radio IRL.
Like a warm bowl of mac and cheese, Live From Here with Chris Thiele beams into your home week after week with its folksy radio drama. This Saturday see the show IRL at the Town Hall, with performances from Cat Power and John Batiste.
6. Have your choice of nuts.
How do you like your Nutcracker? Sweet and traditional and Balanchine-esque? Or dark and dirty and burlesque? Have your pick this weekend as the classic holiday tale of toys come to life returns … to life. See the New York City Ballet's version at Lincoln Center, or Company XIV's risqué Nutcracker Rouge at their theater in Bushwick. "Dance of the Sugar Plum Fairy," indeed.
7. Sip some craft spirits.
Feel like a whiskey from Wyoming? How about a fruity gin from Germany?  Pick your poison at the Brooklyn Whiskey and Craft Spirits Fest this Saturday at the Brooklyn Expo Center in Greenpoint. Choose from a hundred different styles of booze and enjoy some live music. There are two sessions, and tickets include a 5-oz. cup and unlimited tastings.
8. Ogle things that go vroom.
You may not have the guts to get yourself a sweet hog, but you can still admire them up close. From Friday to Sunday, the New York Motorcycle Show at the Javits Center showcases the best things in two wheels. See demos, get your gear checked, admire everything from scooters to ATVs to dirt bikes and vintage bikes, and, hey, if you get up the courage to buy one, it's all right there for the taking.
9. Have a screaming good time.
Through Sunday, filmmakers compete to make you scream at the NYC Horror Festival, at Cinépolis Chelsea, which this year honors the Candyman himself, Tony Todd. See films like Nightmare Cinema, about a haunted movie theater; or maybe your taste leans more towards Killer Unicorn, in which a killer in a unicorn mask goes after drag queens. An enema party is involved. Nightmares come in all forms.
10. Find an eccentric gift.
Looking for a unique token for the person who has everything? Try the Holiday Oddities Flea Market at the Brooklyn Bazaar this Saturday and Sunday. There you'll find medical curiosities, anatomical anomalies, jewelry, taxidermy, home décor, and all kinds of unusual ephemera, plus — you'd better believe it — a special booth by Ripley's Believe It or Not!, which is a sponsor.