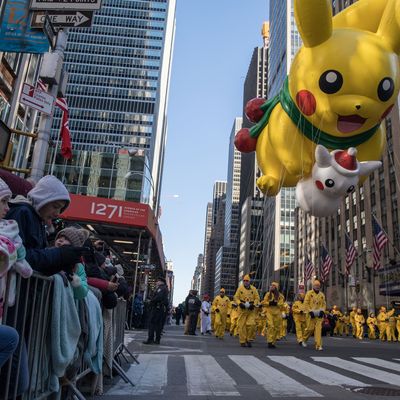 Photo: Maite H. Mateo/IEW press/Corbis via Getty Images
Events to catch this Thanksgiving weekend, November 21 to 25.
1. Get pumped for balloons.
The real way to check out the big Thanksgiving parade is to check out the balloons up close and personal tonight during the annual inflation. See your faves like Pikachu and Charlie Brown go from flab to fab, and it's all free. Enter at 79th Street and Columbus Avenue to eventually make your way to the streets around the American Museum of Natural History, where the action takes place. Then, should you want to brave the cold, come back tomorrow to see the floats in action in the parade, which kicks off at 9 a.m. (Or just watch it on TV.)
2. See a new one.
Comedian and filmmaker Mike Birbiglia has made the leap to Broadway with his heartfelt one-man show The New One, a family affair with additional writing by his wife, poet Jennifer Hope Stein. He'd rather you attend the show to find out what it's about, but if you can't wait, he did reveal some information when he recently appeared on Kimmel. He also brought his urologists.
3. Spice up your leftovers.
You know what your Thanksgiving leftovers need? Ginger, in the form of celebrated southern queen and RuPaul's Drag Race All-Star Ginger Minj, who has shows on Friday, Saturday, and Sunday (a double-header) at the Laurie Beechman Theatre. Spring for the VIP ticket and there may even be a meet and greet.
4. Listen to a poet who knows it.
If you've been itching to see Nobel Prize-winner Bob Dylan in concert, this is your lucky week. The singer-songwriter — who also has a Pulitzer Prize for his contributions to music and American culture — plays a string of dates in support of More Blood, More Tracks: The Bootleg Series Vol. 14, a collection of leftovers from the recording sessions for 1975's Blood on the Tracks. The tour kicks off Friday and Saturday, then again Monday and Tuesday, and beyond into next week, at the Beacon Theatre.
5. Dance off the turkey.
You've eaten all the Thanksgiving things. Now what? Electro-rock duo Death From Above has the solution: dance. Among other things, they're playing their 2002 debut Heads Up in full at Elsewhere on Friday. Also on Friday, hip-hop pioneers Cam'ron, Jim Jones, Juelz Santana, and Freeky Zekey, a.k.a. the Diplomats, a.k.a. Dipset, are at the Apollo Theater in support of a new album, Diplomatic Ties. And the massive-selling Catalan techno-house carnival known as Elrow returns this Saturday with an event themed "The Rowmuda Triangle" at Avant Gardner. The concept is that a giant storm tipped over your boat, and now you're partying underwater with DJs and circus-like performers. So the only appropriate costume, logically, will be scuba gear.
6. Catch a rapper who acts …
Actor, rapper, and 50 Cent adversary Ja Rule is currently on a tour to quench our nostalgic thirst. Ain't it funny? See him on Saturday at Sony Hall in Times Square (formerly the Diamond Horseshoe, mirror ball still intact) — provided 50 Cent doesn't buy all the good tickets first.
7. … and an actor who sings.
Actor Michael Shannon is a man of many talents. One of them is singing. This Sunday at Joe's Pub, he'll be covering R.E.M.'s classic album Fables of the Reconstruction with a band that includes Annie Nero (Yellowbirds, Bandana Splits, Craig Finn), Ray Rizzo (Josh Ritter, Bob Weir, Motherlodge), Michael Quoma (Dog Adrift, Balthrop Alabama), and more. Plus, live drawing by Michael Arthur. Why? Why not?
8. Visit a Supreme being.
You can't hurry love, but this week you can see Mary Wilson, legendary singer and founding member of the Supremes, as she makes her Café Carlyle debut. Through November 24, she'll be sharing stories and performing hits from her career, as well as from the Great American Songbook.
9. Get ready for train(ing) day.
Children and ferroequinologists will delight in the holiday train tradition this weekend in not one but two parts of the city. Up at the New York Botanical Gardens, the enchanting Holiday Train Show is back, with 175 New York landmarks created from natural materials like bark and leaves. This year, Lower Manhattan is being showcased and it will all look especially lovely after cocktails at the adults-only Bar Car Nights on November 23 and 24. Meanwhile, at the New York Transit Museum's Grand Central annex, is the annual Holiday Train Show, with Lionel trains traveling along a 34-foot long track with a backdrop designed by artist Ebony Bolt. While there, stop by the pop-up Moët Hennessy Personalization Studio for customized boozy gifts.
10. See an icon in a new light.
Think you know Andy Warhol? You haven't seen Andy Warhol like this. An artist — who fundamentally understood the power of images, who was sometimes shunned by the art world, whose fame was so large that he was internationally recognized just by his haircut — is distilled to his pictorial form. Our critic Jerry Saltz says of Warhol's new retrospective at the Whitney: "It isn't to be missed."