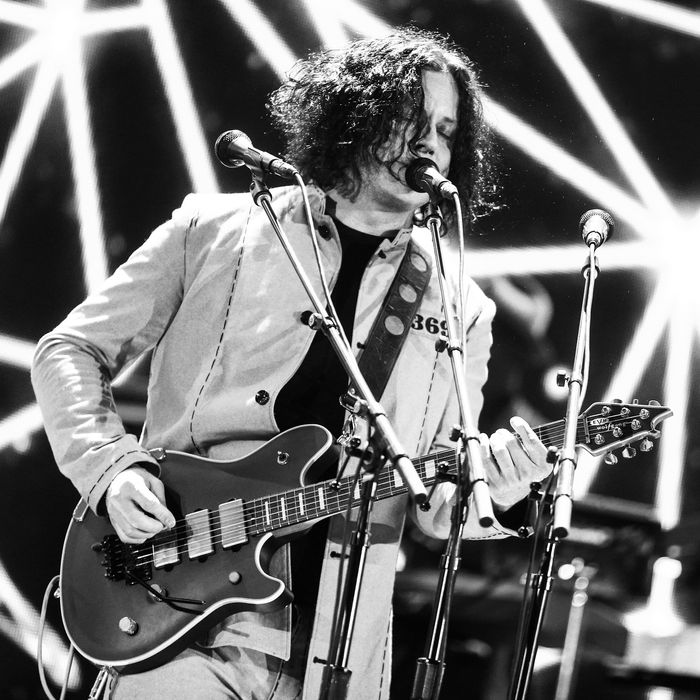 Jack White hits the Kings Theatre.
Photo: Rich Fury/Getty Images
Events to check out this weekend, November 15 to 18.
1. Stop, listen to collaborators.
Both music and lit lovers will enjoy Pulitzer Prize-winning poet Paul Muldoon's "Against the Grain," a new collaborative series featuring writers, poets, multimedia specialists, political commentators, and more, all making art reflecting the complexities of today. Come out to National Sawdust tonight for electronic duo Matmos, Jennifer Egan (A Visit from the Goon Squad), and Kevin Young, director of the Schomburg Center for Research in Black Culture, poet, and author, most recently of Brown and Bunk: The Rise of Hoaxes, Humbug, Plagiarists, Phonies, Post-Facts, and Fake News.
2. (*Missy Elliot voice*) Werk it.
You know who's exploded in the podcasting industry in the past few years? Women. So much so that there's a whole festival dedicated to the women shaping the world of podcasting today. Through November 17, Werk It festival takes over various venues with events like tonight's taping of the brand-new podcast My Best Breakup, in which comedian Maeve Higgins gets the story behind the breakups of guest Ashley Ford. Tomorrow, NPR's Code Switch will tape live at the Apollo, featuring a discussion race, culture, and identity with guests Marcus Samuelsson and Denice Frohman.
3. Get animated.
Sure, Friday-through-Sunday's Anime NYC convention has panels, exhibits, screenings, concerts, and cosplay meet-ups, but did you know that there's also food programming? The Ramen Summit brings together Keizo Shimamoto of Ramen Shack and Ramen Burger and Kenshiro Uki of Sun Noodle on Sunday, along with Mike Satinover (Akahoshi Ramen, Chicago), David Chan (Nichijou Ramen, Sacramento), and Josh Reisner (a finalist from MasterChef Junior's second season) to discuss the state of the noodle in America and in the future. And just in time for the cold weather, through Saturday at Lower Manhattan's experimental Ramen Lab, you can also try three limited-edition bowls, collaboratively concocted by the panelists.
4. Stand up for Human Rights.
At the intersection of art and society, plus honorary co-sponsors including Barbra Streisand, Norman Lear, Amy Poehler and Kathleen Turner — is the International Human Rights Arts Festival, a week of over 30 advocacy events and performances currently happening at the Wild Project in the East Village, through Sunday. See dance projects exploring incarceration and immigration on Thursday, the signature Celebration of Justice event on Friday (with NYC human rights commissioner Carmelyn Malalis, Chinese democracy activist Wei Jingsheng, and more), traditional Indian Dance and discussion on Saturday, and much more.
5. Listen to some folks who project.
After a core-member breakup, the Dave Longstreth-led Dirty Projectors has risen anew, with this year's upbeat Lamp Lit Prose, which you can hear music from at two shows on Sunday (and one on Monday), at Elsewhere in Brooklyn. And Jack White may not have made it into A Star is Born, but on Friday and Saturday you can see the man himself at Kings Theatre in support of this year's Boarding House Reach. Mr. White Stripes not only hates homophobes, he's also pretty serious about banning smartphone-recording — be ready for them to Yondr up your phones at the beginning of the show.
6. Sip cocktails for a cause.
This Sunday kicks off Speed Rack Season 8, a round-robin-style, tristate competition between top female bartenders that raises money for breast cancer charities. Drink expertly made cocktails while doing some good. It's a win-win! It all goes down in Long Island City.
7. Be a part of the creative process.
Jon Glaser is absurd and hilarious and he really loves gear. He's trying out some material at Littlefield this Sunday to see if will fit into a live special and he invites all of us to "Come See If This Works or Not." When the special airs, you can tell everyone you helped.
8. Live on the fringes.
If you missed the Fringe Festival this year, never fear. See the best of the Fringe fests from around the globe, from comedy to musicals to drama, with the 2018 Fringe Encore series at the Soho Playhouse. This weekend ,check out the ghostly 13 Dead Dreams of Eugene, based on a true story about a town whose residents all have unsettling dreams, the musical comedy A Solo from the Pit, or an interactive Hamlet (if you're not much for acting, ask if you can play the skull of Yorick). The festival runs through December 16.
9. Start yer shopping.
The gift-giving holidays will be here before you know it, so might as well be prepared. Through Monday, the Now Go Cook Holiday Market at 198 Allen Street will provide you with all the chef-approved items from brands like Tilit, Jono Pandolfi, and Field Company, for the home cook in your life. At the Renegade Craft Fair at the Metropolitan Pavilion, you'll find handmade fare alongside local food, tunes, and, for fun, tarot readings. And this Saturday and Sunday is also the American Field pop-up at Industry City, showcasing innovative American-made goods. For more markets, check out our holiday guide.
10. Scavenge for some good.
It's not yet Thanksgiving, but this Saturday is Cranksgiving, a food-drive scavenger hunt done by bike. Bring $20 cash, a bag, and your ride (don't forget your bike lock), and hustle around the city vying to be the fastest to collect goods for charity. Registration takes place at 1:00 p.m. at Hudson Yards, and the ride kicks off from there at 2 p.m. And if you miss this one, or need some more time to train, it happens again on December 1.