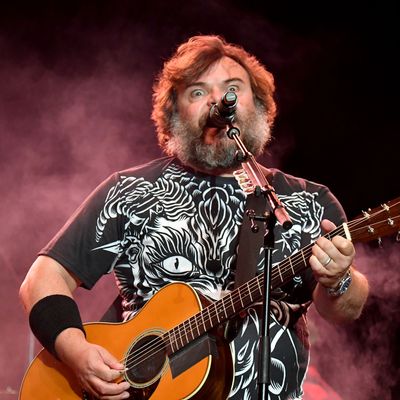 Tenacious D hits Brooklyn for two nights.
Photo: Jeff Kravitz/FilmMagic
Events to check out this weekend, November 1 to 4.
1. Drink wine, then drink more wine.
Wine lover? Oh boy, this is the weekend for you. In addition to the Raw Wine Festival and a natural-wine week in Hudson highlighted in our monthly food agenda, this Friday and Saturday is also Wine Riot at the Brooklyn Expo. Learn about hundreds of new wines from industry professionals, then taste them. Then, take a nap.
2. Be tenacious.
Jack Black and Kyle Gass of Tenacious D aren't really all that persistent when it comes to touring, but as part of their first U.S. tour in five years, they'll arrive at Kings Theatre Saturday and Sunday. They're going big with a twofer: a new album, Post-Apocalypto, also out this weekend, plus a six-part animated video series currently streaming on YouTube called — you guessed it — Post-Apocalypto. With voices by Black and Gass and every frame hand-drawn by Jack Black himself, it imagines a world post–atomic bomb, but funny.
3. Reimagine Democracy.
Through Saturday is Festival Albertine, a series of discussions presented by the French Embassy's bookshop, Albertine Books, and this year curated by Russian-American journalist and author Masha Gessen with the theme "Reimagining Democracy," identifying not what democracy is, but what it could be. Participants include thinkers like Joseph Stiglitz, Yann LeCun, Siri Hustvedt, Cynthia Fleury, Ingrid LaFleur, James Fishkin, Sophia Azeb, Aleksandar Hemon, and much more. All events are free.
4. Bop to some Tunes.
A Merrill Garbus, a.k.a. Tune-Yards, show is an art party with synthy global beats. Fun! She plays this Friday at the Knockdown Center in support of this year's I Can Feel You Creep Into My Private Life. U.S. Girls opens and Lizzi from Gang Gang Dance kicks off and ends the night with DJ sets.
5. Listen to poets that know it.
This weekend, poets from both sides of the pond come together for the tenth annual PoetryFest at the Irish Arts Center, curated by Nick Laird. From Friday to Sunday, catch works read by 2018 MacArthur Fellow Natalie Diaz, 2015 MacArthur Fellow Ben Lerner, Nicole Sealey, and more. All readings are free except for Friday night's event of "Favorite Poems" with Padma Lakshmi, Zadie Smith, Belinda McKeon, poet Timothy Donnelly, and publisher Dan Halpern.
6. Smash yer pumpkins.
Have some leftover jack-o'-lanterns? The city wants you to smash 'em, with dates the next few weeks to help you get some aggression out, plus be environmental, as they'll be turned into compost used in city parks and green spaces. This Saturday, head to Roosevelt Island, Lou Lodati Park in Queens, or Naples Street Elementary School in Staten Island for a smashing good time, with more dates in the future.
7. Get cozy.
Soon it will get cold and you'll want to get cozy. When that happens, head to Nowadays: Beginning Friday, the 16,000-square-foot backyard will be home to a large warming yurt with ottomans and blankets and will host sauna sessions by HotBox Mobile Sauna. Cocktails like hot toddies and spiked hot chocolate will be served up by an outdoor bar. Just be careful of overdrinking before heading in to sweat.
8. Skate up a sweat.
Speaking of winter activities, the Winter Village at Bryant Park is now open, with a rink, adjacent bar, and holiday shopping. As the season goes on it will only get more crowded, so might as well get your skating in now.
9. Salute the runners.
Sunday is the New York Marathon! If you're running, you probably already knew this. But did you know that if you bring your medal to any of Quality Branded's restaurants (Don Angie, Quality Italian, Quality Meats, Quality Eats, Smith & Wollensky, Park Avenue, and Maloney & Porcelli), you'll get a free bottle of wine on the house? Marathon finishers can also get a free glass of Cava on the house at Boqueria on Second Avenue, and if they show their medal at any Clinton Hall location, they'll get a free Double Smashed Burger and a Gigawatt IPA. If you're not running, there are some treats for you as well, for doing absolutely nothing. Moxy Times Square is hosting two Maasai tribesmen for the marathon, and tonight from 5 p.m. to 8 p.m., they'll have a pop-up in their honor, with blankets, handmade jewelry, and more benefiting the Maasai Wilderness Conservation Trust. And over at Made Nice, Daniel Humm has teamed up with Olympian Shalane Flanagan for a new pumpkin-spice Superhero Muffin from Flanagan's cookbook Run Fast. Cook Fast. Eat Slow. Proceeds will help support the New York Road Runners' free youth fitness programs.
10. Celebrate a food-world friend.
And right on that marathon route is M. Wells, which on Sunday, beginning at noon, hosts a launch party in celebration of the publication of late restaurateur John Bil's seafood compendium, Ship to Shore: Straight Talk From the Seafood Counter. In remembrance of the friend of the restaurant, M. Wells and Frenchette will be making his old favorites like geoduck "a la peacock", Solomon Gundy, jars of bivalves in brine, chowders, and more.