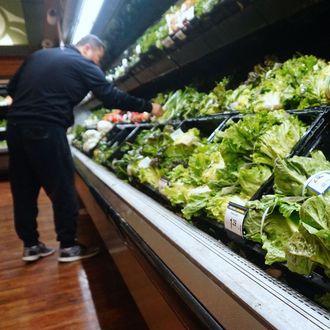 Photo: Frederic J. Brown/AFP/Getty Images
By now, you've probably heard that the Centers for Disease Control issued a warning against eating any and all romaine lettuce following an outbreak of E. coli that's infected 32 people across 11 states.
This is, in fact, the second time that romaine lettuce has been declared unsafe to consume this year, and the 21st such food safety warning issued overall in what's proving to be a record year for foodborne illnesses.
According to CNN, the CDC has conducted more investigations in 2018 than in any of the last ten years. In the same story, FDA Commissioner Dr. Scott Gottlieb insists that it's not that there's more unsafe food, but that the CDC has "better technology than ever before to link outbreaks of human illness to a common pathogen." More specifically, the government organization has had great success with using genomic sequencing to trace pathogens back to specific foods and thus specific producers.
But unfortunately, that's not the case with the tainted romaine currently wreaking havoc in the U.S. The CDC still has no idea where it came from or how long it will be before romaine is safe to eat again. Their advice: Whether it's a whole head, romaine hearts, or a pre-cut salad mix with romaine in it, throw it out — even if it hasn't gotten anyone sick yet.