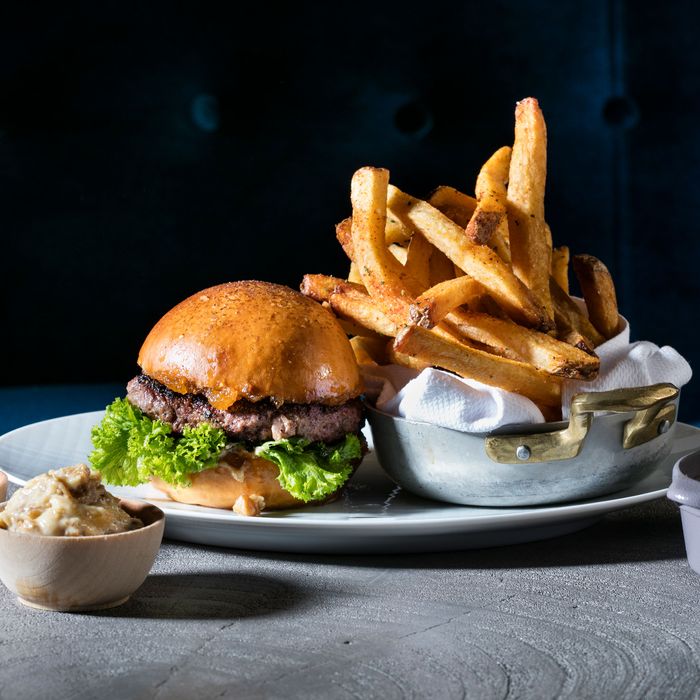 Go get a duck burger!
Photo: Melissa Hom
Every month in New York, there are a bewildering number of new dishes to eat, drinks to imbibe, and food-themed events to attend. Often, the hardest part is just figuring out what's really worth your limited time. So Grub kicks off each month with a curated collection of dishes, drinks, and events that should absolutely be on your agenda. Make your plans now.
1. Check out Atla's new menu, featuring a lobster tostada and mole blanco.
They're waking up later at Atla, and introducing a rare mole to the menu. Enrique Olvera and Daniela Soto-Innes' all-day cafe will now open at 11 a.m and they've overhauled the menus (now just weekdays and weekends), axing the pambazo and adding new dishes. During the week, they'll serve the pinenut-based mole blanco ($24) with leeks and cabbage, a pearly type that's, otherwise, only served in New York at La Morada. As for the other new dishes, think corn pancakes ($19) with apple jam (the spirit of breakfast lives on!), tostadas with lobster salpicon ($32) and cashew cheese ($14) with plum and sesame, and duck wings ($25).
2. Sample New York's newest over-the-top burger, which is made with confit duck leg.
Duck: It's everywhere. But what about a duck burger? There's one on the menu at the brand-new Pomona (8 West 58th Street), a New York–nostalgic restaurant from the duo who worked at places like Strip House and Daniel. (They also ran the short-lived first iteration of Henry.) That pricey bird burger ($38) is one complicated patty. It's made with ground duck breast, chopped liver, scraps of foie gras, and confit leg meat, which is all spiced up. After grilling, it's rested into a duck jus with orange, and served on a brioche bun with duck-skin mayo, orange zest, mustard, and grapefruit jam. (The rest of the menu similarly retrofits many other steakhouses and meaty classics.)
3. For breakfast, have a bagel created by chefs from Via Carota and Black Seed Bagels.
A Via Carota bagel? Say it is so. The West Village favorite is the featured restaurant for Black Seed Bagels' latest monthly collaboration. An everything bagel ($13.75) is topped, appropriately, with ribbons of speck and stracchino cheese, plus a thick slice of roasted butternut squash and cabbage salad.
4. Celebrate Diwali with lamb-shank biryani or a Rasmalai tiramisu tart.
Don't have any Diwali plans? The five-day festival starts on November 7, and some restaurants are ringing it in with special dishes. From November 5 through 9 at Floyd Cardoz's the Bombay Bread Bar, they'll serve a $65 family-style meal with Chettinad shrimp, lamb-shank biryani, lotus root and cashew korma, and gajar halwa (a sweet carrot pudding). Nearby in the West Village, Rahi will serve a trio of specials like shrikhand, a yogurt dish with rose-petal jam, pistachios, and sweet mathri. (He'll also have a paneer pasanda mini-sandwich and lamb raan.) Finally, Baar Baar will serve a special $60 prix fixe menu for all five days, with options that include beef short rib curry, and a dessert of Rasmalai tiramisu tart with condensed milk crémeux.
5. Wash down your chicken au jus sandwich with a blue soda spiked with rum and vodka.
A blue coconutty soda sounds like a drink from The Hitchhiker's Guide to the Galaxy, but it's not. Made with coconut-fat-washed vodka, white rum, lime cordial, black sea salt, and blue curaçao, it's on the menu at the cocktail club and restaurant Devon (252 Broome Street). Opening November 5, the new spot comes from Oliver Zabar, son of New York's most famous grocer, whose hired Sean Saunders (of the popular Happiest Hour) and Josh Blum (whose worked at Aquavit and Le Turtle) to cook. If a blue soda isn't your thing, there's a twist on a classic in the Where's Tom Collins? and food like a chicken au jus sandwich.
6. Join the Meat Hook at Ops for a meaty Monday night dinner.
Cancel your plans for November 12. One of Grub's favorite places, the pizza-and-wine spot Ops, will host its friend the Meat Hook (another Grub favorite) for a steak night ($50, tip included). From 6 p.m. to 10 p.m., the Meat Hook will serve dishes like bresaola, wedge salad with ricotta ranch dressing, steaks, and French-onion mashed potatoes. There will, of course, be great wine, too. For reservations, email hello@opsbk.com.
7. Drop by a new Caribbean-southern restaurant in Harlem.
The recently opened Greedy Pot is a small counter-service restaurant with big ambitions. It opened earlier this month in Harlem (1944 Adam Clayton Powell Jr. Boulevard) with a menu that combines southern and Caribbean cooking. There are a few mains and sides available each day, and you'll see fried chicken alongside curry goat and options of rice and peas and mashed potatoes. (Dinner is $11 for a main with two sides.) The small space hasn't stopped them from offering brunch, on "Soulful Sundays" you'll find chicken and waffles and beef BBQ ribs. They're liable to serve specials like fried blue-crab cakes, but don't pass on the meat loaf — it's anything but pedestrian.
8. Watch a documentary about America's favorite teen chef, before he leaves teen-hood behind forever.
In just 25 days, Flynn McGarry will turn 20, and in the process, become the Chef Formerly Known as the Teen Chef. Before that happens, you'll get the chance to see the documentary made about McGarry's preternatural rise. Premiering at Film Forum on November 9, Chef Flynn starts with footage of a 16-year-old McGarry foraging, and combines home videos from McGarry's momager Meg with director Cameron Yates's own, which documents the young chef's stages, New York pop-up, and aspirations to open Gem.
9. Go to a famous chef's natural-wine event in Hudson, then to Nur for a dinner with an Israeli winemaker …
Have yourself a Winevember. First on November 2, Zak Pelaccio's BackBar will host a Georgian-style supra feast (tickets are $45 in advance, $55 at the door) — expect meats cooked over fire, plus flatbreads, salads, and much more — with Black Lamb Wines' Stetson Robbins and two Georgian winemakers. The next day he'll throw his Peripheral Natural Wine Fair, with a day of drinking at BackBar, featuring wines from the Czech Republic, France, Italy, Georgia, and other countries, plus food from the likes of Lil' Deb's Oasis and Gaskins. Then on November 5 at 8:30 p.m. (dinner is $150), modern Middle Eastern restaurant Nur will host Judean Hill winemakers Gilad and Golan Flam for a grapey get-together. They'll serve wines from their Flam Winery alongside dishes like its Jerusalem bagel, eggplant carpaccio, and panipuri.
10. … Or attend the third Raw Wine in New York, a wine fair and series of dinners and tastings around the city.
If a wine day isn't enough, Raw Wine returns with a week of tastings and dinners at natural-wine bars and restaurants around the city. These events (from now through November 7) include a hangout with Spanish winemakers at Cervo's and a five-course dinner with Delinquente Wine ($75) at the new Uncle Chop Chop. The actual two-day Raw Wine Fair (tickets vary from $25 to $95) at 99 Scott Avenue takes place on November 4 and 5, with biodynamic, natural, and organic wines from 140 producers (including the Madeira Collection and 2Naturkinder), food from the likes of Cervo's and Mettā, and talks on subjects like pét-nat.
11. Eat a Sweetgreen salad with a very flavorful, Dan Barber-approved squash.
Dan Barber has worked with crop breeders for years to create new varieties of everything from wheat to tiny squash, and earlier this year, he launched boutique seed company Row 7 with those farmers. Starting today, one of those crops, Robin's Koginut squash, will be available at Sweetgreen locations around the country. It's featured in both the Koginut squash bowl with organic spinach, wild rice, pear, toasted buckwheat, and balsamic vinaigrette, as well as in a side dish.
12. Sip on lots of apple booze at events celebrating New York's cider producers.
New York is apple country, a fact that means the state is also awash in great cider. From November 2 to 11, the eighth annual Cider Week NYC celebrates this with events at restaurants around the city. Events include a one-night cider festival on November 8 at the Essex Street Market and a "Bushwick cider market" at Brooklyn Cider House on November 11. There will also be dinners (such as at High Street on Hudson on November 2), producer tastings (including at Foster Sundry on November 3 and City Swiggers on November 5), and chances to meet producers (one is at Murray's Cheese Bar on November 9). Check out all the events here.
13. Go talk with Anita Lo about her new cookbook for solo chefs.
Cooking for one can be challenging and expensive. (Do I really want to spend all that money on those ingredients? Will the roast-chicken fatigue set in on the third or fourth day?) If you cook alone, Books Are Magic has the cookbook event for you. On November 8, the acclaimed chef Anita Lo will drop by the Cobble Hill shop to talk about her book Solo with Taste editor Matt Rodbard. (RSVP here.) The chef's book features only recipes for one, so you can eat your chicken pho and have your chicken tagine, too.
14. Check out the new dishes at one of the year's biggest openings.
Marie-Aude Rose's La Mercerie has been one of the year's biggest openings, earning two stars a piece in reviews from the New York Times and New York's own Adam Platt. (In his review, Platt called out its steak tartare as one of the best he's had in this city.) Rose just changed up her menu for the fall, adding dishes like a chestnut ($24) velouté; osso buco ($29) braised in vermouth and veal stock and served with fava beans, Swiss chard, and red bell pepper; and a pear clafoutis for dessert.
15. Gorge on smoked-duck gumbo and a prime brisket sandwich downtown.
Due east, Pig Bleecker returns to downtown Manhattan (after a temporary two-month transformation into Pig Beach) with a new-look menu that draws from different southern influences. There are some interesting-sounding dishes like tasso-spiced pork-belly buns ($13) with gochujang ranch, a prime brisket sandwich ($23) with crispy pickled red onions, and a smoked duck and andouille gumbo.