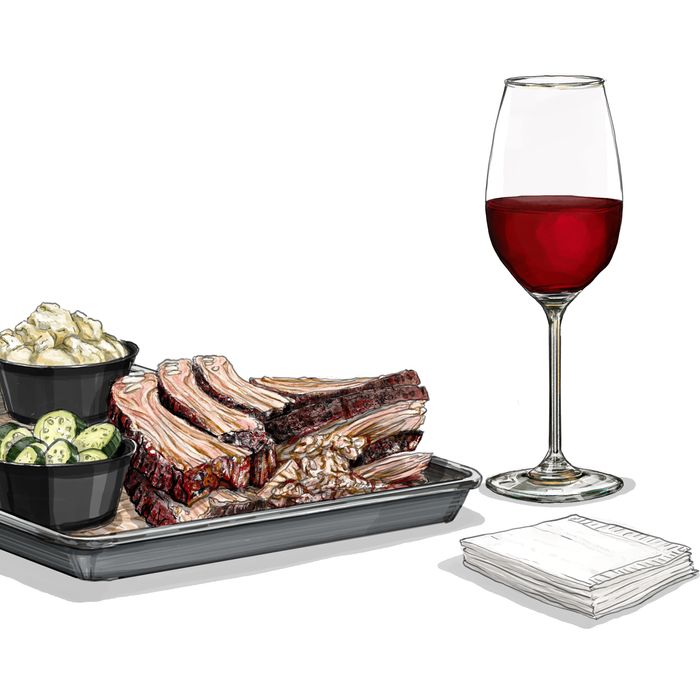 Illustration: The Ellaphant In The Room
As a Kentucky girl, BBQ is in my blood, and I think that the act of pit-smoking giant slabs of meat is one of the world's great art forms. As a wine geek, I know that there are bottles that can amplify the smoky, fatty greatness of perfect brisket or a rack of tender ribs. It's true: Barbecue is great, but wine — specifically Côte-Rôtie from the Rhône Valley of France — can make it even better.
The Rhône Valley is a diverse and dynamic region that stretches approximately 120 miles north to south and can be cut in half both geographically and stylistically. The southern part makes wines that are based on the grape Grenache and can have a lot of other red and white grapes blended in. In the north, however, it's all about one red grape: Syrah.
Within the northern Rhône, there are five smaller appellations — each with its own distinct characteristics and idiosyncrasies — that use Syrah as the base for its wines. What makes Côte-Rôtie its own beautiful self lies in the name. In English, it translates to "the roasted slope" because the steep slopes where the vines grow face south toward the Rhône River and get a lot of sunshine. That, in turn, means the grapes ripen to their full, superpowerful, tannic selves. This expression results in an awesome array of aromas and flavors such as olives, bacon fat, black fruits of all kind, white pepper, and a smokiness that is a dead ringer for charcoal.
You can probably see where I'm headed: No matter what type of "barbecue" you think of, these wines will stand up to the giant, juicy, flavorful, smoky, tender pieces of meat. As for which bottles to get, these three options are a terrific start.
Villard 'Le Gallet Blanc' Côte-Rôtie ($54)
Here you have a chef turned winemaker running the show, which means these wines are made with a food in mind. A bottle that costs north of $50 might feel like a lot, but this is a good starting point for the appellation because you can get an honest sense of how fantastic these wines can be without truly breaking the bank.
Saint Cosme Côte-Rôtie ($75)
This is an unbridled version that Côte-Rôtie aficionados love. It will be savory, chewy, and sumptuous, with the sanguine character — yes, that means bloody — that Syrah is known to offer.
Domaine Jamet Côte-Rôtie ($125)
Considered one of the baddest in the game, this is a showstopping wine that's worth its admittedly hefty price tag. The nuance, perfume, complexity, and texture are all hallmarks of excellent wine-making.