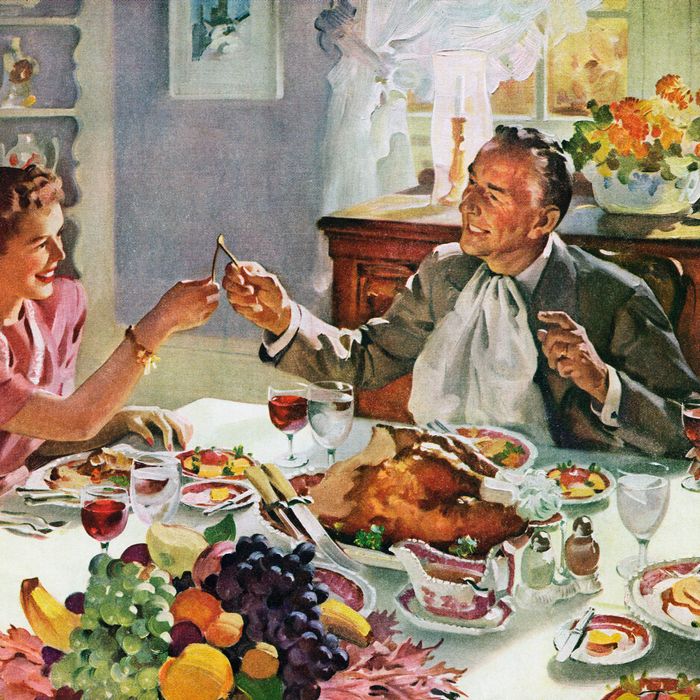 Yum!
Photo: Graphica Artis/Getty Images
Thanksgiving is now a week away. Poor planners, busy New Yorkers, and unapologetic flakes: It's go time. There's a veritable cornucopia of meal-prep advice, or you could make reservations somewhere nice. But this year: Why not just phone it in? As in, literally grab your phone and order food that has been made by other people. Then, plate it up on your own dishes and tell everyone at your table that you cooked it all. One food-writer friend admits her mom buys Boston Market mashed potatoes every Thanksgiving, spoons them into her own gratin pan, and pretends she made them. This year, with everything else in the world that's happening, the smart move is to do the same. Go ahead, Grub Street won't tell.
Here are the best things to buy with the express purpose of claiming them as your own, plus a few chef-approved tips for cheating, cutting corners, and generally taking liberties with the meal that is about to be the easiest dinner you "cooked" all year.
The Bird
If you're willing to scheme a little in advance (like, today), you can still order one of the most impressive premade turkeys around: a fully cooked bird from Bklyn Larder, which you can make look as homemade as possible, with a big, basic aluminum roasting pan and some perfectly imperfect crispy skin. Their eight- to ten-pound turkeys ($150) come brined and roasted, and will feed eight to ten people. (There's also their slightly more creative "Turkey Roll" ($45 for half/ $90 for whole) which has light and dark meat that's brined, rolled, and filled with homemade stuffing. (If you go that route, just say you stole the recipe from an old issue of Bon Appétit.)
Or, if you'd rather take an even easier route, Popeyes — favorite of David Chang, Danny Meyer, and everyone else in the restaurant industry — sells a Cajun Style Turkey, hand-rubbed and infused with zesty Louisiana-style seasonings. The turkey is precooked, so all you need to do is take home, add it to your own roasting pan, and reheat. It's 13 to 16 pounds when cooked, and prices start at $40. (Preordering is recommended.)
As Samin Nosrat of Salt, Fat, Acid, Heat fame says, when it comes to faking most dishes, all you have to do is, "buy some good olive oil, lemons, fresh herbs, and sea salt, and just doctor things up."
Potatoes
You can, of course, take a cue from our friend's mom and grab some Boston Market spuds, but a truly next-level cheating technique is to bring your own cookware into a good restaurant and have them make their food in your pans, maximizing the levels of deceit. At Bistro Pierre Lapin, chef Harold Moore is happy to arrange large to-go orders of cauliflower gratin and mashed potatoes, or really anything off the menu that a customer desires. "We even had a guest ask for a triple order of our deviled eggs with crispy bacon to serve as her Thanksgiving hors d'oeuvre," Moore says.
Moore also admits his own fake out at Thanksgiving is "the all-canned version of green-bean casserole," which he explains is best when made with creamy mushroom soup on top of a can of green beans, and a tin of crispy fried onions on top. "My family thinks it's some fancy recipe I cooked up, and I let them think that. There are rarely any leftovers."
Stuffing
Nobody will complain about Stove Top, but even that is too much effort for Grub Street's all-faked Thanksgiving. Our advice: Order in advance or walk in and grab the stuffing at Il Buco Alimentari — it's made with their own bread, dried figs, caramelized shallots, and sage. Stuffing starts at $35 and just incase you can't get to Bklyn Larder or Popeyes, you can get a turkey here, too.
Gravy
Marco Canora's Brodo is selling a gravy "kit" this year. They're available at the Hudson and Upper West Side shop locations, and they're free with the purchase of a Hearth quart of broth. While we're on the subject of broth, Canora says, "our Hearth broth is the easiest way to up the Thanksgiving ante. Use it to make your gravy and stuffing and you won't be sorry. We'll save you the 18 hours required to make quality broth."
If all that sounds too laborious, Fleishers on the Upper East Side sells their ready-to-heat gravy which is extremely tasty. (Just know it's closed on Thursday.)
Extra Sides
Chef Jonathan Benno of Benno, Leonelli Taberna, and Leonelli Focacceria e Pasticceria suggests making at least the turkey yourself, and letting others handle everything else. "It's good to improvise with sides." Leonelli Focacceria e Pasticceria offers prepared trays of lasagna and eggplant parmigiana, which the team makes fresh daily. "If you plan on going this route, our team at Leonelli will really do everything we can to accommodate guests for the holiday."
Whole Foods also has a "just the sides" option on their catering menu, which includes mashed potatoes, stuffing, turkey gravy, cranberry orange sauce, and green beans with crispy garlic and parsley. It's $70 and serves 8. You just have to reheat at home. (You can also preorder a full Thanksgiving meal or full vegan meal for the first time there this year.)
Brussels sprouts are also among the easiest veggies to pass off as your own: "Basic roasted Brussels sprouts from a store or hot bar can be tossed with a balsamic vinaigrette and some sliced, toasted almonds, feta cheese, and chopped parsley," she says, "and you'll have a totally respectable side dish." says Nosrat.
Dessert
This one is easy: Pie. Both Caviar and Goldbelly have designer pie options available, but it's this Sweet Potato Thang that gets rave reviews and might look extra messy — a good thing for our purposes! — after delivery.
Another very solid bet is to preorder a pie from Lafayette or the Dutch (about $42 each), which are both open on Thanksgiving day and can provide pies on demand. What's great about these pies is that even though they're baked by a professional pastry team (they come care of Tyler Atwell at Lafayette and Abigail Rubin at the Dutch), they still look completely attainable, so you can transport them onto your own pie plate and say you baked them yourself.
"If you only choose to fake one thing, I would fake desserts," says David Burtka, the author of Life is a Party: Deliciously Doable Recipes to Make Every Day a Celebration. "That is the easiest food item to trick people with. With a new coat of frosting, or a dollop of whipped cream, people tend not know the difference."
Drinks
For the aperitivi — and use that word — buy some pre-bottled negronis from your local liquor store, keep them cold, pour them into little tumblers, dress them up with an orange peel, and make like you just casually got the recipe from your favorite bartender.
Cranberry Sauce
Here's the thing: Everyone prefers the canned sauce to homemade, so you're in the clear. Even chef Joshua Pinsky at Momofuku Nishi stands by basic canned cranberry sauce when you need to fake your Thanksgiving dinner, "Canned cranberry reigns supreme. When it's served, everyone knows what the score is." The best part here is that the cranberry sauce is also a perfect red herring for the rest of your faked meal: by putting out something that is obviously store-bought, and happily copping to it, nobody will suspect that everything else on the table, is, too.