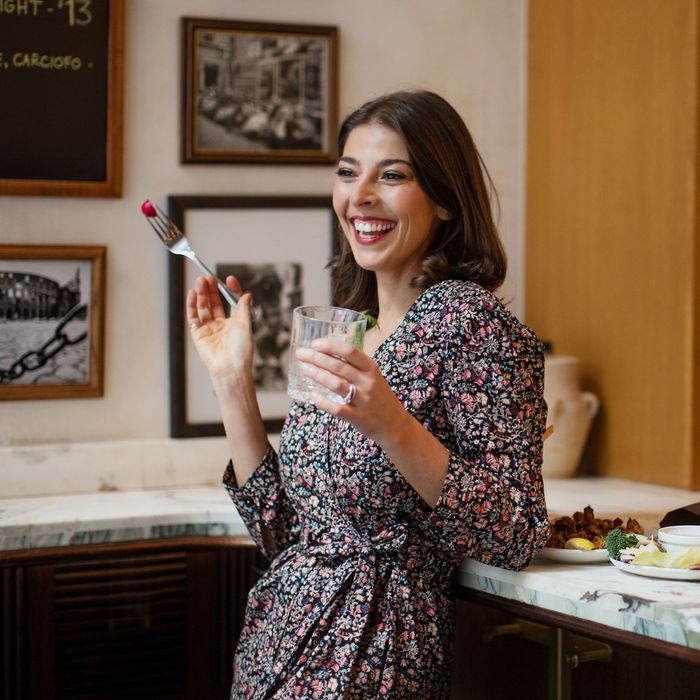 "Steve and I were both a little hungry after our weird morning pickings," says Stacy Adimando, at
Vini e Fritti
.
Photo: Erinn Springer
It probably won't surprise you to learn that, as executive editor of the food and travel magazine Saveur, Stacy Adimando had some responsibilities for her family's Thanksgiving feast this year: She made the pumpkin pie, the gravy, the mashed potatoes, a salad, wrote the recipe for the turkey, and found time to whip up afternoon antipasti. If that sounds like a lot, consider that Adimando has also found time to work on a forthcoming antipasti cookbook, Piatti, while steering the Saveur ship. She cooks a lot in her to day-to-day life, too, but this week she also found time to check out the new Joe's Steam Rice Roll and go to her favorite Mexican bodega (a secret). Read all about it in this week's Grub Street Diet.
Thursday, November 22
It was Thanksgiving, so it's important for me to say: It's a privilege to write about the exciting things we eat with so many people still hungry. Please donate or volunteer this season!
Our dog Emma, a six-month-old shepherd mix of some kind, woke us up at 7 a.m. We were at my sister Dana's house in Connecticut, and I'm usually on morning duty for walks, but my husband Steve took this one — it being a holiday and all. It was 22 degrees out.
In the kitchen, we fed her, then my brother-in-law Tony juiced two heads of celery for the ladies (yes, we do the celery juice thing). They have a "slow juicer," which I had scoffed at every time I saw it online, but it's ingenious and leaves almost no waste. I slurped down around 12 ounces and got my winter gear on. We went out for a jog and calisthenics session. It's a bit weird, but it works. The rest of the family thinks we're insane.
Back in the kitchen, I did a drive-by check-in on the pumpkin pie I had made. My sister didn't have bourbon handy, so I used non-peaty Scotch in the filling. It looked and smelled delicious.
I don't always eat breakfast on holidays but they cooked some, so why not? There were seared brussels sprouts, bacon, diced hash browns with onions, and fried eggs. I skipped the eggs and doused the rest in a super spicy yellow hot sauce from Barbados.
We packed up for my other sister Andrea's. Once there, I checked on the turkey. She used my less-is-more method, which I swear by: salting in advance, no brining, no trussing, no basting, and just stuffing only with aromatics.
After kisses and hellos, I fortified stock for gravy. I seared the neck and heart in butter, added fresh bay leaves my sister's Portuguese mother-in-law brought from their yard in Florida, added thyme sprigs, the skins from a clove of garlic that was nearby, a bunch of whole black peppercorns, and some chicken broth. Simmered about 20 minutes, then set aside.
I'm often on antipasti duty because, well, I'm writing a book about it. As an Italian-American, my philosophy is, you can eat these dishes as starters, but grazing is just an incredible way to eat anytime. I boiled golden and red beets for an app with garlicky aioli. It's a dish that wins everyone over, even my non-beet-loving brother-in-law Dave, whose house we were at. I sliced fresh ripe persimmons (from the Florida-in-laws) and wrapped them with prosciutto, and made a board of marcona almonds, green olives, sharp provolone, oil-cured anchovies, calabrese salami, and sliced bread. Buona.
We made way too much but did our best, and wrapped the rest up for later. Steve co-owns a wine importing company, so we kicked things off with a favorite Blanc de Blancs champagne.
I boiled potatoes for mash, and cut stuff for salad. I made one with baby kale, sliced fennel, castelvetrano olives, candied pecans, and Grana Padano cheese I borrowed from the Saveur test kitchen. Dressed it with lemon, cider vinegar, olive oil, salt, and loads of black pepper. We cranked up the turkey for a few minutes of extra skin-browning while I finished the potatoes and gravy. We ate: classic herby stuffing; actually the best turkey we ever made; roasted brussels, squash, parsnips, and carrots; Steve's homemade cranberry sauce with orange, maple, and fennel seed; the best mashed potatoes ever, and the rich, deep, perfect gravy.
To finish, my sister's father-in-law poured me a shot of aguardente — basically, Portuguese moonshine that's usually had with coffee. But I'm off that sauce. So I sipped on it alone. I snacked on a half-bulb of fennel, something my grandparents would put out after a big holiday meal. I grew up near both sets of them. Dessert was my pumpkin pie with fresh whipped cream, apple crumble, and a blueberry pie my sister bought — questionable choice, but it was decent. (I don't believe in store-bought pie, with rare exceptions.) There were also Portuguese egg tarts.
Played with nephews, cracked up with family, ate a few more scoops of mashed potatoes with cranberry and a piece of the Portuguese prosciutto bread and, good night. (It was actually two pieces of prosciutto bread. Tell no one!)
Friday, November 23
Emma was up at 7 a.m. We convinced her to snooze until 8:00. The "feels like" temperature was 9 degrees.
Celery juice. Then we headed to my other sister's for leftovers. We each ate a slice of pumpkin pie, dipped in whipped cream. Steve had a second. We moved on to stuffing, potatoes, vegetables, turkey, and liberal gravy, all microwaved. Added cranberry sauce. I immediately regretted this 10:30 a.m. decision and did not eat again until 4 p.m.
Drove back to Red Hook. By the time we were hungry it was that awkward time between lunch and dinner. Steve was starving but I wasn't, so I thought: sushi. We went to Okozushi, which was closed for the one hour we were there. So, next door to Mesa Coyocan it was. We split carnitas tacos with lots of tiny chopped onions, had a mezcal margarita each, and a second round of tacos: carne asada. Plump, smoky. Delicious.
For dinner, I craved tortellini in brodo, one of Italy's simplest but best meals. Plus, I can't go to Williamsburg without a visit to the Meat Hook. And, it was closed (sensing a theme?). Marlow and Daughters was, however, open. I bought a yellowy-looking Snowdance Farm chicken, tacked on 12 slices of La Quercia prosciutto Americano, and Salvatore Brooklyn ricotta, the best ricotta in this country.
What makes the broth in tortellini in brodo so good is its simplicity. I added a halved yellow onion, about 20 black peppercorns, and the chicken (no skin) to a stock pot. My Italian grandma taught me that fat in broth doesn't actually equal flavor, and that there's plenty beyond the skin, and I agree, so I always peel my chickens for stock. While I boiled that for an hour and a half, I made tortellini with a filling of the ricotta, really finely chopped prosciutto, grated parmigiano, and black pepper. We made too much stock and too much filling. So I refrigerated both for later and we drank more champagne. Okay, I don't mean to sound like a snob, I drink a lot of champagne because Steve's job means we basically get it for free and who wouldn't?
Saturday, November 24
Emma slept till 8:30. Praise. Fed her, then took her for a long workout in the park. Came back, got ready for a road trip, and ate one scoop of yogurt, a prune, and granola. After that, I realized we would starve on the drive. Texted one of my best buds, an owner of Poppy's Brooklyn, because weekends usually mean a great pop-up with pastries, coffee, and savory deliciousness of all kinds — it was closed. (Whyyy?) Got a Court Street Grocers breakfast hero instead: soft scrambled eggs and cheddar, arugula. Steve got bacon, but I skipped it and was sad.
Then, off to the Catskills for a house inspection. After looking on and off for a few years, we made an offer (!) on a little place we fell in love with. We passed a sign called Renee's Hot Stuff Deli and I laughed. We did not stop.
When the terrain turned snowy I knew we were close. First stop was  the Arnold House — a super-cool ski-lodge-chic-style hotel and restaurant that we had heard is dog-friendly, though the restaurant is not. We got an order to go, including venison chili that didn't have the fried onions it was supposed to, and a kale caesar salad with really big, buttery croutons. We ate in spurts while we followed the inspector around, fingers crossed.
Afterwards, we went to a relatively miserable chain electronics store in Kingston to pick up the TV Steve had ordered during Black Friday mayhem. That took an hour and change but the bonus was we got dinner on the way home. I pushed for Lis Bar, a new place which is Polish-leaning with a Hudson-Brooklyn-y ambiance. Super fabulous cocktails — we both had the Polish Daisy, with mezcal, orange liqueur, fresh lime, and a spicy rim — and some bites were consumed. Kielbasa sausage with sauerkraut and a mustard-y cream sauce, a deliciously moist roast chicken breast served split and with a dilly cucumber salad, and really nice seared kohlrabi with pickled kohlrabi and greens. I thanked the universe for the plethora of good cooking upstate.
When we got home, we were kind of still a little hungry? (Those were just bites!) So I whipped up two medium-sized bowls of chicken soup with the leftover, amazingly collagen-y broth from the tortellini in brodo. I added purple cabbage, super finely diced carrots and celery, shiitake mushrooms, and pulled chicken from the bird. We drank one more glass each of yesterday's champagne.
Sunday, November 25
Pre-breakfast probiotics, celery juice, and maca powder (yuck). Masochistic run to Brooklyn Whole Foods, though it was deader than I thought it would be. Got yogurt, greens, new face cream, Steve's RXBAR-brand chocolate peanut butter protein bars, which I thought I disliked but reluctantly ate in the checkout aisle and it turned out, I do like. Not on the list but purchased while I wandered: broccoli rabe, littleneck clams, dried mango, 12-month manchego, a weird yellow squash, and turkey wings that were $1 each. I bought four huge ones for the freezer (they're amazing for stock) and ate a vitamin D gummy purchased on impulse because I like gummies and health.
After Emma's mid-morning nap, we played a few minutes of "soccer ball-y" in the backyard. She loves the sour green tomato from our Sungold tomato plant that had, somehow, miraculously lasted, but when I reached for one they were officially rotten. No tomatoes this time, my heart.
Steve and I were both a little hungry after our weird morning pickings, so I opened the fridge and spotted the leftover tortellini filling. Boom. I made soft scrambled eggs with the prosciutto, ricotta, and parmigiano filling swirled in. Oh. Man. I swore out loud that I would never make scrambled eggs any other way. I wilted a few leaves of dino kale (the only kale that matters) and we went for a walk since it was a sunny 50-ish degrees.
Later, we rounded up some troops to head to Folksbier, where the greatest beer known to mankind is made: Glow-Ups. When we have it at home, I don't like to share it. On our way, we popped into our favorite hidden gem for Mexican in Park Slope. I really can't tell you the name because no one knows about this place and I would never forgive myself! Sorry! It's a Mexican bodega with a food counter and weekend tamales. We got the mole and the verde tamales and carnitas and tinga tacos. Even my friend Gonzalo Guzmán, who I wrote the Nopalito book with, would approve, and he's my barometer.
For dinner, we had a dish from my book: broccoli rabe and clams, plus leftover prosciutto. I rendered the prosciutto in a pan, followed by clams and broccoli rabe florets sauteed in a little garlic and a touch of tomato puree. Guys, it's the greatest. I love this dish, and it took literally ten minutes.
Monday, November 26
Lemon water, turmeric, and ginger. The tiniest bowl of Stonyfield Grassfed Greek yogurt (whole milk, I'm no fool), Early Bird Jubilee granola, and a few raw pistachios. I stopped at the Union Square Greenmarket on the way in to work and texted our test kitchen manager to see if she needed anything for her wonton soup. I picked up just a few empire apples from Troncillito Farms, purple turnips, and gai lan (Chinese broccoli) for the wonton soup More on that soon. Grabbed a decaf cortado from Caffe Marchio by the office.
While I had a meeting with our photo editor and a photographer for a new section of the magazine, I nibbled on one of the apples from the market and tried not to crunch too loudly.
For lunch, I ducked out to Canal Street Market with my pal Peter Meehan, who brought Arielle Johnson, formerly the resident scientist at Noma and head of research for the MAD Symposium. We grabbed Hong Kong-style chang fen at Joe's Steam Rice Roll — a stall that originated in Flushing — they're like a thin Cantonese crepe made with steamed rice noodles. We ordered the signature roll: pork, egg, beef, and dried shrimp.
Back at the office, the wonton soup was ready. A contributor brought the recipe back from Hong Kong, and it's one of my favorite dishes from anywhere: silky little shrimp and fatty pork wontons, a clear broth made with pork and chicken and ham, thin egg noodles, and the gai lan from the market.
I got home fairly early and banged out a dinner from what was in the fridge: ground lamb with soft-cooked onions, cumin, sumac, and ground coriander; red quinoa (remember that?) with parsley, cilantro, fennel fronts, seared shiitakes, and pickled jalapeño; and the weird yellow squash from the market, roasted. Plus tzatziki I threw together with grated zucchini in place of cucumber (it worked amazingly). Doused my lamb in Tabasco, too. We had lots of dried mango for dessert. That was Monday and, more than anything, I felt thankful.