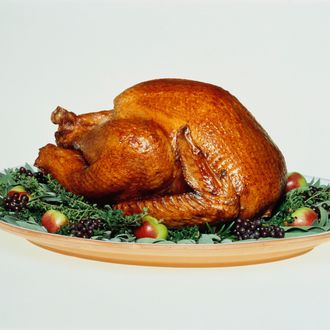 The CDC isn't advising against eating turkey.
Photo: Davies and Starr/Getty Images
Just in time for Thanksgiving, the Centers for Disease Control and public health officials have linked a multistate outbreak of salmonella to raw turkey products. The outbreak was first reported in July.
• Since then, 164 people in 35 states have reported being infected by the drug-resistant strain.
• More than a third of those infections have happened in California, where 63 people have been hospitalized. A single death has been reported in California.
• While officials have pinned the outbreak on turkey, they have not yet identified a supplier as a source of the salmonella.
• The strain is present in both live turkeys and raw turkey products, which could mean that it's widespread in the industry.
• The Department of Agriculture's Food Safety and Inspection Service is monitoring the outbreak, and the CDC has reached out to industry representatives.
• However, the CDC has not advised against eating turkey or selling raw turkey. Only that the meat be handled carefully and cooked thoroughly.