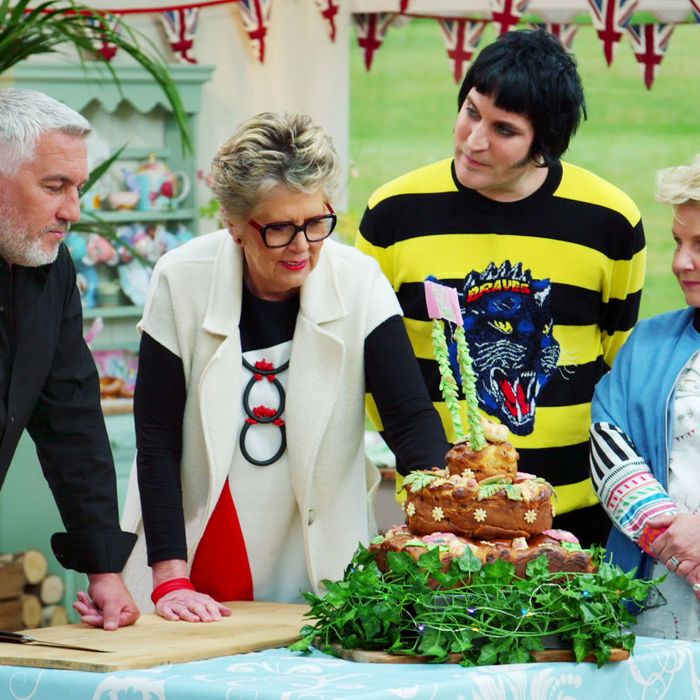 The Great British Baking Show should have gone stale long ago. The cooking competition is billed as a Netflix Original in the U.S., but it is, of course, really a repackaging of The Great British Bake Off from the U.K., which is now in its ninth season and, in 2017, infamously moved from the (staid) BBC to (the vaguely flashier) Channel 4. The show also made a move, in the States, from PBS to Netflix, the streaming service that doesn't discuss its viewership numbers but which must have some data somewhere that demonstrates this show's enduring popularity, since earlier this year it announced it had acquired three entire Baking Show seasons in a single go, and that it would also reduce the amount of time that passes between the show's U.K. airing and its U.S. debut. And here we are: The newest season wrapped its run just two weeks ago in Great Britain, and perhaps in an attempt to close the spoiler-warning gap, it will debut tomorrow on Netflix, arriving like a soothing Friday balm after the midterms.
The season is so fresh that tabloids in the U.K. are still publishing rumblings of "cheating" bakers, and a Googling of the letters "GBBO" promptly returns a dozen photos of the latest winner, so maybe watch out for that. The quick handoff from Channel 4 to Netflix may even explain why screener episodes weren't made available ahead of time, but American GBBO devotees can nevertheless track down new episodes of the show, and suffice it to say, I can tell you that this latest season doubles down on its defining niceness in a way that will make it as appealing as ever for longtime fans. (And, never fear, no real spoilers are contained below.)
First, though, some bad news: Shortly before the season debuted in the U.K., judge Paul Hollywood claimed there would be a moratorium on suggestive phrases and innuendo, such as the show's famed "soggy bottoms." But there are still quips about tight buns and monster sausage rolls, so cheekier viewers can breathe easy.
Episodes continue to feel impoverished without hosts Sue Perkins and Mel Giedroyc and original judge Mary Berry, but a year after that initial shakeup, all the newer faces have comfortably settled into their roles. Co-judge Prue Leith continues to rock her senior-center-space-admiral style, and has even mastered her own take on Mary Berry's famed soft-scold cadences. Co-host Sandi Toksvig perseveres throughout Noel Fielding's gags, including a Back to the Future-referencing opener and, in another episode, full-on Marie Antoinette regalia. Meanwhile, Fielding himself has become the de facto heart of the show, doling out a number of conspicuously awkward hugs.
And then there is steely-eyed Paul Hollywood, the lone holdover from the show's original BBC run, who still hovers through the kitchen wearing the black-gray-blue wardrobe favored by the people who market things like AXE Body Spray. (His goatee has also morphed, somewhat, into a kind of perma-stubble.)
Thematically, Brexit underscores the show, but as fans have come to expect, any contentious material is subtext. As always, the show succeeds most when it unfolds the little narratives that emerge about its contestants along the way. While they zest limes, whip meringues, and knead butter into flour, we learn that the Goldman Sachs banker has an undying passion for Bollywood, that the soft-spoken retiree with the handlebar mustache keeps bees, and that the self-deprecating research scientist who speaks in a monotone believes he is a pressure cooker ready to explode. There's a blood-bank courier with a penchant for Hawaiian shirts, and a board game nerd who at one point dreamily introduces orb-like "space turtles" as a focal point of her signature bake.
Leaky piping bags, unset gelatin, and layer-cake disaster porn intervene, as usual; there's an actual explosion of sorts in the finale; and heat and humidity thwart the proper tempering of chocolate not once but twice. ("Too hot for a goth," Fielding quips. "I'll probably melt.") That's about it for reality-show drama in a series defined by its gentleness — there are even absences due to illness, during which the show's rules of elimination are generously suspended — and, in the end, Bake Off/Baking Show remains the best show on television for teaching viewers, in an entertaining, non-threatening fashion, the technical prowess that's required to make very good pastry. While the franchise has evolved from a food-TV outlier into something more enormously popular and self-aware, it maintains its credibility while raising the baking IQs of not one but two grateful nations, at a time when each is probably in need of any additional morsels of kindness it can find.