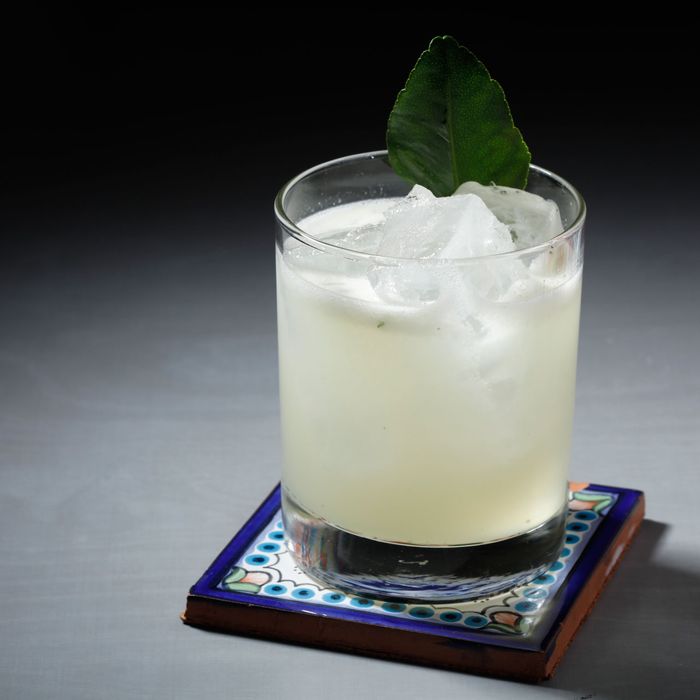 The Hyatrix Gimlet, with pineapple mezcal, rhum agricole, lime cordial, and lime leaf.
Photo: Melissa Hom
If you geek out about cocktails, you know Phil Ward. He worked at three of New York's defining cocktail bars: Julie Reiner's Flatiron Lounge, where he fell into the business; then, Audrey Saunders's Pegu Club; and then, the swanky Death & Co., which he helped open. In 2009, Ward struck out on his own with Mayahuel, the city's first cocktail bar primarily devoted to tequila and mezcal. It closed last summer, and for the past couple years Ward has mostly been casually bartending at Long Island Bar, anyway. What he hasn't been doing is serving his own drinks. "I really missed being surrounded by mezcal and out of that loop … I missed having more say in a program," Ward tells Grub. He's gotten his skin back in the game now, taking over the bar at Madre Cocina & Mezcales.
Madre was originally two sister businesses: El Atoradero Brooklyn, which opened with the chef Denisse Lina Chavez, and Madre Mezcaleria. (Chavez left the restaurant in March and her son now runs an El Atoradero at Parklife in Gowanus.) After a few months of wandering in the agave wilderness, partners Noah Arenstein and Antonio Vilchis, who runs the Bronx's Mexicocina, have revamped the business. Vilchis and his partner Ismael Gonzalez redesigned the restaurant; the former El Atoradero space is heavy on cerulean blue and feels more polished than before.
Unsurprisingly, all of Ward's cocktails are made with either mezcal or tequila — even the beer cocktails. There's a margarita, yes, but none of the other cocktails are as familiar. They're also all refreshingly uncomplicated. None have more than four main ingredients, and yet they still manage to feel surprising. Take the smooth-talking Hystrix Gimlet, which pairs pineapple mezcal with rhum agricole, lime cordial, and lime leaf. Not all of the ingredients are ones you'd expect: the Randy Cocktail #2 is made with chai-infused tequila, ginger, and a mezcal spritz. Others are riffs on established drinks — the Agridulce, with its combination of mezcal, white vermouth, and grapefruit-infused Campari, is like a smoky Boulevardier.
Like you, Ward is glad that high-end cocktail bars have chilled out a little or, in his words, "gotten off their soapbox." He's behind the bar here a couple days a week, and wants to bring a piece of the Long Island Bar with him.
"I have to say, five years there changed how I think about bars forever," he says. Fans of Mayahuel will be glad to hear the bar is part of the Madre DNA now, too. "The, sort of, atmosphere we went for at Mayahuel is what we would also like to see develop at Madre."
The bar has a collection of 250 different bottles of mezcal, including a number that are rare in the States and uncertified. Some have been bought by the batch, like the house mezcal, Cinco Sentidos Arroqueno en Barro, of which Arenstein says they purchased 75 liters. For booze geeks, there are $50 tastings of five mezcals with paired snacks like guacamole and chips and Japanese gummy candies. If gummies won't suffice, there's all new food from consulting chef Sue Torres. Her menu matches Ward's in its tone of refreshing but not esoteric. There are fish tacos al pastor, à la Mexico City's Contramar; a huitlacoche tamal; and an impressive-looking goat cheese and plantain gordita with a crown of shrimp.
Below, check out the rest of Ward's new drinks as well as a couple dishes from Torres.