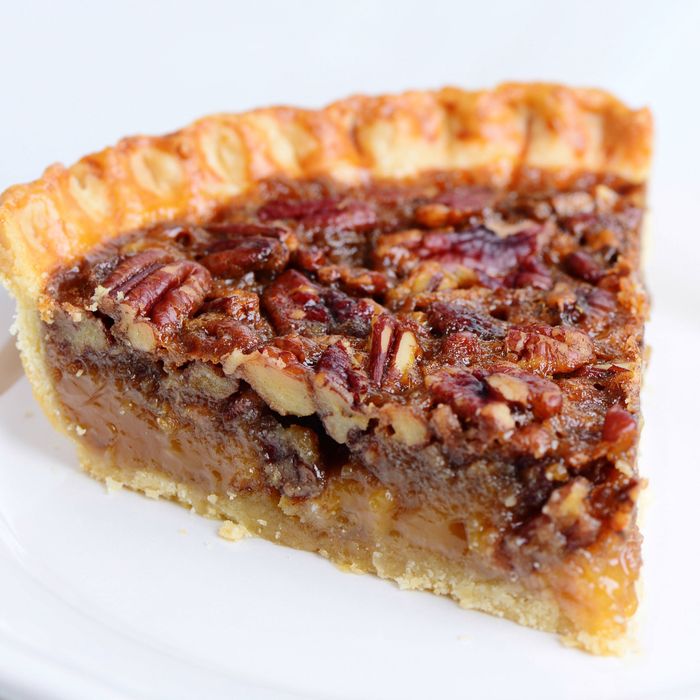 One pie to rule them all.
Photo: Wanwisa Hernandez/Getty Images/EyeEm
It's Thanksgiving, a time to gather, eat too much, and argue with your family about their controversial opinions. It's not always fun, but at least there will be dessert, and on Thanksgiving, dessert means pie, and at my house — and hopefully yours — it means pecan pie, which is the best pie.
The reasons are as clear as they are simple. The purpose of any pie, of course, is to elevate its star ingredient. The best pies transform otherwise fine ingredients into the best possible versions of themselves. Cherry pie, for example, is great, and it's better than raw cherries. But raw cherries are also pretty good, so it doesn't take much heavy lifting to make them better. Key limes, on the other hand, are inedible, yet key lime pie is one of mankind's great achievements. That brings us to pecans: one of the worst nuts. People will eat peanuts, cashews, and almonds by the handful. Meanwhile, raw-pecan people are, if we're being generous, outliers, and probably best avoided. A pecan-pie person, though? That is a person who knows what's up, because they know what all pecan-pie people know: that the addition of vanilla, eggs, brown sugar, a little bit of heat, and a buttery, flakey crust will turn these frankly poor nuts into the only dessert that's worth eating after an hours-long autumnal feast.
Sure, there are other pies that people like to eat on Thanksgiving. If there is such a thing as too wholesome, it is apple pie. It's comforting, familiar, and incredibly boring. Apple pie is the Hallmark movie of desserts. It's too basic to be exciting.
Speaking of basic, the mere existence of "pumpkin-spice latte season" should be enough to disqualify pumpkin pie from any best-pie discussion. Pumpkin pie is also not a vehicle for pumpkin improvement. It is a vehicle for cinnamon, nutmeg, and clove — all fine spices, but hardly things that are made better solely by their inclusion in a pie. If a pie's main flavors can be successfully reduced into a seasonal coffee gimmick, they'd better work in a pie.
Pecan pie is all about the pecan life. It does not require a scoop of ice cream, or a dollop of whipped cream, or, God forbid, something like a slice of cheddar (another knock against apple pie). Pecan pie is a pie that stands on its own. It has the gooeyness of a candy bar, the crunchy texture and warm flavor of toasted nuts, and that flaky, buttery crust.
Having just laid out the ironclad argument for why pecan pie is objectively the best pie, I will also confess that I have an admittedly subjective soft-spot for pecan pie, because my mom, a talented baker, has made it for Thanksgiving every year since I was in high school. While everyone else gears up for the potatoes, or for the day after's leftovers, I spend November looking forward to that pie, because I know that no matter what else happens, it will be there and it won't let me down — and what more could you want from Thanksgiving?