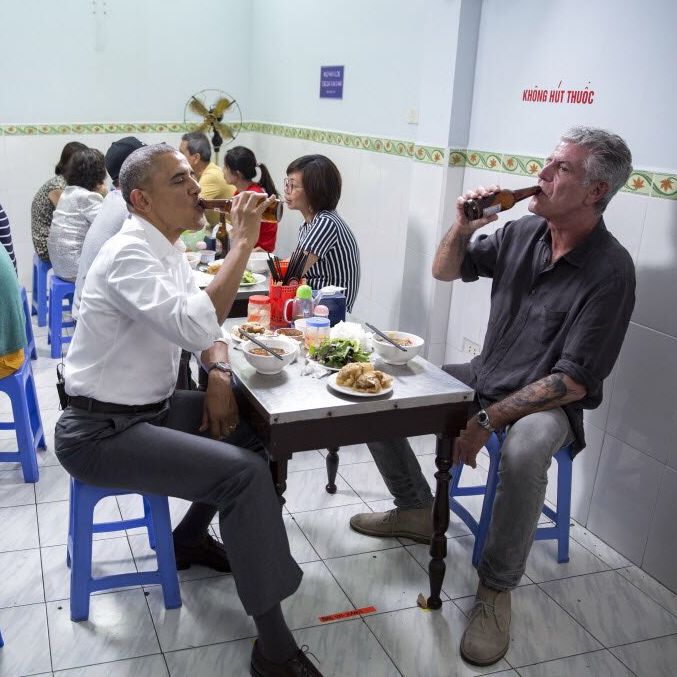 Just two guys hanging out in Hanoi.
Photo: Pete Souza
Anthony Bourdain's Parts Unknown will air its final episode Sunday night. Fittingly, it will find Bourdain in New York, specifically on the Lower East Side, a neighborhood that was integral to the punk music and arts scene that shaped Bourdain. To commemorate the show's end, and its lasting impact, Grub has compiled some of its best moments, including visits to a school cafeteria visit in Houston as well as to Gaza, and a meal with the great chef Paul Bocuse.
Sean Brock's Waffle House Tasting Menu
Season: 6
Episode: "Charleston"
Anyone who thinks that nothing good happens after 2 a.m. has never been to Waffle House. "It is indeed marvelous," Bourdain said of the southern institution, which he visited with the chef and chain superfan Sean Brock. After Brock explained his usual order ("scattered, covered, smothered, chunks"), he revealed his most ambitious project yet: "What I've devised, as a chef, is a tasting menu experience." A procession of diner dishes landed on the table, set to the perfect soundtrack: Vivaldi's "Concerto No. 4", a.k.a "the Chef's Table song." The meal itself was nothing short of awe-inspiring: pecan waffles that Brock wanted "swimming in syrup and homogenized vegetable oil," a patty melt, a green salad with thousand island dressing, pork chops, T-bones, eggs and, of course, hash browns.
Bourdain's Final Narration
Season: 12
Episode: "Kenya"
The first episode of the show's final season was also the last for which Bourdain had recorded narration. He went to Kenya with the writer and comedian W. Kamau Bell, who serves less as a guest and more as a co-host. This was Bell's first visit to Africa, and he talked, movingly, about the black experience and figuring out his identity as an African-American. Over the course of the episode, they went on a Lewa Wildlife Conservancy safari, on which Bell bugged out over lions, talked to a street-wear designer, ate with boxer Sarah Ndisi of the non-profit Box Girls, and, in the last scene, visited a Masai village that works with Lewa to preserve its way of life. It was Bourdain's last words of narration, though, that formed the episode's most poignant moment, and which best capture the empathetic voice the world lost this year. "Who gets to tell the stories?" he asks, saying that, "for better or worse," he does. "I do my best. I look, I listen, but in the end I know it's my story. Not Kamau's, not Kenya's, or Kenyans'. Those stories are yet to be heard."
Visiting the Robert E. Lee High School
Season: 8
Episode: "Houston"
Throughout the series, Bourdain used his platform to try to show cities and countries as they really are and how and why they became that way. Take the episode about Houston, a sprawl in the oft-caricatured state of Texas that's also America's most diverse city. It was this other side of Texas that Bourdain wanted to show. One of the more touching moments of the series happened not at a restaurant, but at a school, when Bourdain joined Jonathan Trinh, a Vietnam War refugee and Marine veteran who is the principal of the city's most ethnically diverse school, Robert E. Lee High School. Trinh said his students are 80 percent ESL, and, when asked what would happen to those kids without the school's English-language classes, Tran replies, "They become third-class citizens … but our students are very gifted, they're talented kids." Bourdain ate with some of the kids in the cafeteria before he joined Trinh and his family at home for tamales and pupusas (his wife is Salvadoran); Tran's mother's jellyfish, shrimp, and pork dish; and Viet-Cajun crawfish.
Meeting an Israeli Who Calls His Gaza Restaurant a "Shelter"
Season: 2
Episode: "Jerusalem, West Bank, and Gaza"
One of the show's most celebrated episodes is just that, simply, for its treatment of people as people. Bourdain's respectful empathy is a thread throughout the series (see "Iran") — people wrote essays after his death about how he made them proud of their cultures — and nowhere is this more resonant than in the episodes about the Middle East. It's a region that's othered and turned two-dimensional. Countries like Israel are thought of in black-and-white terms. Bourdain shattered this perception in one episode that culminated in a moving scene in which he talked with Israeli Gatan Galkowitz, who runs a restaurant in Gaza that he calls "a shelter." After Galkowitz's daughter was killed by a Hamas mortar, his reaction was to talk to anyone he could — and instead of hate, he found himself standing against the suffering.
Kicking Off the Then-New Series in Myanmar
Season: 1
Episode: "Myanmar"
After Myanmar's repressive military junta relaxed travel restrictions in 2012, Bourdain made the country the subject of his new show's very first episode. Tourists rush to new destinations before other tourists can "spoil" them, treating places like collectible experiences. Travel writing and television can be voyeuristic. Bourdain, instead, used his access to a long-closed-off country to help viewers — for whom this was, overwhelmingly, a first look inside Myanmar — make sense of the place. He did this as he talked with a twice-imprisoned journalist, discussed the lasting effects of British colonialism, and went to a street market with punk group Side Effect. He rightly positioned Myanmar's opening as a significant event for the Burmese, who had lived in a country where "even having an opinion can be dangerous" and were "collectively holding their breath waiting to see what's next, and [whether] this loosening of government grip [would] last." (The show's accompanying website would later publish letters written by ethnic Rohingya, victims of a genocide by the Myanmar military.)
Dinner With Obama
Season: 8
Episode: "Hanoi"
It was the bún chả seen around the world. Former President Barack Obama and Bourdain both happened to be in Vietnam at the same time, so they rendezvoused at a characteristically Bourdainian place. The travel host took the world's most powerful man to a tiny Hanoi restaurant called Bún Chả Hương Liên, where they sat on squat plastic stools and talked over cold beer and grilled pork with glass noodles. It was a testament to Bourdain's spirit that he took Obama to a no-frills place (locals were, reportedly, touched), and the restaurant sealed off the table.
Talking Stop-and-Frisk at a Bronx Dive
Season: 4
Episode: "The Bronx"
It took Bourdain a long time, he admitted, to get to the Bronx, "the overlooked, never-visited borough." Midway through this episode, he met up with comedian and late-night host Desus at a Jamaican dive called Barry's Restaurant in Wakefield, the Bronx, where Wray and Nephew flowed, people danced, and the owner, Barry, was freaking elated. At one point, Barry came up to Bourdain and Desus mid-conversation to shake Bourdain's hand (twice); Desus says, "this is the man right here who made today possible." There was pig-tail soup, and then the breaks were hit as Bourdain asked Desus, "Do you remember your first time" being stopped and frisked? Desus talked about crying the first time, how he got stopped 15 times in one summer, and the people (like Bourdain) who needn't worry about such treatment. It was an arresting way of showing the things marginalized people have to live with, even when they're celebrating.
Geeking Out Over Meeting Paul Bocuse
Season: 3
Episode: "Lyon"
Parts Unknown was celebrated, in large part, for tackling bigger issues (like the opioid epidemic in "Massachusetts"), but some episodes were squarely focused on the joy of food. This episode was Parts Unknown at its most rapturously gluttonous. It was also Bourdain at his best and most grateful. It saw him and his friend Daniel Boulud join the legendary Paul Bocuse, first for what amounted to a royal meal (there's a whole fish in pastry!), and then to hunt and hang out in the country with Bocuse's friends and very good dog. What makes this segment with Bocuse so wonderful is how effusively happy Bourdain was, and his feeling of bewildered luckiness to be there — as when he said of eating the truffle soup Elysee en croute, "Never, never did I think I'd get to try it, much less like this." Bourdain had access to people and places very few of us ever will; everyone seemed to want to know him. He never got jaded, though, and frequently spoke about how fortunate he felt to be doing what he did.
Joining a Libyan Who Fought Gaddafi at a KFC Clone
Season: 1
Episode: "Libya"
Aired two years after the death of Libyan dictator Muammar Gaddafi, this episode depicted scenes of celebratory chaos — people were setting off fireworks in the streets — and a country with an uncertain future following decades of repression. In one scene, Bourdain went to a KFC copycat called Uncle Kentaki Fried Chicken with a young man named Jahwar who was one of the rebels who stormed Gaddafi's palace. They ate fried chicken and talked about why he fought, then went to the crumbled remains of the palace. Shortly into the visit, Bourdain and company were confronted by several pickup trucks' worth of local militia who weren't happy they were there and wanted them to delete their footage. The tension escalated before Bourdain, Jahwar, and his crew had to quickly escape. This segment captured what Parts Unknown did best, showing the scars of war without ignoring the full humanity of the subjects, their small pleasures and affirmations of life. "They're showing, 'We want to have fun,'" Libya Herald co-founder Michel Cousins says of the people who set off fireworks earlier in the episode. "And remember, for a long time in Libya, you couldn't have fun."
The Pepper Soup
Season: 10
Episode: "Lagos"
One of the show's Emmy-nominated episodes featured the best example of the series' most quintessential trope: Bourdain joining a local at a hole-in-the-wall serving fantastic, unfancy food, to talk about bigger picture issues while slurping noodles or sipping on soup. While in Lagos — Nigeria's frenetic, pulsating capital and Africa's largest city — Bourdain went to a night market with the journalist Kadaria Ahmed. Rather than just accept the popular picture painted of corruption in Nigeria, Ahmed talked about why there's corruption — the anti-intellectualism of the former regime, for example — but also about the burdens shouldered by Nigeria. Africans and African-Americans are "never going to get any respect unless there's a successful black nation," Ahmed argued. It's a sober statement, but it was set against a scene that celebrated the vivaciousness of Nigeria's culture. They ate the quintessential Nigerian dish, pepper soup ("it burns, it burns real good," Bourdain says), in a bustling night market, to a joyous soundtrack of Nigerian music.