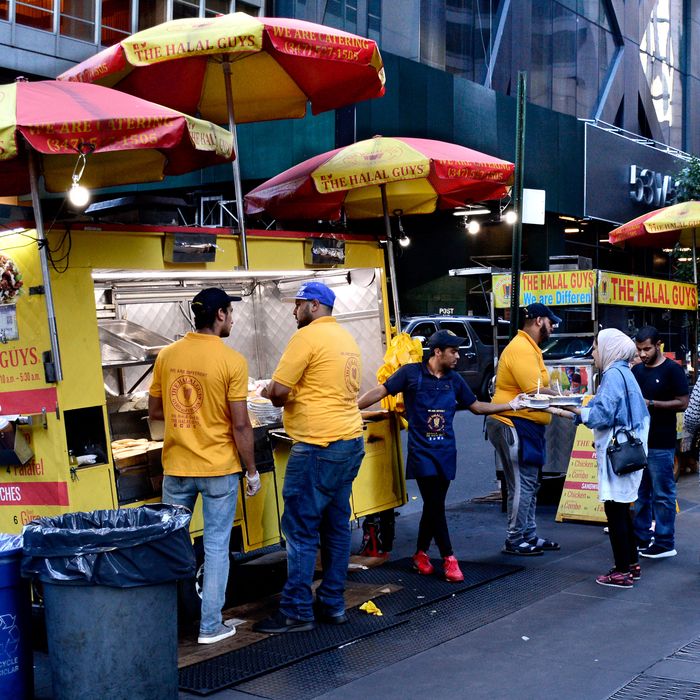 Welcome to the club!
Photo: Robert Alexander/Getty Images
Soon, your street meat will be come with another side — free of charge, for you. On Friday, the New York City Health Department announced its new inspection rules for food trucks and carts. From December on, the 5,500 operators will be required to be inspected and assigned letter grades, which they'll display with decals identical to those marking the city's restaurants. The Department will also require street vendors to attach tracking devices so that inspectors can follow the carts and trucks, an idea that was first shared this summer and w roundly criticized, because so many vendors are immigrants.
The letter grading system has caused tension between chefs and the Health Department, in part because violations and grades can arbitrarily vary from inspector to inspector. (One inspector might dock points for a rule violation that another inspector would entirely ignore.) Take the example of Per Se, which was docked a whopping 42 points in 2014. Its owner, Thomas Keller, has a reputation for running meticulously clean ships even by the very high standards of high-end restaurants.
The Health Department's rules have been described as byzantine and confusing, and critics have pointed out that this could pose tremendous problems for immigrant communities in which English is a second language, and in which traditional food preparation methods may not align with Health Department rules. In 2014, Open City reported on Chinatown restaurateurs' clashing with the Department and how their businesses have suffered financially because of confusion over the rules as well as conflicts with tradition. In 2013, HuffPost found that the grades varied by cuisine.
Most of the people who operate and own street carts and trucks are immigrants and people of color. Critics have pointed out that language barriers may well exacerbate confusion over the grading system, and owners may be unable to appeal grades because they don't have the time or resources or due to intimidation. Food safety is good, but the enforcement of the rules needs to be fair to the people who are making the food, too.