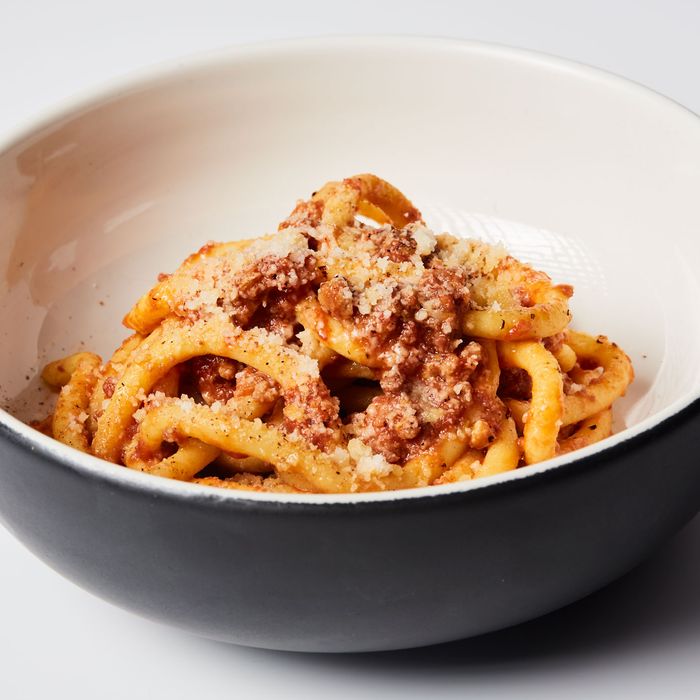 Misi's bigoli with pork sugo.
Photo: Mackenzie Stroh
Things that cannot be refuted: pasta is good, vegetables are tasty, and Missy Robbins's new restaurant Misi is white-hot. (This is no surprise, given that her first Williamsburg restaurant, Lilia, remains nearly impossible to get into.) Today, Misi got a rare case of dueling reviews: a glowing three-star review in the New York Times and a one-star dud from Eater New York. As of press time, New York's own Adam Platt has not yet entered the food fight.
These are, needless to say, very different reviews. In his write-up, Times critic Pete Wells says Misi is home to "Italian marvels of starch formation" but bugs out even more about the vegetables. He loves the roasted globe eggplant, which he calls "as soft and easy to spread as cream cheese," and unusual combinations like marinated leeks with pistachios and vinegar.
Eater's Ryan Sutton was not so pleased. The restaurant, he finds, is as impossible to get into as Lilia, yet the pasta ranges "from serviceable — like a forgettable pappardelle with chickpeas — to nearly disastrous." Other noodles, like a linguine with anchovy and colatura, he found so salty as to be inedible; the only pasta he seems to like is the sheep's milk ricotta-stuffed ravioli called occhi. Sutton does concur that the vegetables are good, so at least the two critics agree about that, as well as the high quality of the gelato.