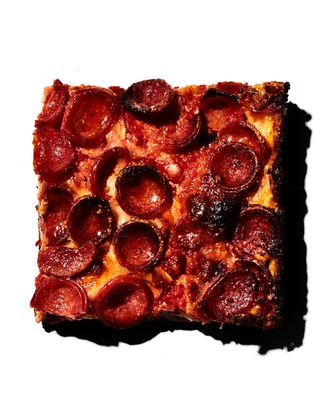 A square from Mama's Too.
Photo: Bobby Doherty/New York Magazine
The places that New York Times critic Pete Wells has awarded a single star to include a location of Shake Shack and now, slice shop Mama's Too. In his "NYT Critic's Pick" review, Wells writes, "It is as if Frank Tuttolomondo, the owner and pie architect […] has learned how to genetically modify pizza" and says the flavors are on par with sit-down spots like Ops and Una Pizza Napoletana.
It's unusual, to say the least, for a takeout pizzeria (one that uses industrial cheese, no less) to get this kind of spotlight from the Times' chief critic. (Wells isn't the first to praise Mama's Too, which New York's Underground Gourmet called, in this year's Cheap Eats guide, "part Bonci, part Di Fara, part Detroit, part unabashedly burnt.") The occasion for the review, he makes clear, is New York's ongoing slice boom, which kicked off with Best Pizza and has brought places like the great Williamsburg Pizza and the associated Brooklyn Pizza Crew, Scarr's, and most recently, Paulie Gee's Slice Shop.
This post has been corrected to reflect that Superiority Burger was given a two star review and not, as was originally written, a one star review.