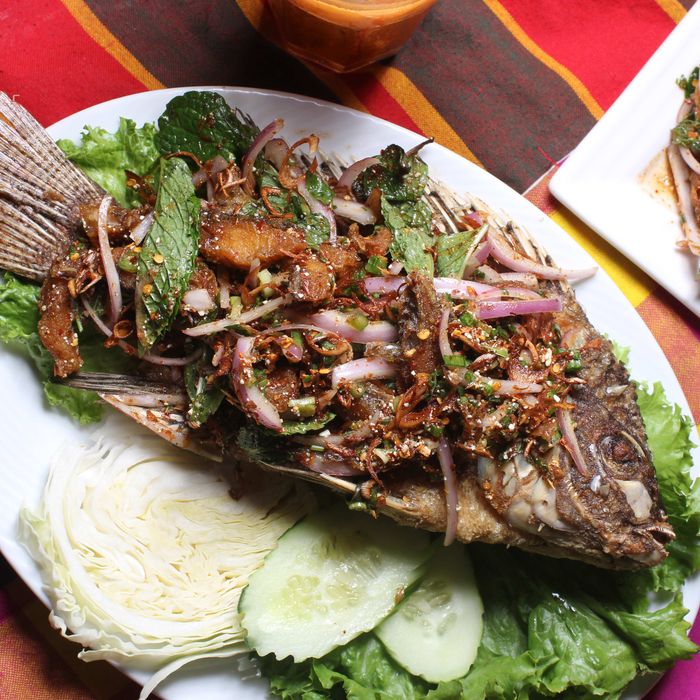 Larb Ubol might reopen.
Photo: Melissa Hom
Just a couple of months after Andy Ricker's Pok Pok Ny shuttered, New York has lost another one of its standard-bearers in the Thai restaurant scene. Restaurateur Ratchanee Sumpatboon closed her Larb Ubol this week, after five years in Hell's Kitchen. The chef and owner was, a source tells Eater, unable to renew her lease. She does reportedly plan to reopen the restaurant in a new location.
During its run, the restaurant earned a lot of praise. New York's Underground Gourmet named it to their 2014 101 Best Cheap Eats list and called many of the dishes "habit forming." It's closure is a loss for the neighborhood, though it's worth noting that Sumpatboon runs a host of other acclaimed Thai restaurants, including Elmhurst favorite Chao Thai and Lan Larb Soho.
As much as anyone else, Sumpatboon is responsible for the surge of those restaurants this decade and the generally better Thai food now available here. Along with Chao Thai, her most significant restaurant has been Zabb Elee. After Zabb expanded in 2011 from Jackson Heights to the East Village to great fanfare (it was mobbed the day after a J. Kenji López-Alt review), New York saw an uptick in Isaan Thai restaurants. However, she sold the Queens location in 2016 and it closed the next year. She then sold the East Village location in 2017, which was renamed Zaabver and closed earlier this year.
Pok Pok Ny opened in 2012, a year after Zabb Elee in the East Village and a year before Larb Ubol. New York's Thai scene is going very strong, but in explaining the closure, Ricker pointed to declining business as well as "the explosion of specialized regional Thai food vendors in all boroughs."