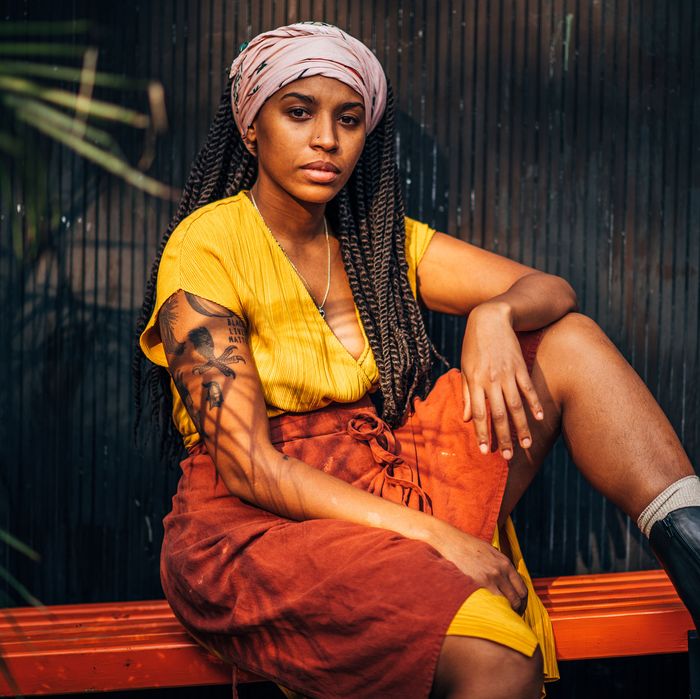 Kia Damon is the new head chef at Lalito in Chinatown.
Photo: Christian Rodriguez
Kia Damon's head scarf is illustrated with pictures of Lisa Simpson, a basketball, and a palm tree. "BLACK LIVES MATTER" is tattooed on her right bicep, and her Instagram bio is a reference to the Nina Simone song "To Be Young, Gifted and Black." The 24-year-old moved from Tallahassee, Florida, to New York this summer to work as the sous-chef at Lalito, the Cali-Latin spot on Bayard Street that's known in equal measure for its vegan chicharrónes and its Jennifer Lopez–themed restroom. Damon, who goes by Kia Cooks, first learned about the restaurant while flipping through a food magazine at a Publix in Florida. Now, just a few months after arriving, she's the restaurant's new head chef — and is slowly easing into the new job by pulling double shifts, trying to find a new sous-chef of her own, and putting together her first solo menu.
"Fuck no did I ever think I'd be running a restaurant this soon," Damon laughs. She was promoted when the restaurant's first chef, and a former owner, Gerardo Gonzalez left to move to the Cayman Islands. Damon says Gonzalez, whom she initially met via Instagram, is a close mentor and friend, who encouraged her to embrace the new role and responsibilities, even if the timing of the offer came as a surprise.
Born in Orlando, and later moving to Tallahassee, Damon learned to cook while taking care of her brothers. She thought about going to culinary school, but ultimately decided that she didn't want to go into debt, and that the job offers available in Florida wouldn't be any different even if she had a culinary degree. "Tallahassee is extremely racist," she says, "and someone like me has to work twice as hard." Damon worked in diners, mom-and-pop restaurants, and a vegan café while also launching the Supper Club From Nowhere, an ode to the women of the civil-rights movement, as well as to her personal food hero, Edna Lewis.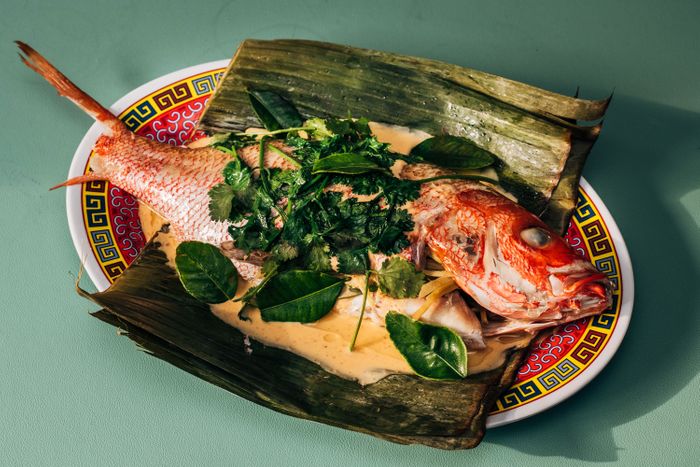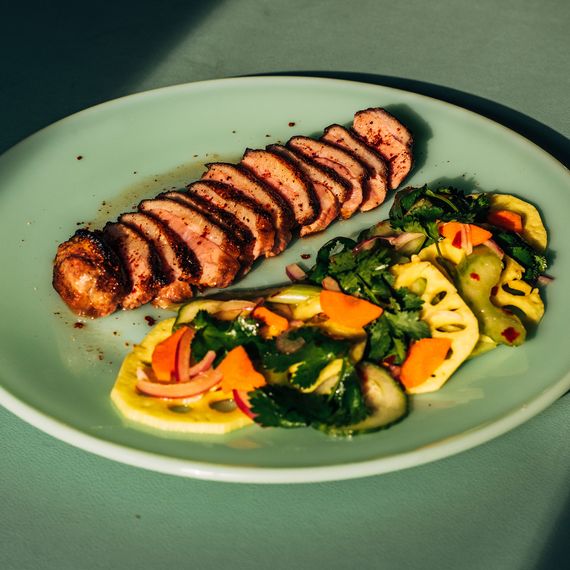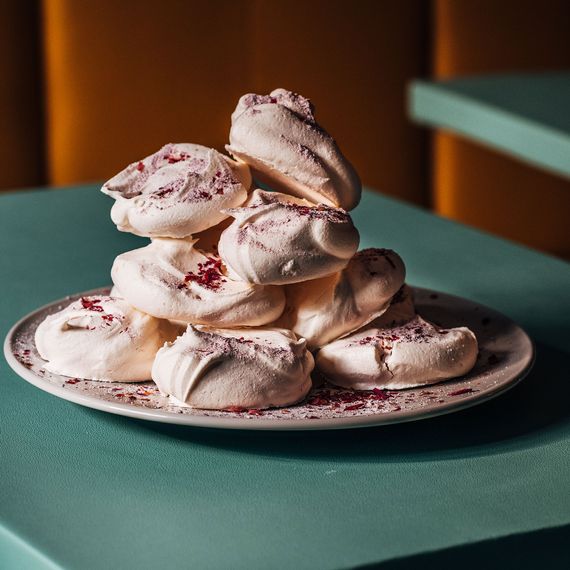 Now, in an industry that can feel forever mired in a culture of masculine toxicity, Damon is exhilarated to run a restaurant that celebrates otherness. While many of the restaurant's most distinctive features will remain — the vegan Caesar, the lemon-custard-colored booths, that J.Lo bathroom — Damon wants to make it clear that she isn't going to try to resuscitate Gonzalez's menu exactly. "What G did was so special," she says, "but it was that way because he was cooking it. I could never do exactly that because that is not my experience with Latin food as a queer black woman from the South."
The new menu also pulls from plenty of other points of inspiration. A grilled half-chicken is rubbed with achiote and involves duck fat, garlicky green sauce, and ají mole. Whole steamed snapper arrives in banana leaf with fresh ginger, kaffir lime leaf, fried cilantro, and a coconut-curry broth. A salad of melon, hearts of palm, avocado, and epazote is called Palm Springs because, Damon points out, "there's a Palm Springs in both California and Florida." An ube tres leches cake is made a brilliant shade of pink with dragon-fruit powder — now they just need a name for it, a process that involves everyone in the restaurant. "It's a collective," says general manager Carla Holguin. "Everyone has a say."
The restaurant is also a refuge for Damon and her team. "I might be considered cool and supported in this restaurant," the chef says, "but that is just not my experience outside this place — I definitely don't feel taken seriously, and I constantly feel vulnerable." (Just the other night, she'd been followed home and harassed by a stranger on the street.) "I am so grateful to have found these people who believe in me, and the support from my team," Damon says. "I want to make my mark, but I also want to make my mistakes."