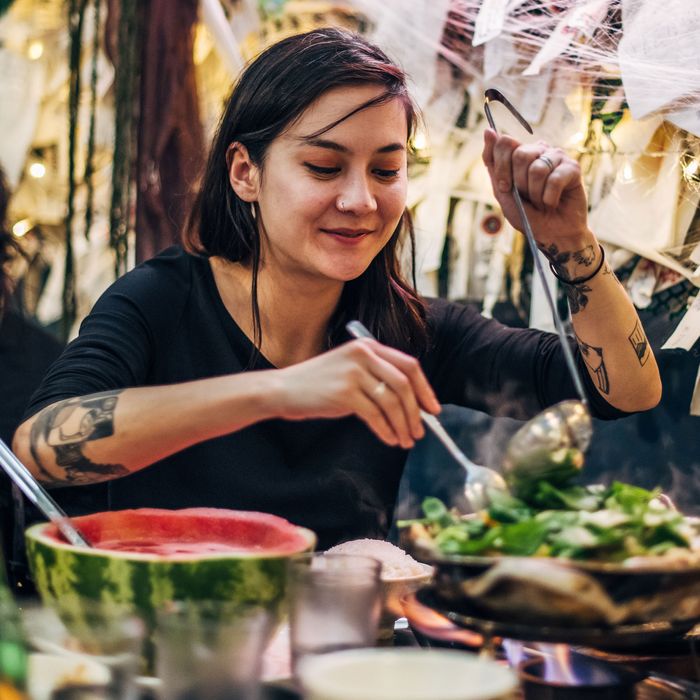 "I like any novelty cocktail of any kind, really," says Michelle Zauner, a.k.a. Japanese Breakfast.
Photo: Christian Rodriguez
Under the nom de guerre Japanese Breakfast, Michelle Zauner makes indie pop that can be both hyperactive and melancholy, spacey and grounded. After spending much of the last three years on the road — most recently touring for Soft Sounds From Another Planet — the Philadelphia artist recently returned home for a breather. For her, that means cooking a lot of Korean food. "I just got off tour and was like, 'I'm going to stay inside,'" she says of this week, which included homemade kimchee stew, an "evil Cheeto snack," and Halloween Jell-O shots. Read all about it in this week's Grub Street Diet.
Thursday, October 25
I was in my apartment in Philly after three months of back-to-back tours. It was the end of a crazy cycle for our sophomore record, and the first time we had a long break after nearly two-and-a-half years on the road — until we start the process over again with a new record. More than anything, I was excited to be in one place for a while and get to freaking cook.
For those who don't know, I'm half-Korean. For breakfast, I made what I pretty much always do for breakfast after a tour, kimchee-jjigae. It's a huge staple in the Korean diet, my ultimate comfort food, and what I miss the most on the road.
Ideally, I would've used my own kimchee, but I hadn't been home in three months. As soon as I got back, I bought a jar from H Mart to tide me over while I waited for my homemade batch to be ready. It usually takes about two weeks for it to ferment to my taste, which is more on the sour side.
Usually, for kimchee-jjigae, you want to use super-sour kimchee, so after I bought the jar, I left it out on the counter for a couple of days to get there faster. I chopped about four slices of pork belly, a quarter of an onion, and two cups of the kimchee. I sautéed that for about five minutes with a tablespoon of sesame oil, two teaspoons of garlic, and two tablespoons of gochugaru (Korean red-pepper flakes).
Then, I added a fourth of a cup of the kimchee brine and four cups of water and simmered it all for about 20 minutes. (Sometimes I add chicken stock or bone broth for more flavor, and sometimes I add a tablespoon of doenjang, Korean fermented soybean paste.) After 20 minutes, I added a quarter block of firm tofu cut into squares and one chopped green and let it cook for a couple more minutes.
I ate it with white rice and a runny poached egg that I drizzled with sesame oil (which, for Koreans, is like butter) and sprinkled salt and sesame seeds. Poaching eggs is my favorite thing ever and it's so easy. I like that it looks so good, like a little self-contained ball of mozzarella.
Spent the day drinking coffee from my French press while I worked on preproduction for a friend's band's music video and a proposal for a memoir about Korean cooking and grief. Usually, it's Philly's Reanimator beans, which I love, but we tried a new brand called One Village.
Okay, I'm someone who's always microwaved coffee. It's kind of fucked up. I use the microwave so much. I love the microwave. My mom was a big advocate, and so is my dad. I like things to be really, really hot all the time. I think it's because I never feel truly alive unless I am the most presently active. So I feel like I'm trying to achieve this apex.
At 7 p.m., I took a car to Nom Wah Tea Parlor in Philly's Chinatown to have dinner with my in-laws. We ordered egg rolls, soup dumplings, fried pork dumplings, turnip cakes, pork buns, stuffed eggplant, scallion pancakes, General Tao's chicken, and a rice ball with Chinese sausage. It was just okay. We usually go to Dim Sum Garden, but the last few times I've been, it was a bit too busy and chaotic. The atmosphere was better at Nom Wah, and their soup dumplings were pretty legit, but Dim Sum Garden definitely has more options.
Friday, October 26
So around midnight, something familiar occurred: I suddenly got really hungry right before bed. I had absolutely no willpower to stop this phenomenon, so I ate a midnight nacho plate.
One of my favorite hot sauces is this habanero one from Dos Toros. Even though it destroyed my stomach and was probably the worst thing to eat right before you go to bed, you know those 'chos got doused. Why do I always love the things that hurt me the most?
I spent the first few hours of the morning writhing in pain from my poor late-night decisions. Then at noon, I ate leftover kimchee-jjigae with white rice and a poached egg, chugged coffee from the French press, practiced guitar, and powered out a ton of preproduction. I finally scored a location, so I felt relieved. That was a huge stress for me.
Around three, I reheated some squash soup that I'd made a couple of days before from an Ina Garten recipe and ate it with a piece of sourdough toast from the Whole Foods bakery. I don't normally use Ina's recipes. I just wanted to make a squash soup, so I randomly looked it up. She looks trustworthy; she looks like she eats.
At night, I went to a Halloween party at Riverwards Produce warehouse. A friend of a friend opened it. I hadn't seen a lot of my Philly friends in a while, so it was fun and weird to see them all in costume. My friend Gen, who had a banging Lumière costume with LED candles, always makes these amazing themed Jell-O shots. I knocked back three green guys with gummy brains.
Jell-O shots taste simultaneously really good and really bad. It's this constant sensation. I love them. I like any novelty cocktail of any kind, really, not that I would call a Jell-O shot a "cocktail." But, yeah, these drinks are fun, and like I said, I want to do the most at all times. I really like going to Dave & Buster's.
Also, I had a couple shots of tequila and way too many beers.
Back at home, you know I went midnight-nachos round two, though they were a lot sadder because all that was left were crushed chips from the bottom of the bag to melt cheese on top of and smother with hot sauce.
Saturday, October 27
I was so hungover. I woke up at, like, 1 p.m. and just decided the day was a wash. I couldn't bounce back the way I used to now that I'm nearly 30.
I made tteokguk for a super-late breakfast. It's a Korean rice-cake soup in beef broth that we traditionally eat on New Year's. Tteokguk also turns out to be the best hangover soup, so maybe that's the real reason we eat it on New Year's. For this, I boiled a little over half a pound of brisket with water, onion, garlic, and soy sauce for the stock, then added a couple of eggs and rice cakes. I usually add frozen dumplings, but I didn't have any, so I added fresh kalguksu noodles to fill up on as a substitute. I ate the tteokguk with shredded brisket, scallions, and homemade radish kimchee that wasn't quite as sour as I like it but still pretty good.
Around 5 p.m., I had this horrible snack that I've been addicted to since I was in the fourth grade: Hot Cheetos with lemon juice. My best friend in elementary school introduced it to me. She was half-Mexican and her entire family ate it this way. I became obsessed with it, too. They would open a bag, spray one of those lemon-shaped juice bottles in the bag, fold it back up, shake it, and push it out like a Push Pop. Now, it's this weird comfort thing. It's sort of like Korean food. It's tangy and sour and really spicy. My Asian twist is that I eat it with chopsticks, so the red powder doesn't stain my fingers. It gives me the worst heartburn ever, but I always go back for more.
At seven I made jajangmyeon, a Korean-Chinese dish. I stir-fried pork belly with black-bean paste, onions, potato, and zucchini, simmered that with water for 20 minutes, and served it with noodles.
All in all, spent most of my day playing Stardew Valley on my Nintendo Switch waiting for the hangover day to end.
Sunday, October 28
Even though it must seem like I am a garbage person by now, I'll have you know that on Sunday morning I had avocado toast. Toasted a piece of sourdough, cut up a whole avocado, and added chopped cilantro, salt, olive oil, and lime juice. Chugged coffee from the French press all day again, worked on my book proposal, and practiced guitar.
For lunch, I had more leftover squash soup with another piece of toast, and around five I had a bowl of my evil Cheetos snack. I also had this chia–aloe water drink my best friend Corey taught me how to make once when we were really hungover. You soak a tablespoon of chia seeds in a cup of filtered water and then add some chunky OG flavor aloe juice. It's my jam, kind of like healthy boba tea with all the chunks in there.
For dinner, I ordered delivery from Karma, an Indian spot in Old City that goes hard on the heat. I got chicken vindaloo and saag paneer "Karma spicy," plus raita and naan. It was fucked-up spicy, and I was in a bad place for a while there.
Monday, October 29
Made kimchee-jjigae again for breakfast. This time I made kongbap to go with my poached egg. I soaked some mixed dry beans that I bought in a big bag from H Mart. In my rice cooker, I cooked one-fourth of a cup of them with a teaspoon of black rice and a cup-and-a-half of white rice. A long time ago, Korean people used to do this to stretch rice, but now it's served as just a healthy alternative. It made a really pretty lavender-colored rice.
After eating, I tried finishing up my book proposal, but kept getting distracted by random band emails and preproduction for the video. I got offered a last-minute cameo on a TV show in New York, so I bought a bus ticket. The costume designer called me in the morning and asked if I had any shoes that were "fierce," and that the style was "autumnal, architectural fashion; think colorful and acid greens." I told them I'd try, but I pretty much only own black loafers.
Took the bus up around 6 p.m. and got in at 8:30 p.m. I took a car to my friend's apartment in Ridgewood because the 1 line was down and I didn't want to haul my guitar and stuff any further.
Dropped my stuff off at my good friend Adam's, who's the DP on all of my music videos, and we met up with my best friend Corey at this bar Aunt Ginny's. Lately, I've been going through this old-man Scotch phase, so I ordered a Glenlivet on the rocks. Also, it feels cool. No one expects me to order Scotch on the rocks.
Adam and I split Buffalo wings and a plate of nachos — his idea, I swear. The nachos were pretty wack and tasted like they used mayonnaise instead of sour cream. The Buffalo wings were bomb, though. I have this alter ego called "Wingchick69" who goes hard on the Buffalo wings, but I was appalled when Corey told me that Buffalo sauce is just hot sauce cooked with butter? Is this true???
Tuesday, October 30
I didn't sleep well and woke up early to make sure that I had plenty of time to get to the shoot in Williamsburg by 9 a.m. I'd never been on a TV production set before. It was cool to get to watch such a big operation run. It was a wedding scene, so there were tons of decked-out extras. Spent most of the day not sure what I was supposed to do, sort of floated around from hair and makeup to wardrobe and tried to not get in the way.
They let us leave for lunch around 1 p.m., so I just went to Motorino and sat alone at the bar. I went for the first time a few years back when I visited. A friend took me, and I thought it was going to be this scuzzy punk place. I think it's really good, though. Carrie Brownstein was there alone, also, and I really wanted to tell her what a big fan I am and ask if she wanted to split a pizza with me. But she looked really busy, and I didn't want to bother her. I ordered a margherita pizza and a mixed green salad.
Back on set, I snacked on craft services all day: half a peanut-butter-and-jelly sandwich, some carrots and hummus, and toast. We didn't shoot the scene I was in until the very end, at nine, so I was super tired and took a car back to Adam's. Adam made fettuccine with tomato sauce, so we decided to have ourselves an Italian feast. We heated up the rest of my leftover pizza for an appetizer and popped a can of anchovies. I ran out for a bottle of Chianti and a six-pack of Peroni, and then we ate and drank while listening to the Moonstruck soundtrack.