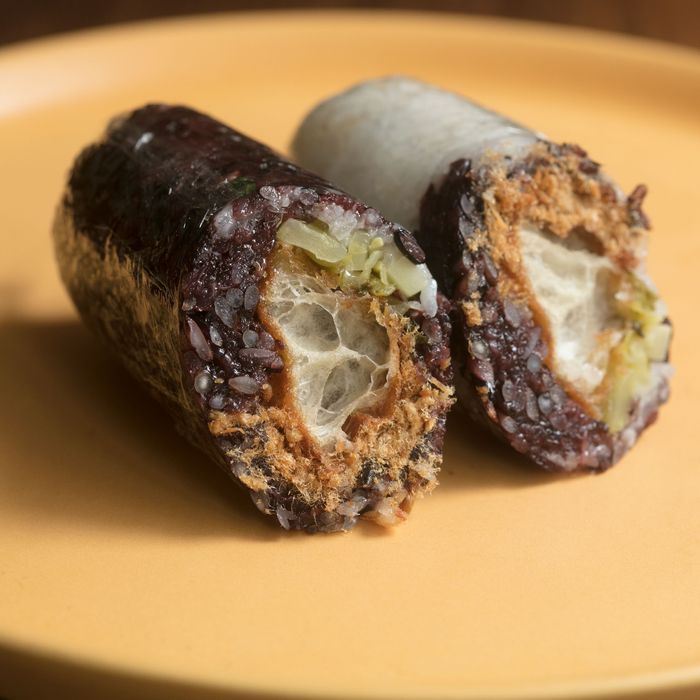 One of two fan tuan, or rice rolls, on Ho Foods' breakfast menu.
Photo: Melissa Hom
Certain cultures and countries, it's true, just breakfast better. Take Taiwan, where the buzzing night markets are the bridge to one of the world's great morning meals. Centered around fresh soy milk served sweet or savory (typically, takeout places are called soy-milk shops), it's heavy on north Chinese influences, carbs, and eggs. People bug out over the food — like Richard Ho, who runs the raved-about Taiwanese beef-noodle-soup shop Ho Foods.
"When you go to Taiwan, the first thing you crave is Taiwanese breakfast. There are these famous places; my dad will go to one and buy 30 of something to bring back," he says. "My friends' parents do the same thing. It's a thing that has a close, emotional attachment for a lot of Taiwanese people."
After moving from Southern California to New York, Ho says Taiwanese breakfast was something he couldn't find anymore — save for a dish here and there. (The Food of Taiwan author Cathy Erway says, "Taiwanese breakfast food just wasn't a well-known concept here.") This Saturday, after a few trial runs, he'll find a dedicated place for it: his own Ho Foods on weekends from 10:30 a.m. to 2 p.m. There's been a swell of places serving danzai noodles and oyster omelettes, and Ho isn't the only young entrepreneur getting in on the breakfast action. You can find shao bing, soy milk, and more at Zai Lai, and the Win Son guys (who serve a few Taiwanese breakfast dishes during brunch) are opening a café where they'll serve soy milk and dan bing.
At Ho Foods, Ho's goal is to re-create the soy-milk shop experience and serve whatever essentials he can. "Taiwanese breakfast is not … low on the carbs, you know? What we do is kind of a snapshot of it," he says.
Here, a primer on what Ho Foods will serve this weekend.
"If you come from an Asian country like Vietnam, China, or Taiwan, soy milk is a certain way," he says. American soy-milk brands doctor theirs up with coagulants and vanilla and are nothing like what Ho will serve. His is made from just soy milk mixed with water, and can be had plain or sweetened. You should get a youtiao, or cruller, or for some carb-on-carb action, a shao bing youtiao.
Savory soy milk is where things get more complicated. It's spruced up with toppings, including pork floss, a dried meat that has a distinctly light texture; crullers for crunch; and scallions, salt, chili, and vinegar, which curdles it. "It has this really kind of savory blast of umami," he says. "I don't want to compare it to something else … I think it's something people don't normally see."
The steamed bread called mantou isn't something you'll usually find at soy-milk shops, Ho says, but at its own stalls. It's a breakfast essential, though, often used for sandwiches. He serves it as his parents did, with pork floss and scrambled eggs.
Eggs are, of course, big in Taiwanese breakfast. One of the standard dishes is the egg bing, made with eggs cooked with scallions and white pepper. Ho calls it "our version of having eggs for breakfast."
Fan tuan, or rice rolls, are an obsession all their own in Taiwan. Lots of modern variations exist (a Sunset Park restaurant serves an entire menu of them), but Ho keeps it more classic. Sticky rice is wrapped around a double-fried cruller, plus pickled turnips and pork floss. Sticky and chewy on the outside, it's crunchy inside. "It's another one of those odd textural things that's very addicting," he says.
If you're not in the mood for soy, there's peanut milk (often called rice milk) for you. Thick and hardy, it's made with roasted peanuts, rice, water, and brown sugar.
For a snack option, there are turnip cakes made with shredded turnip, mochi flour, dried shrimp, and Chinese sausage.