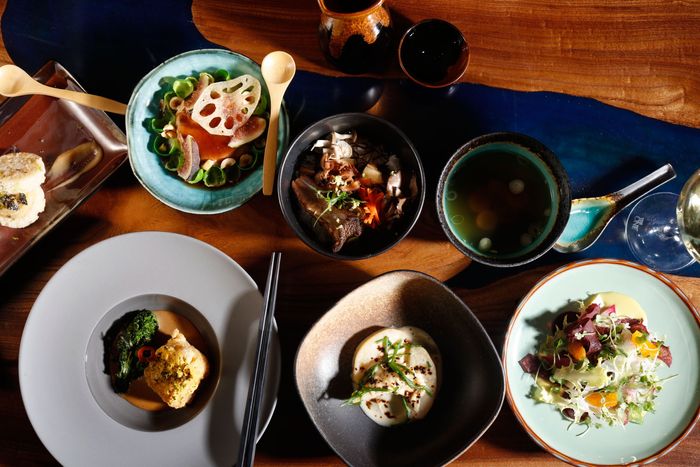 A spread of dishes from Water, the two-part restaurant Fire & Water's
omakase
counter.
Photo: Melissa Hom
The New York restaurateur Ravi DeRossi's most famous bar is Death & Co., which has endured since it first opened back in 2007. Apart from that, it seems like he's almost always opening some new place, rejiggering his old places, and trying out new themes. Over the last few years, he's shifted his focus toward remaking his sprawl of downtown and Brooklyn places in a new, vegan image. Take the latest, Fire & Water, which will open its doors in the East Village tomorrow.
Located next-door to DeRossi's Ladybird (the space was previously home to the Bourgeois Pig, his original restaurant), the restaurant is two concepts rolled into one space. The first of these will open tomorrow: Water, a 20-seat Japanese omakase counter. The other half, the 36-seat Fire, is set to open in January, and will serve dim sum and cocktails in a more raucous environment.
"The dim sum, that's going to be a little more difficult," says the restaurant's chef, Steven Pereyda, who helped out at DeRossi's Avant Garden from time to time and has worked as a sous-chef at the now-shuttered Rouge Tomate and at the influential, long-standing Aureole. For the dim sum side, he says, he's working on dishes like a dumpling stuffed with charred broccoli rabe mixed with chili-garlic sauce. He doesn't want to approximate, say, shrimp har gow at Fire or tsukune (the Japanese glazed meatballs) at Water.
"I'm not really trying to make everything taste like meat," he says. "I'm just trying to intensify the flavors of the vegetables."
At Fire, Pereyda will serve an eight-course meal that's a relative bargain at $65. (The revered and highly pedigreed Kajitsu, the vegan kaiseki restaurant, offers eight courses for $95 and ten for $125.) There's a long, delicious history of meat-free cooking in Japan, and Preyeda will draw on that for his menu. The menu will change entirely with every season, he says, and individual dishes will change "as much as possible." Here, take a look at the tasting menu, from start to finish.
"It's just all about pumping as much umami into everything as possible," says Pereyda. To do that, he'll make liberal use of soy sauce, dried shiitakes, and "lots of seaweed; there's seaweed all over the place." The ingredient is featured most prominently in the first course, a seaweed salad with salt-roasted beets, clementine, and wasabi dressing.
The chef is making his own tofu and yuba (a.k.a. tofu skin). He's using the latter in the second course, a dish of celery root that also features black garlic, mitsuba oil, and sea beans.
The house tofu is the centerpiece of the third course, for which it's served with brussels sprouts, hazelnuts, lotus root, and fig ponzu.
"I'm making the soba noodles, but they aren't traditional," Pereyda says. "They're almost like a pasta with a lot of buckwheat flour." Those noodles are paired with an electric trio of shishito peppers, yuzu, and shisho.
The fourth courth is a restorative ginger broth, made with salsify and fried tofu.
Then there's a version of chirashi, the bowl of rice, fish, and vegetables. There's no fish at Water, of course, but instead mushrooms, leeks, shio kombu, and fresh wasabi.
The final savory course is a pumpkin tempura, served with sweet sesame and broccoli rabe. The last course, not pictured, is a dessert of ginger chocolate cake with sesame (vegan) ice cream and miso caramel.
The dessert will vary. There could be a ginger chocolate cake with sesame (vegan) ice cream and miso caramel, or an almond cake (pictured) with parsnip-miso cream and caramelized pear puree.
Fire & Water, 111 East Seventh St., nr. 1st Ave; 646-767-0476