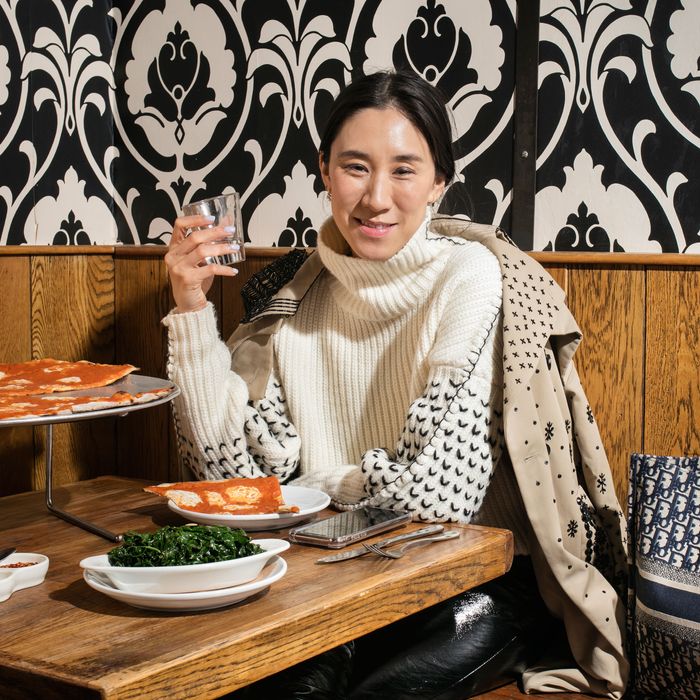 "Their pizza a la vodka, I think, is one of the most perfect foods ever."
Photo: Melissa Hom
If you aren't one of the million people who follows Eva Chen on Instagram then you should know that three things define her life on social media: Fashion (she's the platform's Director of Fashion Partnerships); her two small children, Ren and Tao, and husband Tom; and her unabashed love of food. This week, Chen's usually stable food routine was upended by the debut of her first children's book, Juno Valentine and the Magical Shoes, and a book tour that allowed her to partake in breakfast buffets, her favorite hotel room service, and some of America's best pizza. Read all about it in this week's Grub Street Diet.
Thursday, November 1
Right now, I'm technically on vacation, but it's not a vacation. I'm not on a beach. I'm not sipping a white wine spritzer under an umbrella. So this week I'm deviating so, so wildly from what I typically eat. I have a very structured eating plan, usually, but right now on my book tour, it's like it has all gone out the window and I'm eating pure, delicious, junk-food garbage.
Everyone in my life knows that breakfast is my favorite meal of the day, but I missed breakfast because my daughter, Ren, was sick — she has croup, which is basically baby bronchitis. I was up from 3:45 a.m. with her and I think the only thing I had to drink was a La Croix.
That day I was doing all these on-air TV interviews, so I got my makeup done and had a huge cup of matcha green tea. I basically survive on matcha green tea, and green tea in general. So, I made it, like, super thick so it was almost like a paste and I was imbibing that all day. My husband, Tom, is a tea-drinker too, because he's English. We drink tea like it's water in our household.
I was depressed about missing breakfast, but I was on Rachael Ray, and that set is famous for having really good food backstage. Everyone was rhapsodizing about it. My friend Aliana Lopez was like, "Wait, you're going to Rachael Ray? You're going to love the food." They had these, like, apple and cheese biscuits, all these oatmeals in a really cute mason jar with infused cranberries on top. They had brussels sprouts. I mean, was it smart to eat brussels sprouts right before I was going to be really close to Rachael Ray's face? Probably not. And then there was a pumpkin spice kind of scone thing, so I ate that. It was a beautiful, delicious, stunning tray of food.
I went home at 2:30 p.m. to drop off some bags before the launch party, which was at Saks Fifth Avenue. Before I went, I had a leftover seaweed soup with bone broth. What's funny about bone broth is it's so trendy and yet Chinese people have been drinking it for forever. I've been drinking it my whole life, basically.
At the party we had Shake Shack, Sprinkles cupcakes, and Moët champagne. I didn't get to have any of it because I was so anxious and stressed out and busy. I got home at about 7:30 and my mom had dropped off some vegetarian curry, which was so nice, so I ate that. My parents live in Greenwich Village and I grew up in Greenwich Village, so my mom oftentimes will come over and drop off food, which is wonderful. She makes a really amazing potato salad that my kids love, she makes macaroni and cheese from scratch. I'm very lucky to have her so close by.
Friday, November 2
I flew to Arizona to do a charity event, an authors' luncheon that they do every year for an organization that helps to raise awareness of kidney disease. So, I missed breakfast, again, which is the worst. I had some green tea and a pear on the way to the airport. At the terminal, the only food options were Ruby Tuesday's, which was packed, and Phillips Seafood. Who wants to eat that at 10 a.m.? And yet, I got fish tacos that were surprisingly not too bad.
When I'm in airports, I always take the time while I'm sitting there to reorganize my purse and I found an old fruit leather in a pouch in my bag. I know it was from a pretty recent event at the Instagram office where there were all these left-over fruit leathers. It was, like, covered in Post-it notes and lint, but I ate it anyway.
On the plane, I ended up having a few bites of the airplane meal. I pre-requested the Asian vegetarian meal, which is always the yummiest food on the airplane. Don't get the vegan meal, though, because it's literally one lentil and an endive.
After I landed, I had three fish tacos at the hotel. So, five fish tacos in one day. My personal view is that you should always eat before a catered event just in case the food isn't great or they don't cater to your dietary restrictions.
I got to the benefit, and they had these really beautiful, artfully arranged salads that had, like, a piece of zucchini wrapped around a romaine heart, like it was wearing a belt — and a piece of chicken. So, I ate all the veggies from the chicken plate and then I had two bites of cheesecake because I can't not eat cheesecake. When I got back to the hotel, I had a bowl of berries and that was it.
Saturday, November 3
In the morning, I went to the hotel breakfast buffet. I love a breakfast buffet. It is one of my favorite things in life. When I was growing up, I traveled a lot with my parents, especially to Asia, and in Asia, breakfast buffets are really common. Every hotel has a breakfast buffet. Whenever we would travel, I'd watch them strategize at the breakfast buffet — and there's an art to it.
You don't want to fill up on random, basic carbs. Why would you go to a breakfast bar and have wheat toast? That's such a waste. And when people get a bowl of cereal like Cheerios, I'm like, don't you have Cheerios at home? Why wouldn't you get the freshly made crepe?
I believe that you should start with something that is good for you and filling, like an omelette. I posted so much on Instagram about custom omelettes that one of my friends DM'ed me and was like, "Is this sponsored by the Omelette Board of America?" I was like, "I just like a custom omelette!" From there, it's really good to hit up the fresh fruit as a palate cleanser. So, I had a plate of fresh watermelon and a bowl of blueberries. And then if they have custom waffles or pancakes, end with that. In this case, I got some dried apple chips to go. Really advanced aficionados of the breakfast buffet will bring a Ziploc bag and smuggle food out. The most impressive thing I've ever smuggled was eggs Benedict in two to-go coffee cups.
I went to the authors' luncheon — a thousand women were there to support kidney health awareness. They had grilled salmon, which was very yummy. There was a big arugula salad with candied walnuts and pickled onions. I ate that whole thing. And then they had some sort of chocolate caramel tart. I ate two bites because I don't really love caramel.
Of course, I had green tea throughout the day. Between the hours of 7 a.m. and 3 p.m., I have about 16 ounces of green tea every hour, on the hour. I have this little mug that I refill constantly.
I left that luncheon and went to a bookstore to sign some books in Phoenix, and then went to this restaurant called Pizzeria Bianco. Whenever I travel somewhere new, I ask my followers where I should go eat. Everyone in my life was like, "When you're in Phoenix, go to Pizzeria Bianco. It's better than New York City pizza." And I was like, there's no way, but it was so delicious. The pizza's like thin-crust that's airy and fluffy, and the tomato sauce was slightly tart. I loved it. I could have eaten a whole pie. We got a large pie that was half classic Margherita and half pistachio pizza, which was good, but I like a classic pizza better. And we had a fresh farmer's market salad, which was great. I had half a glass of wine because I didn't want to drink so much, since I was getting on a plane. Once you hit your mid-to-late 30s, you just feel every drink that you have. After one and a half glasses of wine my body's like, nuh-uh.
Then I got to the airport and there was nothing open — and it was 8 p.m.
Sunday, November 4
I landed in New York in the morning and went straight to bed at like 4 a.m. When I woke up, I had another huge cup of tea. I bought a mug in Spain and I was like, This is so great! Look at this giant mug. But then people pointed out on Instagram that it's actually a soup carrier. But I use it as a mug anyway.
My husband had gotten up earlier with the kids, so he made breakfast for them, which was eggs and fruit, and he left some for me, so I ate cold eggs with sriracha.
I went to my parents' and my mom had made oatmeal so I had that, which was super yummy. She puts goji berries and dates in it. Then I went to Books of Wonder, which hosted my first public launch event, and, once again, they had Sprinkles cupcakes and Moët and Shake Shack burgers, but I didn't have time to eat. Afterwards, I went home and had more leftover soup. I wasn't really hungry because when you do an event and you're talking to lots of people, it's like a natural appetite suppressant.
Monday, November 5
In the morning, I dropped my daughter off at school and then I went to Rosemary's, which is a few blocks away. I had their Napolitano eggs, which are basically eggs with spicy tomato sauce and focaccia bread on the side and arugula. I loved that. I went straight from breakfast to the CDFA office. I'm a judge for the CFDA Fashion Fund, so I went to their offices and had some fruit and more green tea.
Then I went to Rubirosa, which is like my favorite pizza in New York. Their pizza a la vodka, I think, is one of the most perfect foods ever, because the sauce is on the sweeter side and it's served on a very, very thin crust. When I was pregnant with my daughter, I ate an entire large pie by myself, which is probably why I gained 60 pounds over the course of that pregnancy. I also love their Tuscan black kale and had a dish with celery and cured whitefish that's off-menu. I brought the leftover pizza back to my office and shared it with my team members and then I went home at about 4 p.m. to get changed for the CFDA Awards.
The CFDA Awards is famous for serving chicken pot pie. I think it's an Anna Wintour specialty. But I don't eat chicken, so I got the vegetarian option, which was literally like a bowl of vegetables with quinoa. It was not as hearty. I wish they had veggie pot pie. The event was at the Mast Brothers Chocolate space, so I had one bite of a chocolate bar and then headed home.
Tuesday, November 6
I went to the airport to fly to LAX. There were more food options at this terminal, so I went to one of the airport restaurants and got an omelette. It was a really weird omelette with brussels sprouts and green peppers. I ate like half of it because it was so colossal — like, How does a human being eat this?
In L.A., I was staying at the Peninsula and I immediately ordered a Japanese breakfast, which is my favorite kind of breakfast. It had grilled salmon, miso soup, rice, and a perfectly fried egg with Japanese pickles. I also ordered a fruit plate and some shrimp dumplings. One of the reasons I love that hotel is because the original location is in Hong Kong, so they always have Asian food on the menu. Whenever I get homesick or miss my parents or New York, I always eat Asian food.
Afterwards, I got my nails done and went to the Grove for a book reading and once again, there were Sprinkles cupcakes. But by the time the event was over, there were no cupcakes left on the table. Then I went back to my hotel room and I had pad thai for dinner, which was decent, and then shrimp dumplings again and hot water with lemon. I try to remember to drink it most nights before I go to bed. It's supposed to be good for digestion.