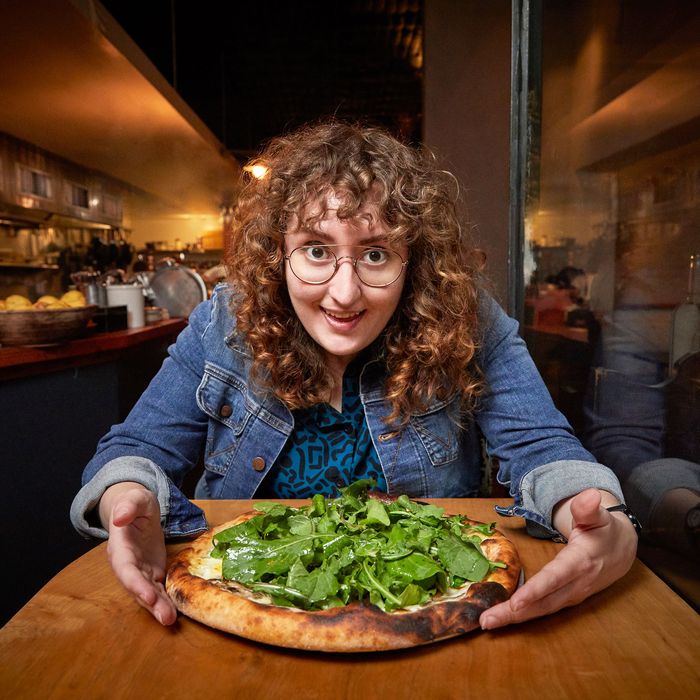 "It's like a salad pizza, which seems like something that would be in Jessica Seinfeld's book about tricking kids into eating vegetables," says Emily Heller.
Photo: Yuri Hasegawa
On Monday, the wryly self-deprecating comedian Emily Heller will release her second album, Pasta. Talking on Conan about a family photo stream, she joked, "I like to upload pictures of myself doing whatever the baby was doing in the last photo, but, like, a little bit better." That album's hardly her only project, as Heller keeps a very busy schedule: appearing on late-night shows like Conan, acting in other shows including You're the Worst, co-hosting the podcast Baby Geniuses, and writing for the acclaimed hit-com Barry. Heller is also working on some personal projects after having returned from a week of biscuit binging in West Virginia. This week in Los Angeles, she found herself at a sandwich party ("this was not a misnomer"), labored over shiitake bacon, and found "some amazing news" about Tom Hanks. Read all about it in this week's Grub Street Diet.
Thursday, November 8
We got back on Wednesday night after a week in West Virginia, so the fridge was pretty bare. My husband Peter made coffee, which he does very well. At least, I think he does. I have a hard time telling good coffee and bad coffee apart, which is also why I am never the one who makes it. I'm the same with wine. The only time I ever had a glass of wine and thought, "This tastes bad," I handed it to a friend of mine who took a sip and then said, "Yep, that's vinegar."
Anyway, Peter has a scale for weighing coffee beans and a precisely calibrated grinder. He drank it black and I drank it with vanilla-flavored coconut-milk creamer.
I made savory oatmeal for breakfast. It's a dish from my childhood. It sounds weird as hell, and it's perhaps an acquired taste. It's oatmeal with butter (still on board?), soy sauce (stay with me), and nutritional-yeast flakes (okay, hear me out. Have you tried nutritional-yeast flakes? Because they are savory and cheesy and also pretty good for you). I also added hot sauce and a couple soft-boiled eggs. I ate this alone, both because Peter doesn't usually have an appetite until later and, also, I'm pretty sure he thinks it's gross. You probably do, too.
Listen, I haven't actually talked that many people into liking this. I must make peace with the fact that it was a polarizing first meal choice for a food diary at a time when we, as Americans, cannot afford to be any more polarized. So just pretend I said French toast.
This day was about recovery and getting caught up on an upsetting number of unread emails, so when lunch time rolled around, there wasn't magically more food in the house. I tried to scrounge together something healthy, since, like I said, we had been in West Virginia and the food there wasn't exactly nutrient-forward. I looked in the freezer and there was one pizza and Trader Joe's vegetable gyoza. After I asked myself, "Which of these things is least like the egg, cheese, and potato biscuits from Tudor's Biscuit World that I ate for the past week?" I went with the gyoza.
My pan was losing its nonstick-ness, and I was a little rusty at cooking, so they all ended up glued to the pan and I mangled them with both a spatula and tongs. Peter saw me with the finished wreckage of un-browned dumpling skin and vegetables. "What is that?" he asked. He couldn't even identify them.
I ate them all but then decided to have toast with jam. While I ate that, I resumed watching an episode of Friends; it was the one where Monica makes jam. At first this seemed like a coincidence, but then I remembered that rewatching this episode a couple months ago inspired me to buy jam again. I started the math on how quickly that means I'd plowed through old Friends episodes, but there are some things I don't want to know about myself.
My favorite restaurant in Los Angeles — or anywhere — is Crossroads Kitchen. At the risk of sounding exactly like what conservative Republicans think I am, it's a vegan spot helmed by Oprah's former personal chef. It's pricey, and I've seen Bob Saget there. Three meals into this diary, and already I've given up on populism.
Anyway, there's a dish there called artichoke oysters that I always order two plates of so I don't have to share. It's puréed artichoke with fried oyster mushroom, tomato béarnaise sauce, and kelp caviar on top, served in a bite-sized portion on an artichoke leaf. You get it on a plate of rock salt so it looks like oysters on ice, and you hold the leaf like an oyster shell. It is truly the most delicious thing I have ever eaten. I looked up how to make it online but someone else who had tried it said it took seven hours, so that's where my investigation stopped.
Trips to Crossroads are hard to justify, but I had a live taping of Lovett or Leave It (the podcast with former Obama speechwriter Jon Lovett) nearby, and I also had this food diary so I could expense that mothercucker. I planned to sit at the bar, but it's packed, so I ordered the food to go, which, unfortunately, meant no artichoke oysters. Instead I did the truffle potatoes, the Impossible cigars (Impossible Burger meat wrapped in filo dough and fried), and this new dish that I don't remember the description of other than "mushrooms." That's usually all it takes for me to order something.
I glanced in the bag as I walked to the theater. There were four sets of cutlery, which I could only take as an indictment. I ate most of my food backstage, and when I returned to the green room afterward, someone had thrown my leftovers out. I did a deep-breathing exercise and reminded myself that the mushroom dish was kind of weird, anyway.
At home, Peter and I caught up on The Good Place and I had what was left of the Golden Grahams I bought a few weeks before.
Friday, November 9
I woke up to a text from my sister to the family. She's a hot-shot movie director whose next film is the Mr. Rogers vehicle with Tom Hanks. She wrote to tell us some amazing news. And I quote: "So possibly the best influence I had on Tom Hanks is I convinced him to eat savory oatmeal and gave him nutritional yeast and he's hooked. He keeps sending me pictures of his breakfast."
This was exactly the encouragement I needed. How polarizing can this dish possibly be? Everyone can agree on Tom Hanks, and Tom Hanks agrees on savory oatmeal. I made myself another bowl.
I had a writing meeting for a TV project, so I drove to Burbank and passed the smoldering hills of Griffith Park. L.A. was on fire, and I did not like it. We ordered from a place called Chop Stop. I got the Santa Fe salad with no chicken.
Peter and I had plans to go out for dinner at Grand Central Market, but decided to stay inside and run both of our HEPA filters full blast instead. It was time to do something about the grocery situation, so I ordered them so I could cook dinner. I got impatient, though, and made a packet of ramen, then snacked on the rice crackers and dried apricots I bought for an upcoming plane ride.
After the groceries arrived, I made a big batch of Antoni's green goddess dressing from Queer Eye. It was the episode where the vegetarian guy who eats nothing but tortilla wraps with lettuce and shredded cheese wanted to propose to his girlfriend. Antoni taught him how to make roasted cauliflower accompanied by this dressing, which the guy refers to as "vegetable candy." That endorsement from a man with terrible taste in food was somehow enough to convince me to try it, and with some tweaks it found its way into my regular rotation. I wish my takeaway from Queer Eye was to, I don't know, organize my closet, but instead I blend Greek yogurt with avocado, jalapeño, and herbs once a month. Am I fixed???
In lieu of cauliflower, I had Have'a Corn brand tortilla chips. They are the best chips and the bags they come in are criminally small. Are you out there, Have'A Corn? Will you please make a bag with more than four chips in it? For me?
Saturday, November 10
I woke up earlier than I wanted to and had soft-boiled eggs on toast with butter, nutritional yeast, and a dollop or two of the goddess dressing. It's versatile, y'all.
I tried not to ruin my appetite, since I had a brunch meeting with some other TV writers to plan a networking event. My friend Bess hosted us and provided an array of tasty-looking pastries from Little Dom's, and her husband made us an adorable pot of coffee. I had half a muffin, fruit salad, and a second cup of coffee. The meeting started at eleven and ended around noon, but the shit talking lasted until around 1:30. By the time I got home it was almost time to leave for what had only been described to me as a "sandwich party" with Peter's friends.
This was not a misnomer. We went to a sandwich party.
Surface area was at a premium here. There was one table stacked high with bags of various bread options, another covered in jars of condiments. A sewing desk moonlighted as a panini-press stand, and in the living room, the biggest table of all shouldered the lunch meats, cheeses, lettuce, tomato, and two instant pots, one labeled "pulled pork," the other labeled "pulled jackfruit." I loaded up a ciabatta roll with cheese and jackfruit and then put it in the panini press. It made a mess, for which I apologized to one of the hosts. "Whatever!" she responded, and I concluded this was one of the best parties I had ever been to.
Another guest arrived with a jar of pickled red onions, which was enough for me to justify another sandwich. I threw it on the panini press and nothing much seemed to happen other than enough time passing for me to get full from my first sandwich. I eventually realized the press was no longer plugged in. I ate it anyway, then felt overwhelmed by the people and went home to fold laundry that I did two days earlier and watch Monk.
That night I had dinner plans with my friend Jason, who I met in the writers room for season two of Barry. We went to Bowery Bungalow, a Mediterranean spot, and over-ordered because I was keeping a food diary, dammit. We got the eggplant and market greens (my favorite, mostly because of this crispy bulgar wheat mixed in that's like a micro-crouton); the spicy potatoes in yogurt sauce, which arrived the color of Flamin' Hot Cheetos (I mean that as a compliment); fried cauliflower; and, by the time it arrived, a truly superfluous charred broccolini.
I took the leftovers in my car, even though we were both headed to a mutual friend's birthday party. By the time I left and got back into the car, after having offered my friend Jess a ride home, the leftover broccolini had done a really good impression of the farts that broccoli gives you. I apologized immediately and explained the situation. Jess said, "I'm just glad that smell's not me." I told her it was from Bowery Bungalow, which she agreed is a great place. That somehow made it smell better to both of us.
Sunday, November 11
The air quality had me feeling hung-over, even though I hadn't drank. Or maybe it was the five meals I had on Saturday. Peter made coffee and I told him to put mine in a Thermos until I was ready to rise from my crypt.
When I did, I made myself scrambled eggs with zucchini, baby kale, shiitake mushroom, goat cheese, and — hey, what the hell? — some green goddess dressing on top. I piled it on to sourdough toast with butter and yeast.
Then I went over to my friend Lisa's house to record a couple of episodes of our podcast. I drank black tea with almond milk to perk up between episodes because I was still groggy. It had an immediate effect on me, because placebos are real.
I came home in the afternoon and thought about making something to eat, but instead had more Have'a Corn chips with Antoni's veggie candy glop. I don't know that he is necessarily a good chef, but I don't think that's his job. I think his job is to teach people who don't know anything about food how to make one or two things.
I'm not going to go to bat and say, "Antoni is a hero," but I like that show.
After I procrastinated for a couple hours, I went to one of my favorite neighborhood restaurants, Hail Mary Pizza. I got my usual order, the Casanova, which is a white pie with oyster mushrooms and a generous portion of lightly dressed greens on top. It's like a salad pizza, which seems like something that would be in Jessica Seinfeld's book about tricking kids into eating vegetables. But it's not, and I'm not a kid! I'm a grown-up. Even though I never eat my crust.
I had my first stand-up show in a while that night. There was no one in the audience who didn't also perform and I was a little rusty, but not as rusty as I was at making those frozen pot stickers, so I had fun. At home, I ate more chips and green goddess dressing while Peter and I watched Last Week Tonight. I started to wonder if that broccolini in my fridge would ever serve a purpose other than to emit an odor powerful enough to deter burglars, even with both HEPA filters still running.
Monday, November 12
I made myself another scramble for breakfast. Peter wasn't up yet, so I also brewed coffee. I take back what I said before: Sometimes, I can tell if coffee is bad. Do not tell Peter, but the coffee I made was not very good. To be fair to me, something upon which I must insist, I used beans that had been ground for cold brew. They weren't meant for this! You can't tap dance in ballet slippers!
After breakfast I decided to catch up on emails and immediately got overwhelmed. Instead, I cooked.
My parents were coming to town this night and I'd been talking a big game about the shiitake bacon recipe I'd been tinkering with, so I decided to whip up a batch to have around for their visit. Inspired by the shiitake bacon at By Chloe in Silverlake, I make this about as often as I make the Antoni dip. I had two pounds of mushrooms and it took a few hours to prep and put them all through the oven in batches. When it was all said and done, they'd reduced down to one medium-sized bowlful. But it was worth it. They get their incredible flavor from liquid smoke, soy sauce, smoked paprika, and all the naturally occurring glutamate in mushrooms, or as I call it, "Mother Gaia's MSG."
I had no immediate plans for them, so I sealed them in Tupperware, and whispered "your time will come" as I pressed the lid down. Then I quickly heated up leftover Hail Mary Pizza and went to therapy to scream about something petty that I would never complain about to someone who wasn't legally required to keep my secrets.
By the time I got back home, my parents had arrived, and after calling to see about the wait at Din Tai Fung (half an hour — no thanks), we defaulted to one of our standbys, Viet Noodle Bar. They do creative takes on Vietnamese dishes; so long as you are not looking for authentic Vietnamese food, you will be very pleased. I got the vegetarian pho and a jackfruit appetizer to
share with my mom, who is also a vegetarian and had never tried it. This diary makes me sound like some kind of jackfruit maniac, but I don't have it much, either. She liked it! The pho came with these rolled cylinders of fried tofu skin, strips of tofu, marinated shiitake mushrooms, and loads of cilantro and fresh red and green onion.
On our way out the door, I gauged interest in a jaunt over to Wanderlust Creamery, but everyone was stuffed.
Tuesday, November 13
My parents were in town to assist with babysitting my nephew, so they were gone by the time I got up. I made myself some savory oatmeal, sprinkled in shiitake bacon this time, and whispered as I stirred, "Your time to shine." I drank half a cup of leftover coffee from the pot my dad made, then another full cup when Peter got up, and went to a writing meeting.
Before I left they asked me if I wanted something from Chop Shop, and you guys: I really didn't. This was a new collaborative relationship for me, so I ran the risk of sounding difficult by vetoing, but I did it anyway, because I'm nothing if not a daredevil. They were cool with it! This partnership might have legs.
We went to Panera instead and I got an autumn squash soup with a grilled cheese on the side and we had a productive day of writing. Whether it was because of my extra coffee, my brazenness, or the screaming I did yesterday in therapy, who knows, but we were cooking with gas!!! And it was giving me a sinus headache!!!! (JK. The headache was from our apocalyptic wildfire situation!!!!)
I got home, popped a couple Excedrin (more caffeine!) and a Sudafed, and watched Monk while I waited for the pills to kick in. I feel a little queasy, so I had some Golden Grahams to settle my stomach. I started to feel better just in time for trivia night at the Tam O'Shanter, which has become a regular thing for me, to my surprise.
After years of stand-up travel and show-business unpredictability, the idea of doing the same thing at the same time every week now entices me, like some kind of exotic delicacy. It was a big group: our regulars, plus my parents. The Tam is one of Los Angeles's oldest restaurants, having once been a favorite haunt of Walt Disney and his animators, and when we had a break I took my folks over to see Disney doodles etched into one of the tables.
It's a prime-rib restaurant, so not exactly a vegetarian's paradise, but I ordered a mushroom & cheese panini from the sandwich bar, Buffalo cauliflower, and later, crème brûlée. I would talk about the results of the trivia competition, but I'd hate to end this food journal by both bragging and sounding like a nerd, so instead I will just say the real winner of the night was friendship.
(I decided not to brag; I didn't decide to not sound like a nerd).