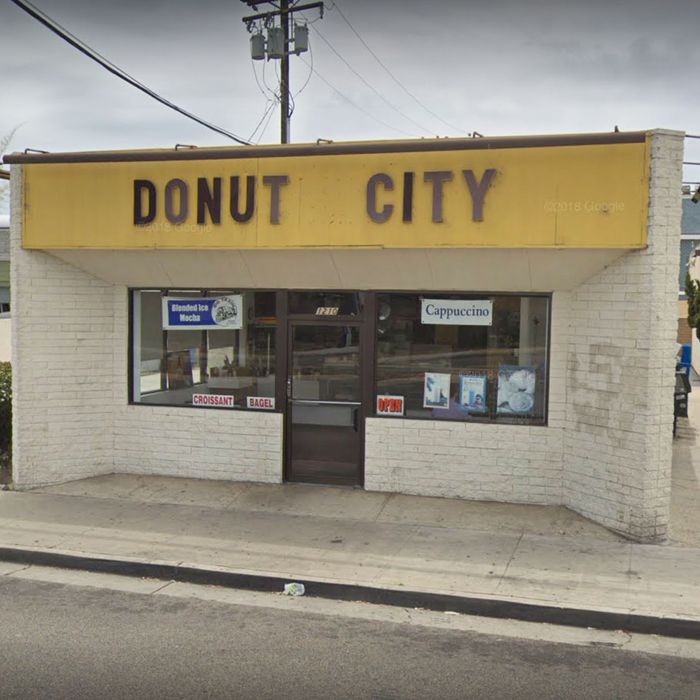 Donut City in Seal Beach, California.
Photo: Google Street View
It's a story more heartwarming than an old-fashioned straight out of the fryer. For almost two weeks, customers have lined up outside of Seal Beach, California's Donut City, at as early as 4:30 a.m. They aren't there to get Orange County's hot new stunt pastry, but to buy dozens of doughnuts so that longtime owner John Chhan can close his store early and be with his ill wife and co-owner, Stella.
John and Stella have owned Donut City for the last 28 years, working the counter together until she had an aneurysm on September 22. John had been working the shop until around 3 p.m. each day, then spending afternoons with his wife. But after customers asked about Stella's absence, one of them, Dawn Caviola, hatched a plan to help John spend more time with her. Posting on the message board Nextdoor, Caviola asked people to buy Donut City's doughnuts by the dozen, hoping that enough people would so that it would allow John to close early. (This is what is called a win-win-win.)
Residents and customers responded more enthusiastically than Caviola likely could have imagined. In the wake of her post, lines have been forming by 6 a.m., and yesterday John told the Washington Post he closed up shop at 7:30 a.m. after some customers bought "three, four, five dozen" doughnuts each. He sold about 50 dozen doughnuts that day, he told the paper. A customer named Jenee Rogers also spoke to the Post, saying that when she went to Donut City on Sunday, she asked John which doughnut sells slowest (cake), then bought a dozen. As she tells it, the place was nearly sold out by 6:30 a.m. Those doughnuts, no doubt, tasted sweet.
Sources
Sources