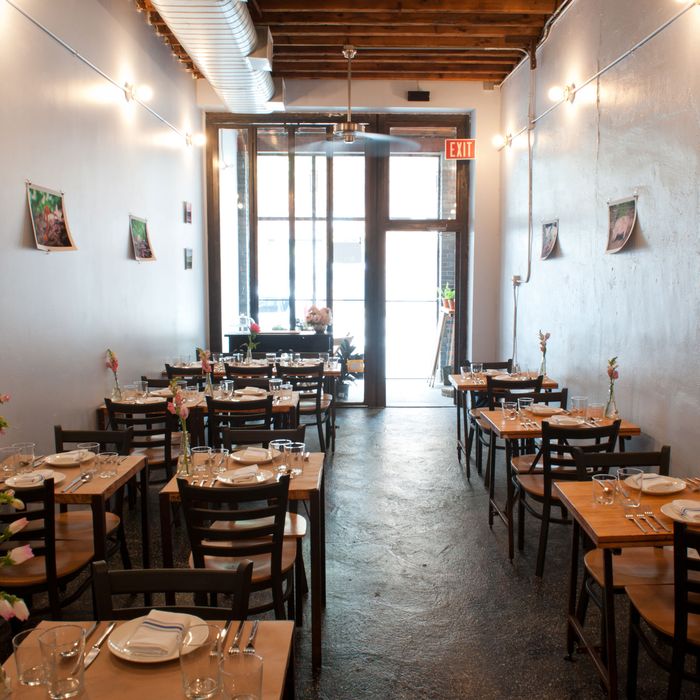 Delaware and Hudson.
Photo: Liz Clayman
The rivers have run dry. This Sunday, veteran New York chef Patti Jackson will close Delaware and Hudson after four and a half years in Williamsburg. The restaurant was Jackson's temple for all things "mid-Atlantic cuisine," and she stacked her menu with regional specialties like scrapple, Baltimore crab cakes, and corned beef hash. (In 2016, she expanded with an adjacent tavern.) In a Facebook post, Jackson and her staff ascribe the closure to factors from changes in the restaurant business to the looming L train shutdown.
Delaware and Hudson opened to positive press, including Best of New York honors in 2015 and, for the tavern, Cheap Eats praise in 2016. It also received a one-star review from the New York Times' Pete Wells, who named it his sixth favorite restaurant of 2014. The critics behind the Michelin guide agreed with Wells, awarding the restaurant a single star in its first year of business. Delaware and Hudson stayed in the guide until this year, and was absent from both the starred and the Bib Gourmand lists. Still, earlier this year, Grub named the restaurant one of Williamsburg's finest. "Jackson is one of New York's most underrated chefs, and her prix fixe menu is a great value," wrote Hugh Merwin. Unfortunately for her fans, there are few nights left to have a last meal from Jackson at Delaware and Hudson.