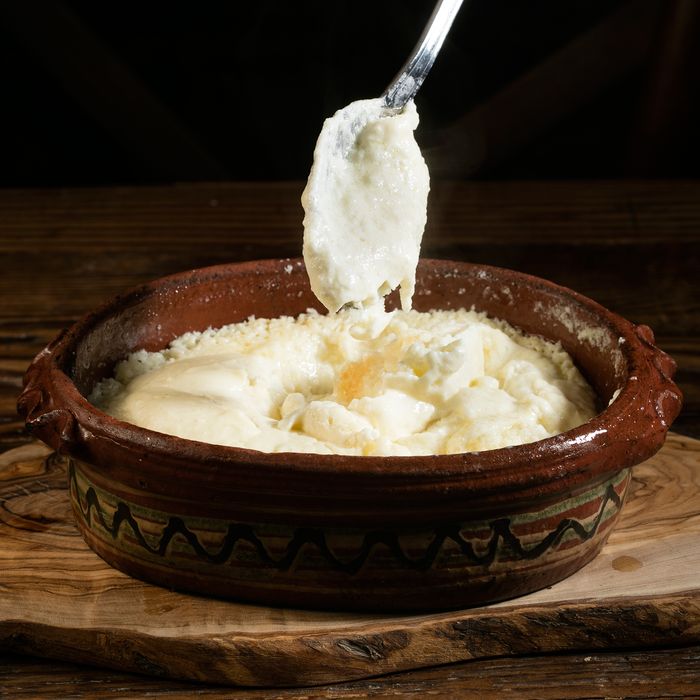 Çka Ka Qëllu's kacamak, the ultimate comfort food.
Photo: Melissa Hom
Although the Underground Gourmet has dined at countless Albanian restaurants over the years, we haven't eaten much Albanian food. How, you ask, while drawing air circles with your index finger next to the side of your head, can this be? "Every other Italian restaurant in New York is owned by Albanians," explains Ismer Mjeku, publisher of the Bronx-based Albanian Yellow Pages, which bills itself as the only Albanian-business directory in the USA. And he's not entirely joking. In one of New York's more interesting ethnoculinary developments, Albanian immigrants have spent the past several decades working their way up the rungs of the city's Italian-restaurant-world ladder, learning the food, speaking the language, becoming generally indispensable, until eventually getting the chance to buy the joint or open a place of their own. There is geographic logic in this: The two countries are separated only by the Strait of Otranto, and Italy is the route by which Albanians have historically emigrated here, which gives them an immersion course in the food culture. Take a close look behind the scenes at some of the places we have come to think of as Italian (or Italian-American) through and through — Patsy's of East Harlem and V&T Pizzeria included — and you will likely find an enterprising Albanian holding down the fort.
Pizzerias, in fact, were and remain gateway businesses for this phenomenon. Perhaps making the transition easier was the existence of Albania's own national pie, the flaky pastry packets called burek, a legacy of Ottoman rule. Gradually bureks began appearing alongside pepperoni pizzas at slice joints around town, especially in the Bronx, where they became an attraction not only for homesick expats but for exotica-seeking chowhounds, a bit of national pride poking out from beneath the lid of the familiar FRESH HOT DELICIOUS takeout box.
One such pizzeria, Tradita, opened in the Norwood section of the Bronx in early 2017 but with a bit of a twist: Owner Ramiz Kukaj, an ethnic Albanian from Kosovo, supplemented the pizzas and bureks with a handful of Albanian specialties and, in a departure from the prevailing custom of cloaking one's identity under a neon-and-Formica façade, adorned the humble premises with imported antiques and photos of the homeland. And that was just the beginning. Last December, he shrugged off the security blanket, opening a full-fledged Albanian restaurant without a trace of either pizza or burek on its extensive menu. He called it Çka Ka Qëllu, an old expression of hospitality in a country long impoverished by decades of communist rule.
Located in Belmont, right behind the landmark Arthur Avenue Retail Market, Çka Ka Qëllu seems as much living museum exhibit as modern-day Bronx restaurant — a rare ambassador of an often-obscured culinary heritage. The look could be called medieval farmhouse, with ancient cooking implements and formidable tools hung on the walls beneath the wood-beamed ceiling. One glass-encased alcove holds a mannequin clad in traditional garb that wouldn't seem out of place at the Met Costume Institute. On weekends, the wait staff are similarly attired, with busboys wearing tunic shirts and rustic cummerbunds and the waitress, a commanding presence named Ilona, sporting a long, silver-hemmed skirt and festive blouse.
The bill of fare reads, "Most of our dishes contain egg, flour, and dairies," and truer words were never spoken, or, in this case, printed in a tiny font at the bottom of a menu. The lactose intolerant and gluten free might want to think twice before reserving a table. Vegans too: The selection of grilled sausages and meats seems fairly representative of the greater Balkan peninsula. This is a bready, meaty, dairy-rich part of the world, if the Çka Ka Qëllu menu is any indication, and during the course of an evening, a mixed-grill meat platter will inevitably make its way to every table, accompanied by baskets of puffy round loaves of warm Albanian bread. By all means, sample the skinless qebapa sausages and the chile-flecked kofte, preferably with Balkan condiments like the red-pepper-based ajvar and the tzatzikilike tarator. But the real delights are things you're unlikely to find elsewhere. Chef Afrim Kaliqani has a knack for the type of food — long-simmered stews and labor-intensive baked dishes and savory pies — you imagine doting Albanian grandmas serve their extended families for Sunday supper.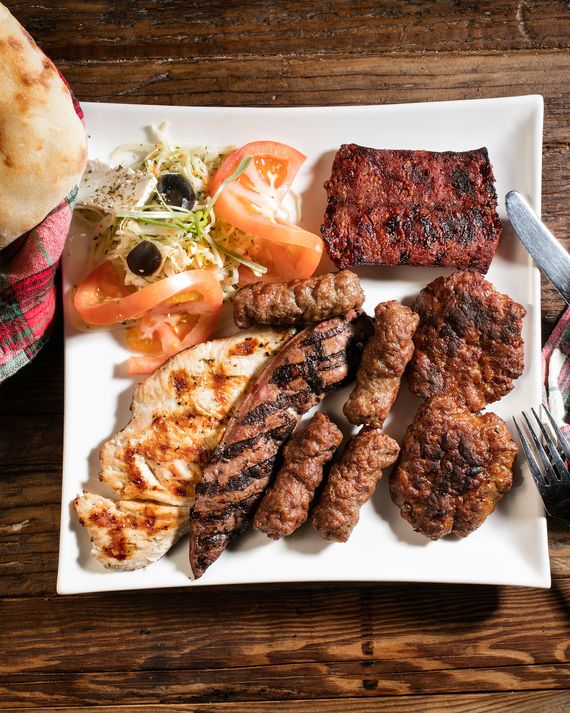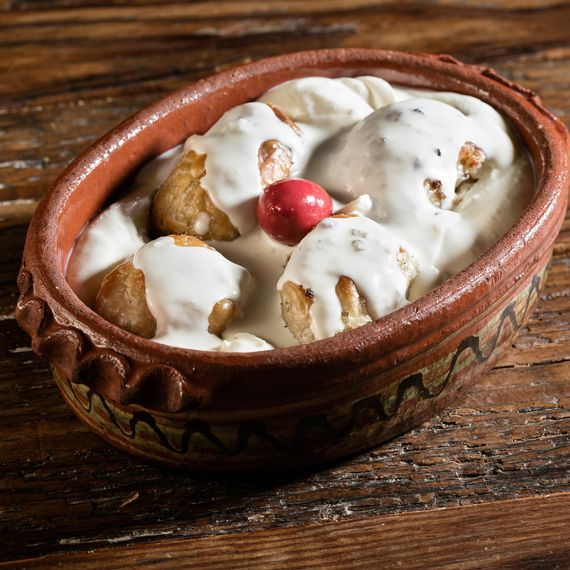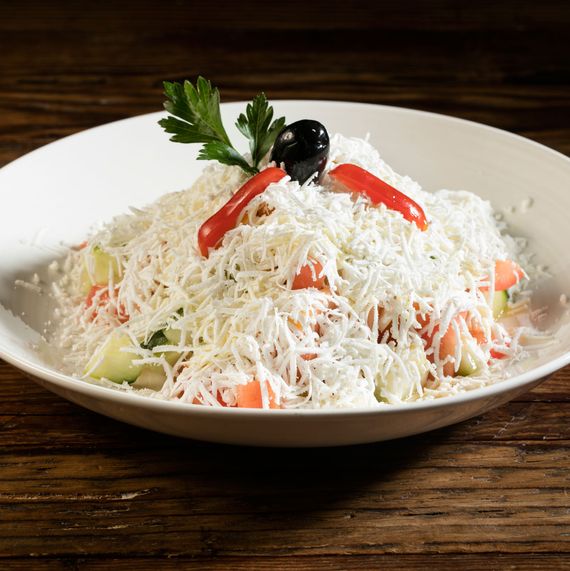 The brumat ("savory dishes") section of the menu is loaded with hard-to-pronounce but easy-to-love oddities, such as leqenik (squares of salty corn bread speckled with spinach) and fli (crêpelike layers of dough brushed with melted cheese, cooked in a round pan, and served in pielike slabs with pickled green tomato and a wedge of goat or feta cheese). Mantia are described here as dumplings, but they turn out to look more like little Parker House rolls filled with a layer of oniony ground beef. They might remind you of mini bureks or, in their distinctive allium-forward flavor profile, White Castle sliders. Of course, this being the kitchen that never met a food it didn't think could be improved by a dose of dairy, you can get your mantia luxuriating in a creamy bath of garlic-spiked yogurt sauce, an upgrade you might think needlessly extravagant until you try it.
The clay-pot tava are the rare kind of restaurant dishes that focus all their energies on substance over style. Veal stew is hearty and satisfying, brightened by the flavor of red peppers, and stuffed cabbage is meaty, tender, and everything a stuffed cabbage should be. But if there's one tava dish you shouldn't miss, it's the kacamak, a fine-grained white polenta cooked with milk and water and larded with kaymak, the clotted cream of the Balkans. It arrives at the table piping hot, and although it may look like a convalescent pile of mush, it is epic: gorgeously rich and tangy and about as light and fluffy as a La Grenouille soufflé. If, heaven forbid, the Underground Gourmet should ever end up on death row, with no hope of a last-minute reprieve from the governor or Ms. UG coming through with the file concealed in the cake, a supersized tava of kacamak would surely be the No. 1 item on the last-meal-request order form. It is the comfort food to end all comfort foods.
After that, cold pastries, such as a hefty wedge of baklava, seem a bit anticlimactic. But it's still a pleasure to linger over strong Turkish-style coffee poured from a copper ibrik into a tiny cup. It's ceremonial and celebratory, a final gesture of hospitality in a restaurant brimming over with it.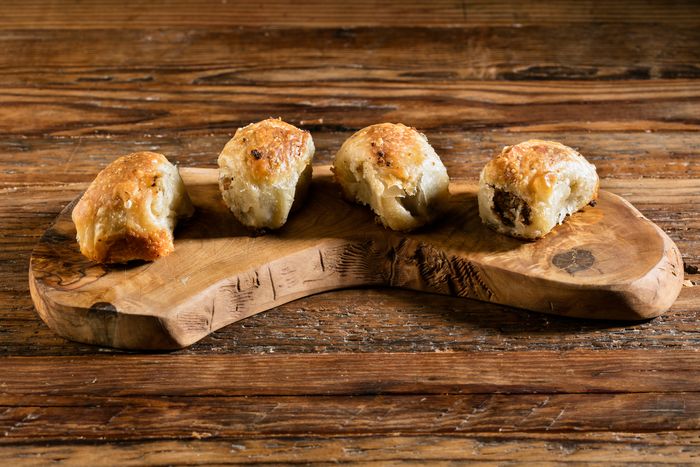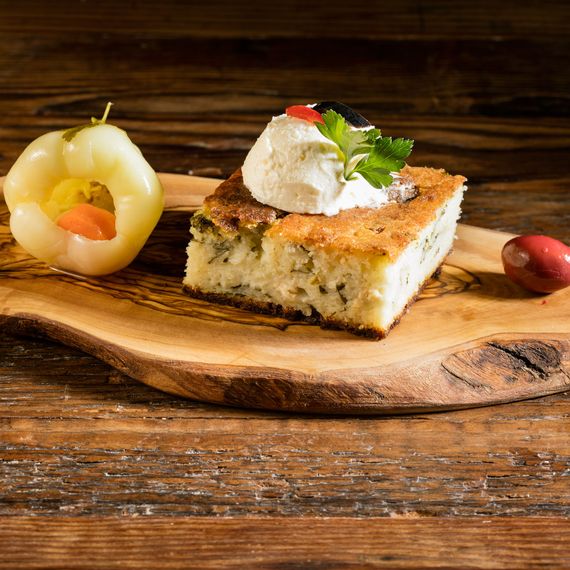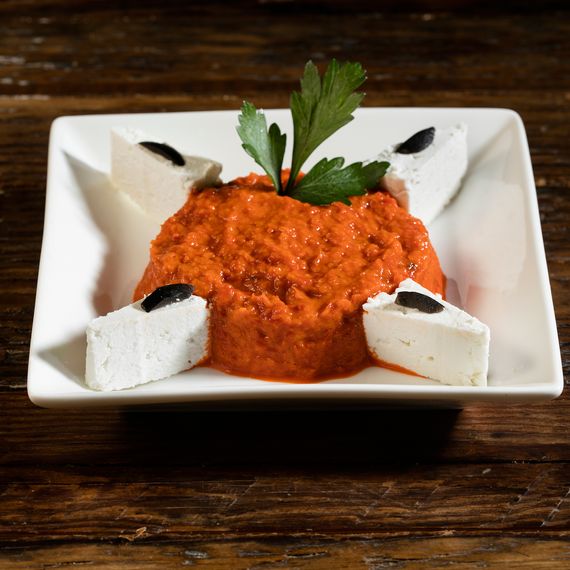 Çka Ka Qëllu
2321 Hughes Ave., nr. Crescent Ave., Belmont; 718-933-6194; ckakaqellu.com
Open: Daily for lunch and dinner.
Prices: $2.50 to $29.
Ideal Meal: Tradita salad, ajvar, tarator, mixed grill, mantia tava, kacamak.
Note: A beer-and-wine license is pending.
Scratchpad: One star for spotlighting an underrepresented cuisine, one for the welcoming environment, and one more for the kacamak alone.
*This article appears in the November 12, 2018, issue of New York Magazine. Subscribe Now!