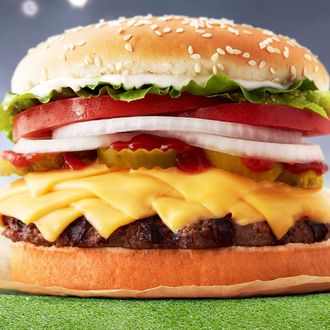 The powers that be at Burger King have decided to honor Wisconsin in the only way they know how: with way too much cheese. This week, the fast-food chain debuted the Green Bay Whopper, a normal whopper that's been laden with a whopping eight slices of American cheese. Wisconsin: Grub loves you, and the entire dairy industry, but that's just too much cheese.
Currently, the over-cheesed Whopper is only available at six locations in the Green Bay area, where it will be sold until December 2. Of course, you could theoretically walk into any Burger King and ask them to put eight slices of cheese on your burger. The workers will no doubt look back in horror, adding each slice reluctantly, waiting for you to change your mind.
The Green Bay Whopper costs $4.49.