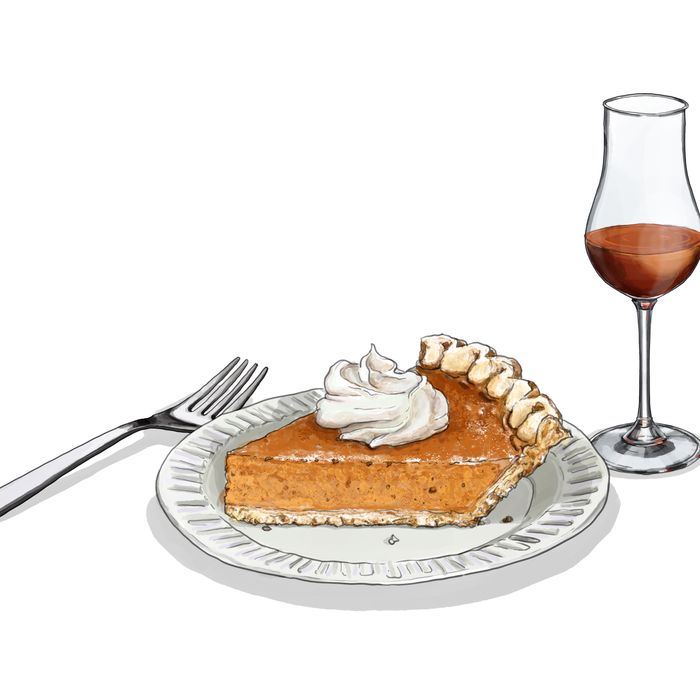 This is how you want to end your Thanksgiving.
Illustration: The Ellaphant In The Room
It's a fact: The best part of any Thanksgiving dinner is the pumpkin pie. Yes, pumpkin pie is responsible for creating a cottage industry of pumpkin-spiced horribleness, but when the pumpkin and the corresponding spice are left where they belong — in pie — there is no better way to end a grand turkey feast.
Well, there is a slightly better way: to eat that pumpkin pie with a little bit of wine, and the wine you want is the ever-so-rare Rutherglen Muscat.
There's a good chance you've never heard of Rutherglen Muscat. Rutherglen is a tiny town in the southern part of Australia that was known for gold mining long before it was famous for its wine. Today, this tiny place is home to a handful of producers who make some truly lust-worthy dessert wine. The grape they use is called Muscat à Petits Grains — meaning Muscat with little berries — but the the local winegrowers have a more to-the-point name: Rutherglen Brown Muscat. This is apropos given the color produced from this very specific grape.
Once the grape juice has been fermented into a unctuously sweet wine, it's fortified with a neutral grape spirit to halt the fermentation and retain the naturally high sugars of the grape juice. This is an old French method called mutage that produces a style called vin doux naturel. Once fortified, these wines can age as little as three years, but in the finest cases, they're aged over 100 years before bottling. This makes for one crazily complex, nectarine-driven dessert wine that I like to call "holidays in a bottle."
Rutherglen Muscat is one of the few wines that can stand up to the intensity of rich flavors like toffee, caramel, vanilla, butterscotch, and every other sweet baking spice you've ever known. If you're still not convinced of its pie perfection, this amber-hued beauty also has a unique characteristic we call — wine-geek alert — rancio. It means the wine was intentionally oxidized in a way that brings out nutty, buttery, candied fruit smells. The wines also, I should note, amplify the flavors of the filling and the crust, meaning that not only is the wine lovely, but it manages to make the pie even better. Enjoy.
R.L. Buller & Son Muscat Fine Old ($15)
With over ten years as the average age (that's about $1.50 per year), this wine couldn't be a better deal. It is bright, with aromatic spices and dried fruit flavors, with a honeyed lingering finish. Buller has been making wine since the 1920s, which is fairly old in Australia winemaking years.
Campbell's Rutherglen Muscat ($19)
The Campbells are a fifth-generation winemaking family with 150 years in Australian winemaking and this sticky — the local term for dessert wine — is a reflection of that experience. It is a luscious rendition of toffee, ripe orange citrus, dried fig, and maple syrup.
R. L. Buller Calliope Muscat ($80)
There are less than 20 wineries in Rutherglen, and even fewer make their way Stateside, so we are back to Buller for our splurge version. Calliope is the name of the vineyard where this wine is made, using the most traditional styles of grape growing and wine production. This style is known as a Grand Muscat, which means its layers of complexities and intensities are even more apparent and sumptuously deep.