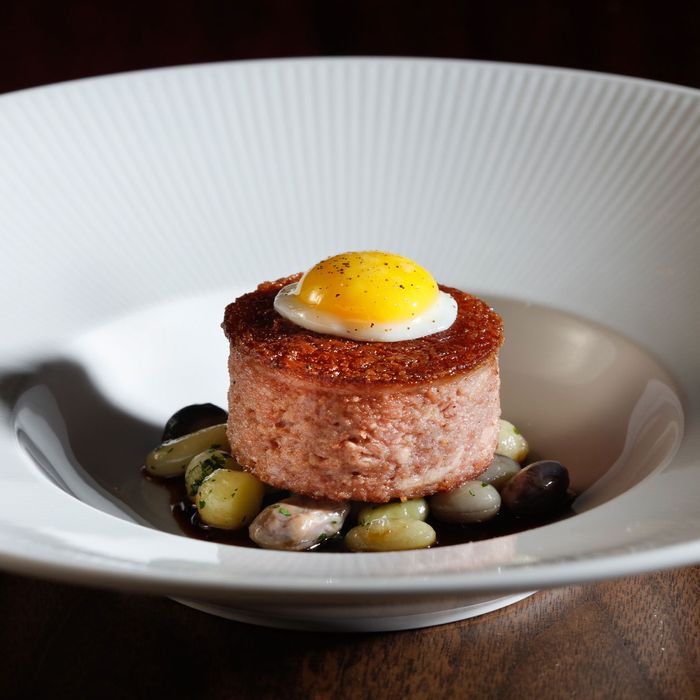 Pig's trotter with saucisson l'ail, shelling beans, and quail egg.
Photo: Melissa Hom
It's no secret that most of the action in New York's restaurant scene is happening in the middle. Some of the city's most exciting new and upcoming restaurants this fall and winter serve tweaked tuna casserole, gussied-up grilled pizza, and Korean flatbread sandwiches. By contrast, Jonathan Benno's latest, eponymous restaurant in the Evelyn Hotel is unabashedly high-end.
Opening tomorrow, Benno completes the chef's trifecta of openings in the Evelyn, following his Roman-ish trattoria Leonelli Taberna and his bakery Leonelli Focacceria e Pasticceria. Whereas the Taberna is a more casual restaurant with a burger and a warmer aesthetic, Benno looks like it could audition for a role in Billions. The design is art deco, complete with a statement light fixture, custom furniture, and lots of marble and walnut. It's a relatively small space with 45 seats and a 10-person bar. (There's also a 24-seat private room.)
This sets the stage for the prix-fixe menu (three courses for $95, four for $125, or five for $145), which features foie gras, crab mousse, some more foie gras, pig's feet made fancy, and an imposing cube of short rib. Along with Benno, the kitchen team includes chef de cuisine Justin Skribner as well as Leonelli's pastry chef Lindsey Bittner, and baker Lisa Kalemkiarian is behind the bread.
Benno made his name as the chef of Per Se before moving on to Lincoln Ristorante, cooking French, then Italian food. Here, he describes the food as pulling from the bordering regions of Liguria and Provence: the crossroads of Italy and France, the best of both worlds. There's a risotto made with northern Italy's carnaroli risotto in one section of the menu; a terrine of sweetbread, rabbit, and foie gras in another; and skate almondine and a very fishy brodetto in another. The pastas include lumache with lobster fra diavola, and there's a New York touch for dessert in the babka with pistachio halvah.
Serious restaurants tend to be serious about wine, and the beverage menu here is 15 pages long with a "Brunello Library" and other sections. Wine director Aaron Von Rock has assembled a 250-bottle list in addition to original cocktails like an Aviation Excelsior with gin, Maraschino, oleo saccharum, lemon, and house violet bitters.
Benno, 7 E. 27th St., nr. 5th Ave.; 212-451-9557