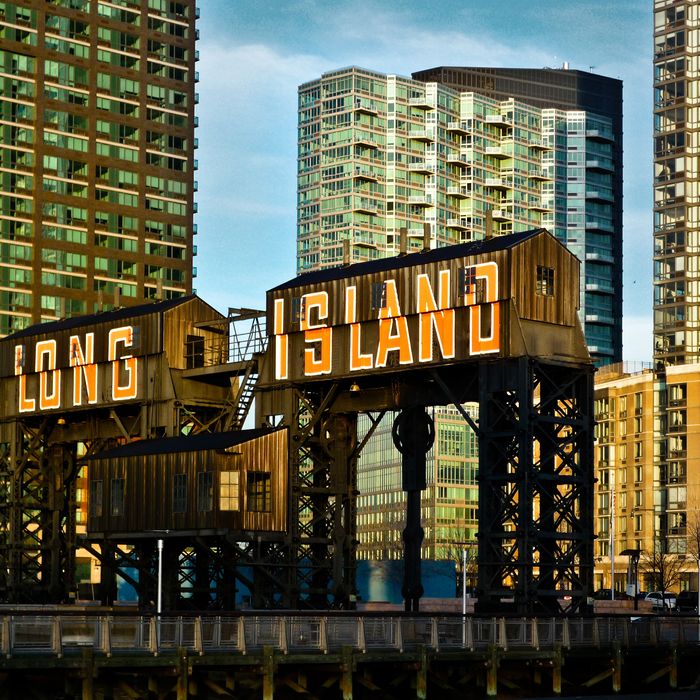 The area's bar and restaurant owners are excited about their new neighbors.
Photo: Leanne Staples/Getty Images/RooM RF
The city's Amazon delivery will be here soon. The company announced this week that it has selected Long Island City as one of its two new headquarters, along with Crystal City near Washington, D.C., bringing 25,000 new employees to to the hood over the next few years. Newly elected congresswoman Alexandria Ocasio-Cortez, whose district includes parts of Queens, calls the news "extremely concerning," leading the cries that Governor Andrew Cuomo and Mayor Bill De Blasio sold out to Amazon at taxpayers' expense. But while she and plenty of other New Yorkers are skeptical, the area's small-business owners are, understandably, much happier about their new neighbors.
"We are delighted that Amazon has chosen to come to Long Island City," says Amber Jacobsen, co-founder of Toby's Estate, the coffee and small bites chainlet that opened its Court Square location in early 2017 — a short walk from the Citi building that will serve as a launch pad for Amazon's LIC takeover (the company will likely build most its LIC office space from the ground up).
One of the more high-profile openings in LIC this year was Bellwether, whose owner Matt McCormick doesn't hesitate when asked if he welcomed the news about Amazon. "Obviously the answer to that question is yes," he says. A ten-year LIC resident himself, he goes on to hedge, "Growth at a reasonable rate is always a positive thing for commerce and property value. Too much too quickly can create imbalances on all fronts."
Less cautious is LIC pioneer Richard Boccato, whose Dutch Kills opened on a bleak stretch of Jackson Avenue almost ten years ago. He says that Amazon's arrival actually has him considering expanding the acclaimed cocktail den into an adjacent space that recently became available. "Hopefully it'll have a positive effect," he says of Amazon HQ. "I don't have a crystal ball but I been here since 2007 and I'm still here."
Boccato points out that even before Tuesday's news, Dutch Kills' business has steadily grown, especially of late, as the city's A-list developers scurried to erect shiny glass luxury rental towers amid the industrial environs. The real-estate data start-up Localize.city released a report in the wake of the Amazon news this week showcasing its findings on LIC: "New units are opening at a clip right now in the neighborhood. Roughly 3,000 units were completed in the first half of 2018, and another 3,300 units are expected to hit the market between now and 2020," according to their analysis of Department of Building data. Now, another 1,500 units are in the pipeline, as well as roughly 500,000 square feet of retail space that's expected to be available by early 2020.
Scott Avram, senior vice-president at real-estate developer Lightstone, says the proximity to Manhattan, a waterfront esplanade and copious mass-transit options made the area attractive for renters even before the Amazon news. His company's recently opened Arc leased all 430 of its units in just a few months, with one-bedrooms starting north of $3,000. He thinks that the influx of Amazon employees will "100 percent' help the area's restaurateurs.
Beyond the thousands of new residents, a few well-known chefs and restaurateurs have already announced forthcoming projects, from the latest outpost of Xi'an Famous Foods, opening at 26-19 Jackson Avenue any day now, to Dan Kluger, the Loring Place chef-restaurateur who just revealed plans for a 5,000-square-foot restaurant in Tishman Speyer's Court Square retail-and-office tower. The target opening for that is spring 2020.
But before other high-end chefs send their biz dev teams out to scout body shops ripe for reclamation, they should probably look at how Amazon's original Seattle headquarters affected the city's South Lake Union neighborhood, where the online retail giant's generously paid, lanyard-wearing masses toil.
One of Seattle's most prolific and successful chef-restaurateurs, Ethan Stowell, sees his one South Lake Union restaurant, a branch of his Ballard Pizza Company, as an outlier in his empire. He doesn't blame Amazon or its employees, but he suggests that unlike his other 13 restaurants — which serve residential urban neighborhoods and have earned him James Beard Award nominations as well as a devoted following — the area around Amazon HQ is a daytime-first endeavor.
When it opened in 2016, Stowell says, "We were expecting a happy-hour crowd, but that and the early dinner rush didn't happen — or not as much as we expected." Instead, it's become something of a glorified slice joint, and Stowell says he considers Ballard Pizza Company more of a learning experience than anything else. "It's not one of our neighborhood places. It's impersonal, transactional. It's not the business we're good at."
What advice would he give New York restaurateurs setting their sights on LIC right now? Focus on breakfast and lunch and don't expect much of a dinner crowd, he suggests. "You're basically food service on a corporate campus." Or, Stowell says, focus on the cooler nearby residential neighborhoods — Greenpoint or Williamsburg, where Amazon's employees will head after work.
Still, it's likely that LIC will see a burst of restaurant openings from next year into the foreseeable future, and Dutch Kills' Boccato views the coming competition as healthy, mostly.
"A rising tide floats all boats. Generally the pioneers get their names on the plaques and the monuments," he says, before adding a pragmatic afterthought: "For what that's worth I could probably ride the subway."