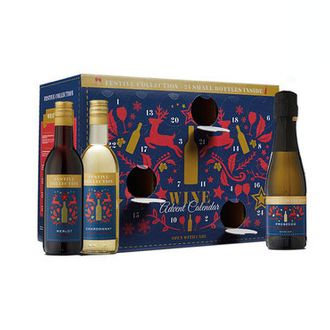 It could've been yours.
Photo: Aldi
Time, it seems, has run out. Grocery chain Aldi's first-ever American wine and cheese Advent calendars sold out on Wednesday morning, reportedly within minutes after becoming available. It's an inarguable truth that Americans really, really love a deal, but has anyone ever been this excited about a calendar before? The calendar was extremely popular in England, as well, and Aldi caps sales of the wine calendar at one per person and the cheese calendar at three per person.
The 21-pound Festive Collection Wine Advent Calendar contains 24 6.37-ounce bottles of 12 different wines, retailing for $69.99, or $2.92 a bottle. (The cheese calendar weighs 16.9 ounces and costs $12.99.) The idea is to drink the wine on the religious days that proceed Christmas, but, let's be honest, you would probably just drink them all at once to cope with the existential dread of the world in 2018. However, you may now be experiencing the distinct dread of not being able to say "I got a wine calendar," as Aldi tells USA Today in a statement that "the calendars will not be restocked once they are sold out." The injustice.