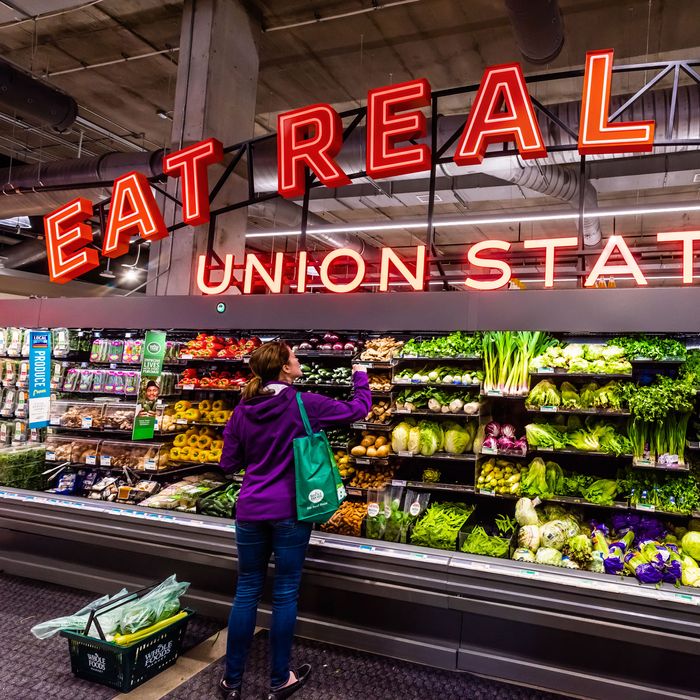 Fresh produce as far as the eye can see at a Denver-area Whole Foods.
Photo: Blaine Harrington III/Getty Images
It's a bad time to be in the business of selling groceries, and the headlines are as bleak as you'd expect: "The Retail Apocalypse Is Coming for Grocery Stores," "The New Era of Grocery Just Claimed Its First Victims," "Grocery Retail 'Bloodbath' Is Here," "The Grocery Price Wars Are Raging. Bananas Are Weapons." Iconic brands like Winn-Dixie have gone bankrupt. Amazon's Whole Foods purchase annihilated Kroger's market value and, recently, one Morgan Stanley analyst warned at an industry conference in Vegas, "There is no playbook for the change that's happening."
Conversely, it is a great time — arguably the best time ever — to buy groceries. In a climate of fierce competition, store owners are racing to roll out new technology, lower prices, and win, by any means necessary, consumers' ever-elusive "stomach share." Here's why the produce-buying public is benefiting from the massive upheaval that's happening in grocery stores all over the country.
Quality and Selection Are Up; Prices Continue to Drop
Forget, for a second, about Amazon and Whole Foods. Other developments have also had profound effects on stores' supplies and pricing: One study found that when Germany's budget-minded Lidl opens a new outpost in an American market, existing stores cut their prices an average of 9.3 percent. (That's more than three times bigger than the drop that occurs when Walmart opens in a new market.)
Another German grocery, Aldi, has also been staging a price-off with American competitors. Aldi's 1,600 stores in 35 states account for only about 1.5 percent of the U.S. grocery market, but it's reportedly lured Walmart — undisputed leader of price rollbacks — into launching a $6 billion effort to beat Aldi's prices by 15 percent in certain markets. (Across the board, grocery prices also fell 0.3 percent between June 2017 and June 2018.)
The public — educated for the last decade-plus on a steady diet of Food Network, restaurant sites (ahem), and all manner of restaurant-democratization — has also created a market for high-quality ingredients that has never before existed in the United States. In terms of selection, Wegmans — formerly a modest-size Rochester-based chain whose showstopping prepared foods and exotic ingredients earned it a cult following — is on a nationwide expansion tear. In June, the mid-Atlantic grocery co-op ShopRite launched a new private label, ShopRite Trading Company, that includes "artisanal and distinctive" imported products like Peruvian artichoke hearts, Italian panettone, and Greek olive oil. Meanwhile, Kroger bought Murray's Cheese last February, and the venerable Greenwich Village cheese purveyor's fromage, charcuterie, and other specialty goods are now boasted in over 350 locations. In other words, no matter where you live, it's likely easier than it's ever been to track down some nice goat cheese, a well-made baguette, or all manner of high-quality craft beer.
New Stores Can Cater to Very Specific Needs
Amazon sells a hundred different varieties of tartar sauce — who can compete with that? To stand out, smaller players are instead trying to corner niche markets.
If, for example, you are a consumer who hates logos, you can order your goods from Brandless, an online store that sells everything — organic quinoa, tree-free paper, non-GMO chips — in nondescript packaging for $3.
Or maybe no packaging is your thing. You eliminated plastic straws and were inspired to join the zero-waste movement. Luckily, package-free stores are now a cottage industry. There is Nada in Vancouver, and Brooklyn's first, Precycle, opens next month. Denver has Zero Market, a shop filled with 1,200 ecofriendly items that are designed to look like an apothecary and is housed in an old aviation hangar. "At first, it was like 15 loyal customers coming in every day," says Lyndsey Manderson, who founded it with her husband, Jesse. "But now we have hundreds of people." The Mandersons now have three more locations in the works, including one shop focused on prepared foods from local vendors, fresh baked goods, and possibly items made on-site to maximize the expiration dates
Supermarkets Now Boast "Amenities"
It's not enough for stores to be stocked with great food. They also have to be destinations. Thus, shoppers are now getting treated to yoga and barre classes at a New Jersey ShopRite. A North Carolina grocery chain is trying to add an on-site brewery. And jazz pianists welcome visitors at all of the Mariano's Fresh Market stores in the Midwest.
Jeff Turnas, president of Whole Foods' spinoff chain 365, has argued that such perks give stores "that hangout factor," and analysts predict that the biggest money is in so-called "grocerants," the term for free-standing restaurants inside (or adjacent to) grocery stores, which Phil Lempert, founder of SupermarketGuru.com, says have grown at a double-digit pace. Whole Foods has been the leader here, teaming up in recent years with notable chefs like Roy Choi in Los Angeles, Frank Castronovo and Frank Falcinelli in New York, and Michael Solomonov in Philadelphia.
Even Walmart is dipping its toes in the grocerant waters, and midwestern chain Hy-Vee recently announced its own partnership with Wahlburgers that will double the burger makers' number of restaurants. There's also an agreement with Orangetheory Fitness that will give shoppers "a fitness experience" in or next to Hy-Vee stores.
The boldest move, though, may belong to Kroger: Last November, the chain dove into the full-blown restaurant business with Kitchen 1883, a concept that serves from-scratch fried chicken and fancy cocktails. It's part of the Restock Kroger plan that executives outlined last fall to "redefine the way America eats." What it means for you is that your grocery run has the potential to be a lot more relaxing and enjoyable.
New Tech Makes Shopping Feel Like Less of a Headache
Yes, Amazon's checkout-free store concept had a few hiccups when it launched, but rivals have been tripping over each other to debut stores where shopping is so effortless. In the past week, even Sam's Club has announced cashierless locations. This 32,000-square-foot Sam's Club in Dallas will use new technology to optimize your shopping route in the store — like Waze, but for a massive shopping center.
There's more: Shoppers at Schnucks, a St. Louis–based chain, will soon say good-bye to storewide odysseys for Stove Top stuffing or ghee or toothpicks. Fifteen stores will be outfitted with start-up Simbe Robotics' Tally shelf-scanning bots. The bots check for low stock or misplaced items by snapping high-res pics of every square inch of shelf space as they traverse aisles. The benefit for customers is the 3-D map that's generated. "It gives you X, Y, and Z coordinates of every product within a few centimeters," Schnucks's chief information officer Bob Hardester explains. "We can tell a customer they're looking for a product that's on aisle three, section two, row four, on the left side, and it's the fifth item."
It's all going to make finding something easier. "If we see a customer is just dwelling forever in the same aisle, we can send someone over to help them," Hardester explains. Tracking movements also lets them make better customer recommendations, he adds: "The advantage digital sellers like Amazon have is they know every single item you look at, and for how long. This is a way for brick-and-mortar stores to catch up."
… And Grocery Delivery Has Never Been Better
In the year 2018, the grocery industry has more or less mastered home delivery: Kroger recently announced a new network of 20 robot-powered warehouses that will give shoppers "anything, anytime, anywhere." Target promises same-day holiday deliveries, and Albertsons is building AI packing centers for online orders. Walmart has launched Spark, its own grocery-delivery service that brings America's No. 1 food seller closer to its overall goal of delivering to 40 percent of U.S. households by year's end.
And now, the next level of delivery is voice ordering. In August, Whole Foods began syncing with Amazon Echos. Simply say, "Alexa, add 365 Everyday Value cashews to my cart," and they materialize in your account. She'll confirm each new item after your command, and keep asking, "What else?" until you're done. Generic requests ("Alexa, add a loaf of bread," "Some cheese," "Meat") will default to matches that Amazon bases on your order history as well as your "purchasing behavior." Assuming you're in one of Amazon's 24 test cities, you'll get your order in two hours via Prime Now. Not to be left behind, Walmart has now partnered with Google for same-day voice orders through Google Express.
Meanwhile, Kroger is testing a driverless van, and Walmart has unveiled a delivery platform where workers actually get house keys and load your fridge unattended.
Shopping Is Easier for Everybody, Not Just Urban Dwellers
It's undeniable: High-tech advancements like these mostly favor shoppers in big cities. But the less-populated regions of the country are seeing innovations of their own. "I don't see Amazon showing up in small towns to address communities' need for healthy food," says Kendra Rasmusson. So, she and her husband opened Farmhouse Market in New Prague, Minnesota, a town of 7,600 located an hour outside of Minneapolis, after realizing that the area's sole grocery store was full of processed foods. The small store is also cashierless — by necessity. Instead, for $99 a year, members get a card that swipes them in 24/7. They pay by tablet, and Rasmusson and her suppliers, almost all local producers, monitor stock remotely.
Other rural communities want tips for replicating Farmhouse Market's success, and Rasmusson says large packaged-goods companies are interested in their "unique access to rural shopper insights." But she believes that they have e-commerce giants beat in another area, too: customer satisfaction. Amazon's cashierless counterpart, Go, has befuddled some people and inspired others to purposefully steal. Rasmusson says that for them, theft pretty much always results in her getting a phone call minutes later: "They'll drive home, then call and say, 'Oh my gosh! I stole a yogurt. Can I PayPal you?'"