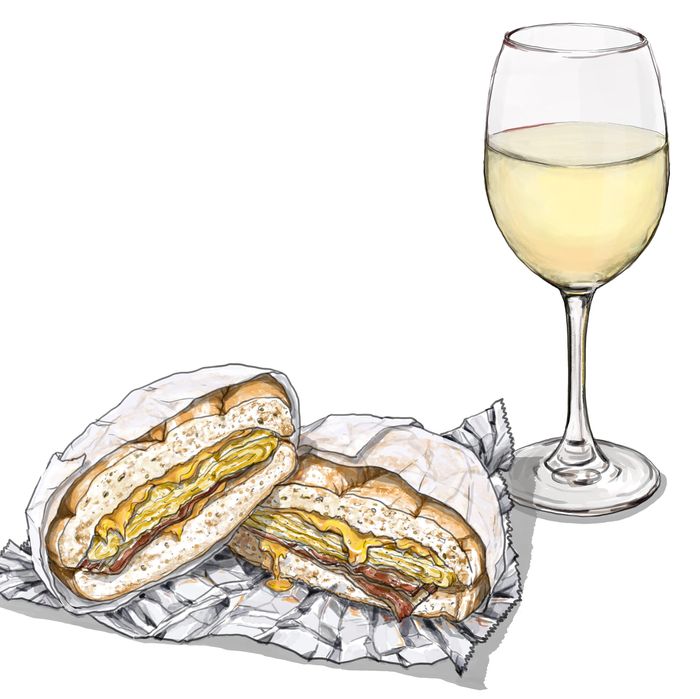 Start your day correctly.
Photo: The Ellaphant In The Room
The single greatest aspect of living in New York is our superior breakfast sandwiches. It's a fact that New York's bodegas make the best bacon-egg-and-cheese sandwiches in the world, and while it is possible that some people order their BECs as morning fuel, it is more likely the they are ordering them at the end of a long night, or even as a morning hangover cure. But there is no reason that the foil-wrapped rolls can't also be the thing you eat while enjoying something to drink — especially if that something is a bottle of Santorini.
Along with mildly important things like philosophy, democracy, and language, the Greeks are also responsible for bringing wine to the modern world. One of the country's better-known regions for travel, Santorini also produces white wines from a grape called Assyrtiko (a-SEER-tee-ko) that is as beautiful as the place where it's made.
Mini–history lesson, so stay with me: Santorini is a special place because the soils are a mix of volcanic ash and rocks that never allowed a root louse (a really awful bug) called phylloxera to encroach on its vineyards. In the mid-1800s, these bugs spread across Europe devouring every vine in sight. By the early 1900s, 70 percent of the world's vines had been destroyed. (Some people believed wine itself might cease to exist.) Lucky for us, a grafting system with American rootstocks and European vines could defend against the louse and save the industry. But this means that almost all of the vineyards in the world are on grafted rootstock, and they are relatively young since everything had to be replanted. In Santorini, however, the unique soil type prevented the mean little buggers from ever getting a foothold, making these vines some of the oldest ungrafted vines in the world. Wines from these vines are often described as more concentrated, complex, and pure, something you'll want to try for yourself.
And now, back to wine (and why it works well with a bodega sandwich). The main grape used to make these white wines, Assyrtiko, makes a naturally rich wine that — with a round, full body — is as insulating to a BEC as the foil in which it's wrapped. Santorini matches that component thanks to its ripe citrus and fruit flavors cutting nicely against the processed cheese, while the savory bacon will find a companion in the saline minerality that is a classic characteristic of these wines. Go forth and may your classic BEC be forever better.
Estate Argyros Santorini ($21)
These wines will have steely acidity, delicate tension, and juicy minerality. The average age of the vines is between 30 and 150 years old, with some of the vines on the property standing over three centuries old.
Domaine Sigalas Santorini "Aa" ($28)
This is one of the iconic domaines of the island, organically farmed, a definitive crowd-pleaser, and a super buy for the cash you'll put out. It is soft and generous, with citrus and melon fruit for days. The classic sea-salt spray that sprinkles the nose and palate puts the whole thing together in a deliciously fresh glass of wine.
Hatzidakis, Santorini "Cuvée 15" ($49)
You will find yourself wondering what won't go with this wine; it is so perfectly round and pleasing. There are layers of rich textures and ripe fruits: This young winery (barely 20 years old) is already leaping heads and bounds above some of its centuries-old competition.