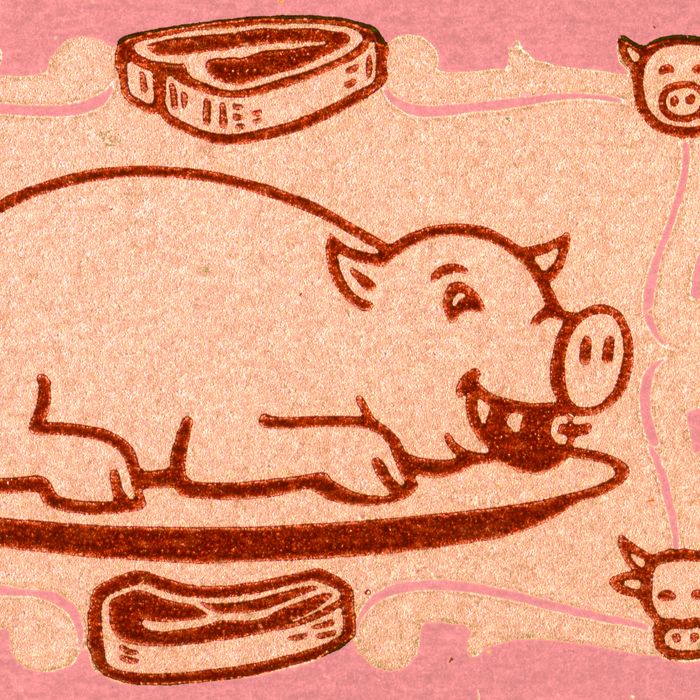 Photo: Jim Heimann Collection/Getty Images
There is no saving the Spotted Pig. This isn't a revelation, but it's never been clearer than it is now, following two more stories about the restaurant nearly a year after the allegations against its owner Ken Friedman were first reported: chef Gabrielle Hamilton's ultimately failed bid to take over, and its original chef April Bloomfield's first public comments on the allegations that caused her to leave the restaurant she helped build.
The restaurant was a singular force when it opened in 2004, ushering in the gastropub trend, creating in Bloomfield a new type of celebrity chef, and ensuring that every restaurant that opened over the next decade would have to include a high-end burger on its menu. It was a modern nexus of culture and celebrity, and a complete distillation of downtown New York at that time. It was small, hectic, jammed, loud, gluttonous — and, as it would turn out, rotten to its core. Beneath the glistening, fat-slicked surface, owner Ken Friedman had created a personal playground built on bad intentions. Now, his restaurant is synonymous with the power dynamics and culture of abuse and harassment that festers in the restaurant world. There is no changing that.
There are good, decent people who work at the Spotted Pig. They have no doubt suffered, unfairly, because of the stories about the restaurant and its operators. They don't deserve to lose their jobs, but there is also no way to see a path forward for the restaurant as it currently exists. Hopefully, New York's restaurateurs — who have complained loudly in recent years of a labor shortage — will hire them. Or, in theory, someone with good intentions and deep pockets could raise enough capital to buy the restaurant outright — but why would anyone want to do that? It would be prohibitively expensive, and there is no incentive to use such a tainted name when a new restaurant would be better anyway.
The thing about the Spotted Pig is that saying it embodied New York in the 2000s is not exactly a compliment. Bloomfield and her kitchen staff cooked the comfort food that people craved, the world-famous burger and pillow-soft gnudi. But burgers and gnudi were never the restaurant's sole appeal. The restaurant had a mythology around it. You could eat your burger next to models and musicians. As a result, the restaurant was also a place where your standing and social status were made as clear as they would be in a high-school cafeteria. The celebrities were whisked to cushy corner booths. The hoi polloi, on the other hand, were often offered backless stools and too tight two-tops. The restaurant was not built so that you necessarily felt good about being there; you felt lucky.
But who would feel lucky to eat there now? This is, after all, a restaurant where employees reportedly named a private third-floor space "the rape room." This was a room where, the New York Times reported last December, one server saw disgraced chef (and Pig investor) Mario Batali "groping and kissing a woman who appeared to be unconscious." Friedman himself was accused in the report of sexual harassment and misconduct by ten women, who allege that he openly groped them, lunged at and sexually assaulted them, and that his advances were a part of the day-to-day job. In an article published this week by the Times, April Bloomfield finally spoke about the allegations against Friedman, who has been accused by many employees of being a mercurial and abusive boss prone to firing people on a whim, blacklisting employees who crossed him, and going on tirades about minor details. It's clear that this behavior was baked into the restaurant's very foundation. In that Times article from Monday, Bloomfield — a British immigrant sponsored by the Spotted Pig — recounted a story from the building out of the restaurant:
Her introduction to Mr. Friedman's vindictive side came, she said, as they prepared to open the Spotted Pig and she expressed a mild dislike for some framed posters on the restaurant's walls. He exploded in anger, threatening to have her work visa revoked if she criticized his taste again, she said. (Since the Spotted Pig was her sponsor, she would have lost her ability to legally work in the United States if she were fired. At that time, she was an employee, not a partner.)
Maybe there was a time when someone else felt like they could have stepped in to save the restaurant. After the reaction to Gabrielle Hamilton's ill-fated attempt to do just that with her wife and co-chef, Ashley Merriman, however, why would anyone else dare to risk their own reputation?
Coming from an uncompromising, independent restaurateur of nearly 20 years, Hamilton's decision was met with a mix of derision, sadness, anger, shock, and betrayal. In September, she announced that the deal (which had never been finalized) had fallen through. The reason, she explained to New York, was that Friedman refused to give up his manager's salary despite the fact that business is down, the restaurant is "hemorrhaging cash," the dining room is short-staffed, and Friedman is persona non grata at the establishment. That characterization took on yet another layer when the restaurateur was sued by the Ace Hotel for misrepresenting earnings at the Breslin and the John Dory Oyster Bar.
While it's clear that Friedman refuses to remove himself from the Spotted Pig, it's also clear that the Spotted Pig cannot be disentangled from Friedman. Even if he were to remove himself from the place entirely and no longer benefit financially, you cannot save a "rape room." The ground is poisoned, and it cannot be repaired. Let well-intentioned staff take over, tear it down, and open something without Friedman. Let some other restaurateur take over the space. Let anything else happen, because New Yorkers now deserve something better than the Spotted Pig.