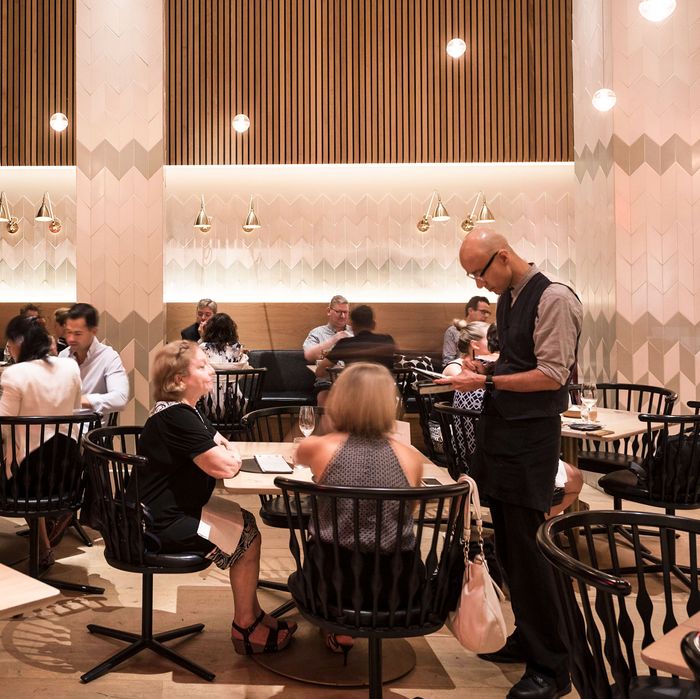 Waitstaff at Claus Meyer's Agern saw a significant pay increase over the summer.
Photo: Liz Clayman
It's been three years since Danny Meyer became the unofficial leader of a movement to abolish tipping at restaurants, in an effort to level the playing field for front-of-house and back-of-house employees, among other things. In the process of converting his own restaurants to his so-called Hospitality Included model, he convinced a number of major restaurateurs to adopt similar pay structures. The upside, of course, is that these tip-free models theoretically decrease pay discrepancies between people who work in the dining room and the kitchen, and don't rely on diners to essentially supplement workers' incomes.
But after giving it the ol' college try, two major restaurants have returned to the old way of doing things. The Wall Street Journal reports that Agern, the Nordic restaurant from Claus Meyer, and Michelin-starred Cafe China in midtown have both returned to the traditional tipping model and have seen great results.
In the case of Agern, switching back made a significant financial impact, and here is the stat that makes it so clear why restaurateurs will continue to have trouble convincing workers that tip-free models are the future of dining: Over the summer, waitstaff earned a stunning 25 to 40 percent more per hour than they had under the no-tipping policy. Eliminating the policy also allowed Agern to lower its menu prices and attract more regular customers. (Business had been lagging for quite some time, apparently.)
Last October, Grub revealed that even Danny Meyer's Union Square Hospitality Group was cut deep by the new no-tipping model, with staff turnover hitting an all-time high. Over the summer, Meyer told WSJ that he might have been "a little too overly ambitious" in pursuing the plan so doggedly, but he still shows no signs of backing down.