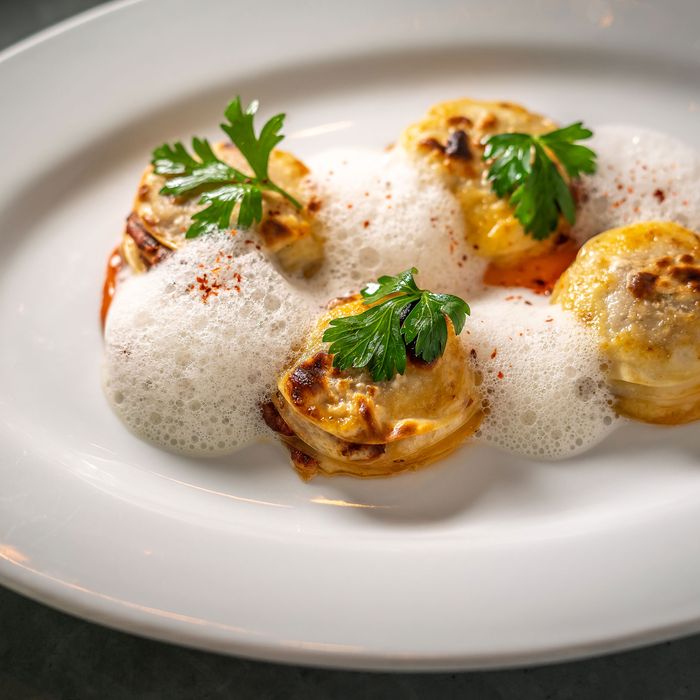 The completely vegan lasagnette at Carroll Gardens' Sans tastes like the real thing.
Photo: Noah Fecks
On Monday, the U.N. issued a report finding that if major changes aren't undertaken by 2030, the overall temperature of the Earth will rise to such a degree that it will be disastrous for human beings. There are many ways to achieve this goal: cutting carbon emissions, reducing our use of nonbiodegradable products, and eating less meat. According to The Guardian, beef consumption among Western countries needs to fall by a whopping 90 percent by the 2030 deadline. The good news — if you can call it that — is that there's never been a better time in New York to eat like a vegan. Chefs of all stripes have embraced vegetables and are turning out meat-free dishes that are simply some of the most exciting things to eat right now. It's a small step, but it's a start — here are 16 amazing vegan dishes you won't want to miss.
Lasagnette
Where: Sans
Price: $24
At Carroll Gardens' new all-vegan hot spot Sans, chef Champ Jones is putting out some of the city's most high-end vegan food, like black plum terrine with pickled plum, jam, and vegan brioche. But the Eleven Madison Park alum is also a fan of back-to-basics comfort food, and you won't want to miss his vegan lasagnette, featuring four disks of delightfully chewy pasta separated by béchamel sauce and served in fresh tomato sauce with savory foam. The result is a dish that's just as comforting as what grandma used to make, without the necessary post-meal nap.
Fall salad
Where: Dimes
Price: $14
The highly seasonal menu at Dimes on the Lower East Side is always changing, but the kitchen never fails to include a few vegan gems, including a new fall salad with Tuscan kale, delicata squash, concord grapes, apple-cardamom pepitas, and a rosemary-sage balsamic — apple-picking trip upstate not included.
Beet "chorizo" bowl
Where: Oxomoco
Price: $12
If you can even get in after our own Adam Platt's three-star review, Oxomoco has a very appealing vegan menu item worth heading to Greenpoint for. For the beet "chorizo" bowl (also available as a taco at dinner time), the kitchen staff crisps some potatoes on its wood-fired grill; mixes them with creamy avocado, whole grains, peppery cress greens, and salsa a las brazas; and tops the finished product with spicy beets.
Mac & shews
Where: Modern Love
Price: $23
At this "all vegan all the time" restaurant in Brooklyn, non-meat-eaters are spoiled for choice, but we suggest going with Modern Love's take on mac and cheese, which subs red-pepper cashew cheese for the real deal, pecan-cornmeal-crusted tofu and blackened cauliflower for the noodles, and spiced pecans for the telltale crispy topping. And if you're feeling extra indulgent, throw in an order of the truffled poutine to start.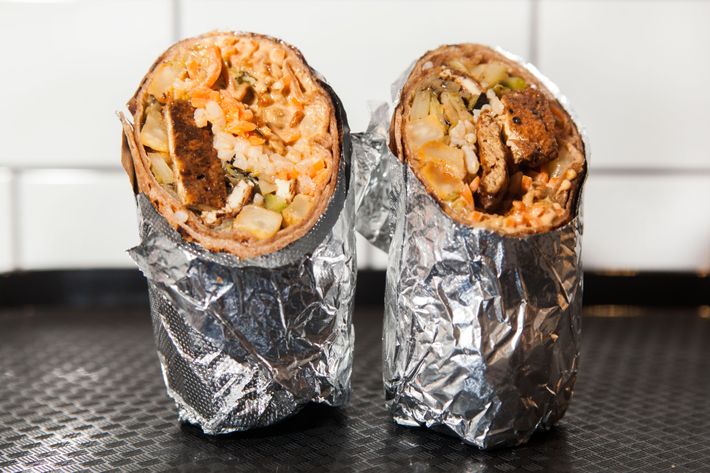 Superiority Wrap
Where: Superiority Burger
Price: $9
This is hard to believe, but it's true: There is more to Superiority Burger than the burger itself and the cultishly loved fried tofu. Take, for example, the restaurant's vegan wrap. It's Brooks Headley's take on the burrito, stuffed to the brim with brown rice, tofu, cabbage, and sunflower crunch. (It's also available in wrapless "boat" form.) It may not have a cult following (yet), but it really, really should.
Vegan Caesar salad
Where: Lalito
Price: $13
The vegan Caesar salad is nothing new, but the version at Lalito is so wellness-minded that it falls into the category of vegan-plus. For his take on the anchovy-less Caesar, chef Gerardo Gonzalez throws in meaty cashews, blue-green spirulina, nutritional yeast for a touch of umami, and dulse seaweed, which, if cooked just right, tastes a little like bacon.
Tofu scramble
Where: Nix
Price: $15
Last year, John Fraser's veggie-obsessed restaurant earned its first Michelin star, proving that vegan fare can impress even the most critical diners. This is another restaurant where vegans and the vegan-curious are spoiled for choice, but your best bet is to order the restaurant's particularly strong takes on Indian-inspired dishes, like the tofu scramble with black lentils, vadouvan curry, and market squash available at brunch.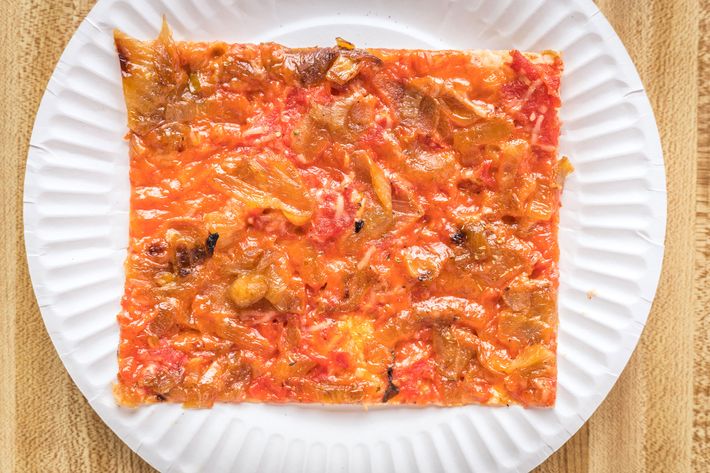 Vegan Vidalia square
Where: Paulie Gee's Slice Shop
Price: $4.50
The new Paulie Gee's Slice Shop is about as old-school as it gets — right down to the wood-paneled walls and lemon ices on the dessert menu — but the restaurant's four vegan slice options are thoroughly modern. Of particular note is the Vidalia Square, featuring a Sicilian-style slice with vegan parm, tomato sauce, and caramelized Vidalia onions for a touch of sweetness.
The Bowery and the Edith
Where: Orchard Grocery
Price: $8
Every New Yorker should be able to enjoy a bacon, egg, and cheese or a bagel with cream cheese, even if they're vegan. And that dream is very much alive at vegan deli Orchard Grocery, where the Bowery (turmeric tofu egg with tempeh bacon and Violife provolone cheese, spicy mayo optional) and the Edith (a bagel with cashew cream cheese, carrot lox, capers, and chives) will satisfy even the most hardened morning carb-loader.
Nasi goreng
Where: Selamat Pagi
Price: $14
This Greenpoint restaurant just so happens to share owners with Van Leeuwen, the beloved ice-cream shop known for its line of vegan ice creams. So, unsurprisingly, there are many opportunities to veganize menu items at this Indonesian-inspired restaurant. One of the standouts is the nasi goreng, a vegetable fried rice dish featuring deep-fried krupuk crackers and a sunny-side-up egg. But executive chef Jack Roche will happily substitute the egg with tempeh.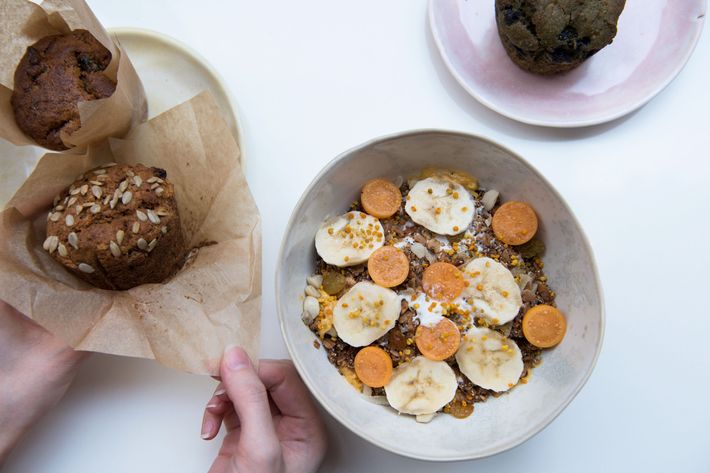 Sea buckthorn and mango bowl
Where: abcV
Price: $18
From day one, this sea buckthorn bowl was a staple of Jean-Georges Vongerichten's menu at abcV, and with good reason: It's easy to keep seasonal, with mangoes currently subbing for persimmons, and with its whipped macadamia milk, amaranth and ginger granola, bananas, and cape gooseberries, it's quite unlike any other vegan breakfast bowl out there.
Nachos
Where: JaJaJa Plantas Mexicana
Price: $11 or $16
This year-old Mexican vegan restaurant may undermine everything you've come to know and expect from a Mexican restaurant, but at least their nachos are still heaping and overdressed. For their take, the kitchen at JaJaJa covers tortilla chips with vegan chorizo, tangy, fermented black beans, turmeric-nut queso fundido, spicy vegetable relish, and sour cream with fresh corn atop this leaning tower. Order a mandarin Jarrito or Topo Chico and you'll barely notice the difference.
Impossible Burger
Where: Saxon + Parole
Price: $22
There was a time when Momofuku Nishi's take on the Impossible Burger was the best one in town, but recently the restaurant has pared down the recipe, leaving runner-up Saxon + Parole as your next best bet on the stylized "bleeding" burger. For their take, the kitchen tops the burger with a hearty mushroom purée, roasted oyster mushrooms, sherry onions, and truffle cream. (Talk about love of fungi.) That's not quite vegan, but the option to veganize the burger is there if you need it.
Mushroom toast
Where: Two Hands
Price: $15
Speaking of breakfast, there's something to be said about the mushroom as a stand-in for meatiness in a dish. That's why the mushroom toast at all-day café Two Hands is particularly appealing: It starts with roasted portobello mushrooms set in cashew cream on sourdough bread and topped with peppery arugula pesto and pepitas. Or exactly the type of meal that won't leave you hungry in two hours.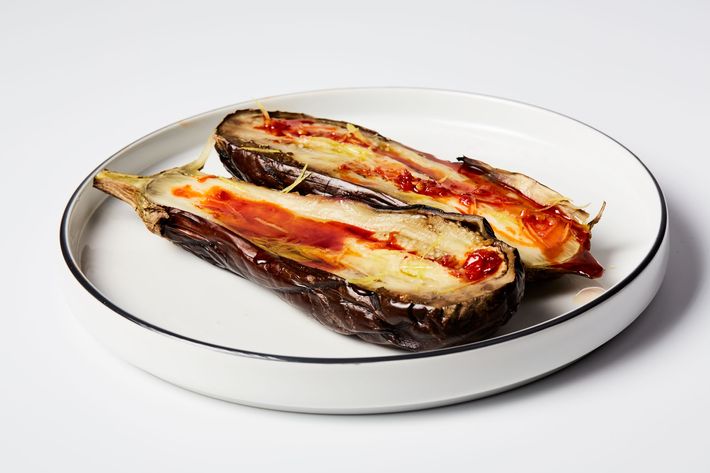 Whole eggplant
Where: Misi
Price: $15
People are flocking in droves to try out Missy Robbins's new casual pasta place, but don't sleep on the impressive veggie menu at the restaurant. Among the standouts is a whole eggplant dish dressed with Calabrian chile, lemon, and just enough olive oil to round the whole thing out.
Zucchini fritters
Where: Samesa
Price: $10 or $15
In some ways, Middle Eastern food lends itself to veganism with its low use of dairy. Just take the vegan-by-accident zucchini fritters at this Williamsburg restaurant, which are served with avocado hummus, garlic sauce, cucumber-tomato salad, and spice red zhug. Best part: You can get it as a wrap or a plate.