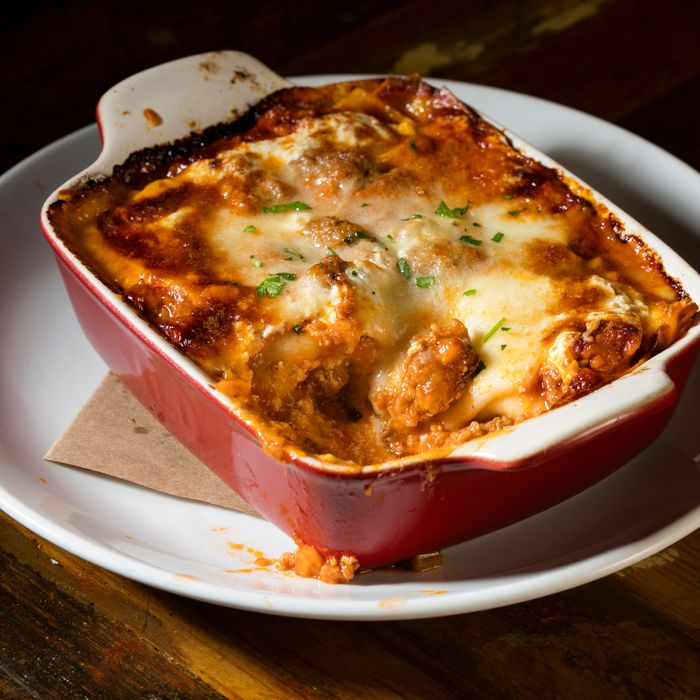 The textbook-perfect lasagna at Rubirosa.
Photo: Melissa Hom
It's a fact: Lasagna is the best food known to man, a beautiful carb explosion of cheese, béchamel, and garlicky tomato sauce sandwiched between layer after layer of noodle. New York, being the mecca of Italian-American cooking that it is, has plenty of choices, but Grub decided to spotlight the best and brightest from a spate of old-school and new-school restaurants. Here's where to eat lasagna in all of its gooey abundance in New York City right now.
Lasagna alla Bolognese
Where: Coco Pazzo
Price: $18
Coco Pazzo may have made a move downtown, but the lasagna remains as traditional and straightforward as ever. Tuscan-born chef Pino Luongo's ragù Bolognese is made with veal, pork, and beef; and the noodles are rolled out from scratch. Then the real work begins: pasta, béchamel sauce, Bolognese, Parmesan — four times. Luongo finishes the dish with a final layer of pasta, parm, and tomato sauce, pops it into the oven, and then sends it out the door.
Lasagna carciofi
Where: I Sodi
Price: $27
This West Village hot spot, and one of the city's best Italian restaurants, is probably one of only a few establishments that could ask patrons to pay nearly 30 bucks for a lasagna and not set off a riot. Diners actually have two choices — the traditional lasagna a sugo or lasagna carciofi, which forgoes meat in favor of artichoke sauce sandwiched between nearly two dozen mille-feuille-like layers of thin noodles and topped with thickly grated Parmigiano.
Lasagnette
Where: Rubirosa
Price: $24
Don't be fooled by the name: Rubirosa's lasagnette is served up in the style of a personal pan pizza, so you can have it all to yourself. Rather than make a simple ragù, the kitchen turns out mini-meatballs of beef, veal, and pork, bread crumbs, parsley, garlic, onions, and white bread and a tomato sauce laced with sweet Italian sausage, an ode to the Napoletano way of making lasagna.
Lasagna dall'orto
Where: Ciccio
Price: $19
Lasagna dall'orto — "lasagna from the garden" — is a dish for vegetable lovers. Chef Giacomo Romano spoons sautéed spinach, onions, zucchini, and watercress between the layers of his lasagna noodles and subs the light yet creamy stracchino cheese for the richer béchamel sauce. Think of it as lasagna lite.
Lasagna di coniglio
Where: Peasant
Price: $19
For more than 20 years, chefs Frank DeCarlo and Sixto Coronel have made this mind-blowingly great take on lasagna. The duo uses all the usual suspects — béchamel sauce, fresh pasta, and tomatoes — but opts for rabbit as the star protein before cooking the whole thing in a wood-fired oven. The result is slightly gamy, a bit smoky, and completely satisfying.
Lasagna quattro formaggi
Where: La Lanterna di Vittorio
Price: $16
There may be no better phrase in the Italian language than "quattro formaggi." In addition to the béchamel and Parmesan, the kitchen at La Lanterna adds Fontina, known for its nutty and earthy taste and aroma, and the much-beloved mozzarella. Add some black-truffle paste for three more dollars and you're in business.
Homemade lasagna
Where: Queen Italian Restaurant
Price: $24
If you're looking for a heavy-duty, put-meat-on-your-bones lasagna, few do it as well as Queen, Brooklyn Heights' legendary Italian restaurant, which is currently celebrating its 60th year in existence. This three-meat, three-cheese monstrosity carried to the table by a waiter in the classic white button-down, tie, and white apron, puts even Stouffer's to shame.
Pesto lasagna
Where: Gaia Italian Café
Price: $10
This LES spot defies all modern-day restaurant conventions: Sometimes, the kitchen runs out of ingredients, no walk-ins are accepted after 5 p.m., and almost every dish is served in tin camping bowls, but the food is comforting, rich, and delicious, including this lasagna laced with an herbaceous pesto. Just don't forget to bring in your own bottle of wine to wash it all down.
Lasagna al forno
Where: Porsena
Price: $24
It's been nearly eight years since chef Sara Jenkins's love letter to pasta opened, and it's still going strong. That's probably because she sticks to a few key tenants, including using a light hand with sauces, opting for fresh ingredients from the nearby Union Square Greenmarket, and making food that people truly crave, including a mostly traditional lasagna that only recently returned to the restaurant's menu and subs prosciutto for veal to great, salty effect.
Lasagna for two
Where: Don Angie
Price: $64
Don Angie's oversize lasagna remix consists of hand-rolled rosettes of fresh pasta filled with sweet Italian sausage, Bolognese sauce, béchamel sauce, mozzarella, and aged Parmigiano-Reggiano. This garden of carbs is baked in a San Marzano tomato sauce and topped with soft robiola cheese.