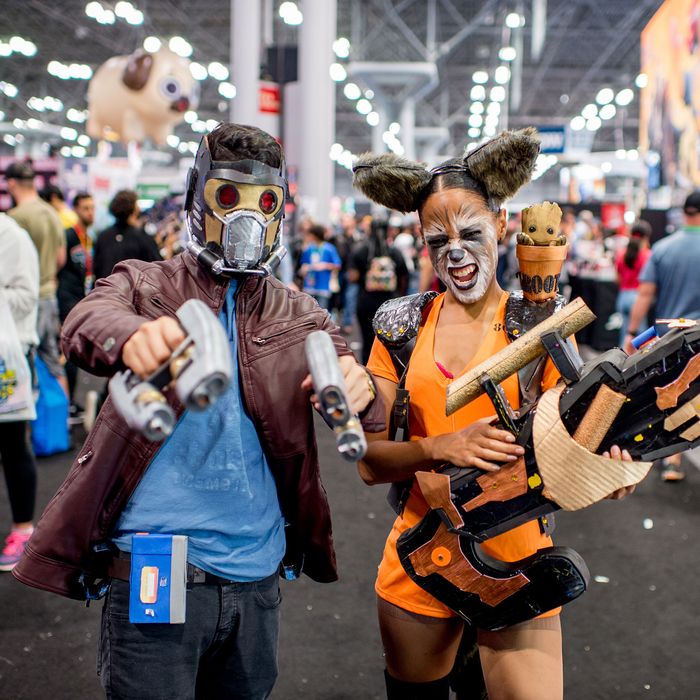 Photo: Roy Rochlin/WireImage
Events to check out this holiday weekend, October 4 to 8.
1. Hit up a festival.
Grab your dancing clogs, the Brooklyn Electronic Music Festival celebrates its tenth year through Saturday, with favorites like the French Disco-Don duo of Breakbot & Irfane at Output tonight, and Siberian dentist turned DJ Nina Kraviz alongside Mount Kimbie at Avant Gardner in East Williamsburg on Saturday. From Friday to Sunday, beef up your dinner party conversation at the New Yorker Festival, featuring talks with Ronan Farrow, Kacey Musgraves, Haruki Murakami, Sally Yates and much, much more. And film fanatics already know that, through October 14, there's the New York Film Festival, presented by the Film Society of Lincoln Center, with films like Alfonso Cuarón's Roma, named after the neighborhood in Mexico City, and Julian Schnabel's At Eternity's Gate, about the life of Vincent van Gogh.
2. Indulge your inner geek.
This weekend is the massive New York Comic Con in the Javits Center and other locations around the city, luring fans of comics, sci-fi, manga, anime, and popular culture. Have a sketch drawn in artist alley; say hi to Mark Ruffalo (a.k.a. the Hulk) tonight and get something signed; catch a special edition of Neil deGrasse Tyson's Star Talk with co-host Chuck Nice and theoretical physicist Brian Greene; visit a Marvel Daredevil panel on Saturday and much, much more. Bonus points for costumes.
3. Dirty pop.
Apparently, BTS fans have already been trying to camp out before Saturday's historic show at the 42,000-person Citi Field, which sold out in under 20 minutes. The boy band — which became the first K-pop act to hit No. 1 on the Billboard album chart this year, and will be the first K-pop band to headline a stadium show in the States — does have its loyal stans, to say the least. Can you hang? If so, figure out a way to get tickets, as it's the last date on this North American leg of their Love Yourself World Tour.
4. Celebrate indigenous people.
Some people have a three-day weekend, yay. But everyone should spend one of their days at the Indigenous Peoples Celebration (Re-Thinking Columbus Day), on Randalls Island, with music, performances, dances, and song on Sunday, and a sunrise ceremony, spoken word, dance, and guest speakers on Monday. Admission is free, and lawn chairs are recommended on Monday.
5. Start gettin' spooked.
It's October, and that means it's time for Halloween spine tingles. This year, the massive phantasmagoria that is the haunted house Blood Manor has moved its den of ultra-high-tech UV lights, animatronics, and gore-filled makeup to Broadway, with more killer clowns and ways to die than you can dream up (if you're counting, it's 1,000, and there's a room dedicated to them). The Merchant's House Museum just unveiled their new exhibition, A Good Death: 19th Century Lessons in Dying Well, and on Saturday Green-Wood Cemetery offers their twilight walking tour, which ends at the catacombs, usually closed to the public. Don't forget your flashlight.
6. Get jazzy.
Have you been checking out our monthly jazz calendar? Each installment, we pull out the ten best shows for jazz lovers, and this month is a good one, with trumpeter Tom Harrell at the Village Vanguard all weekend with his band Trip, Robert Glasper at the Blue Note through the month, and the multitalented Bria Skonberg at (le) Poisson Rouge on Saturday. Catch 'em all.
7. Party (and buy baked goods) for a cause.
This Friday is a Benefit Concert for Planned Parenthood, a title that is conveniently self-explanatory. Head out to Greenpoint's Park Church Co-op for a night co-headlined by Sons of an Illustrious Father (with Justice League actor Ezra Miller) and Brooklyn punks Honduras, who recently opened for Interpol. Plus a bake sale, voter registration, and more, with all proceeds going toward the organization.
8. Pizza Pizza.
New Yorkers sure do have opinions about pizza, and they'll all be out on display at the New York Pizza Festival, held on Crescent avenue (near Arthur Avenue) in the Bronx's Little Italy this Saturday and Sunday. Come for booths with over 30 pizzerias from all over the country, plus a special guest from Naples, Italy. Tell them their pizza's not the best. Tickets are $25 for three slices, $35 for six.
9. Time for Tunde.
If you haven't yet discovered the irresistible pop R&B of Tunde Olaniran, this is your lucky holiday weekend. On Friday, the Flint-based, Nigerian musician — who has opened for Sleigh Bells and was featured on the Detroit episode of Marcus Samuelsson's PBS food show No Passport Required — releases his latest album, Stranger, and on Monday he plays Terminal 5 with CYN and Brit electropop headliners Years & Years.
10. Strap on your skates.
It may not feel like fall outside, but it's still skating season. At least according to Rockefeller Center, whose rink opens on Monday. So pair those shorts with some ice skates and break out those triple Axels, or just watch with some hot chocolate. The first skate, hosted by five-time Finnish national champion figure skater Kiira Korpi, is on Monday morning at 9 a.m.