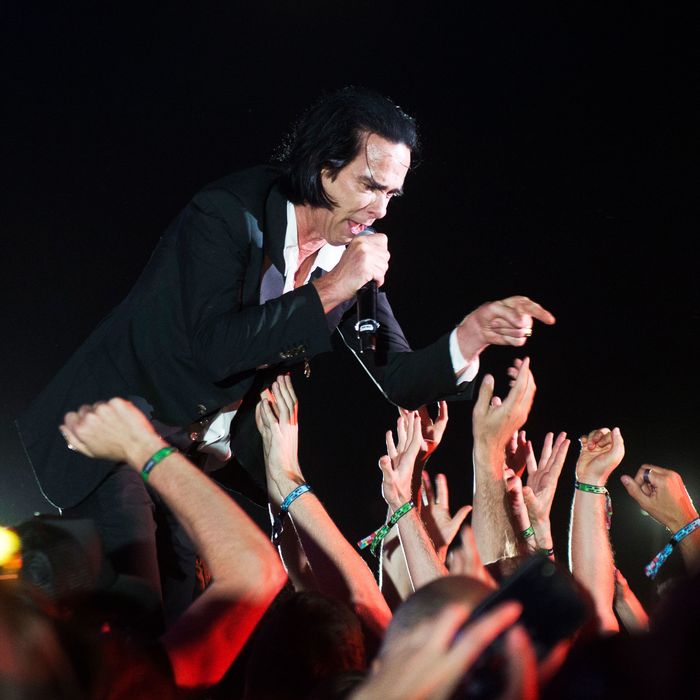 Nick Cave heads to Brooklyn on Saturday.
Photo: Jordi Vidal/Redferns
Events to check out this weekend, October 25 to 28.
1. Get lit.
Literary, that is. This weekend there are two bibliophilic fêtes to get you in the Halloween mood. On Thursday at Littlefield is an Edgar Allan Poe–twist on a fundraiser, with Electric Literature's Masquerade of the Red Death: Redder and Deader, with a dress code of red and black, plus book giveaways. On Friday, get spooky with the New York Public Library after hours Halloween Masquerade. Show up from 7 p.m. to 10 p.m. in your best literary costume to get judged by none other than Tim Gunn, plus see collections on display from of the NYPL's most ghoulish photographs, prints, rare books, and spooky 16 mm film from the archives. Hey, bookworms know how to have fun, too.
2. Then get lit for a cause.
Pregame for November's Speed Rack finals tonight, when the all-female bartending competition takes over the downstairs bar of Tijuana Picnic. $5 from each drink by Speed Rack co-founder Lynnette Marrero and Haley Traub (Dutch Kills, Attaboy) benefits the Pink Agenda, supporting breast-cancer research, awareness, and prevention.
3. Put some structure in your life.
Archtober continues through the end of the month, going out with a bang. On Friday, steal some pumpkin-carving ideas at Pumpkitecture! where 20 architects from NYC-based firms compete to carve the next Guggengourd (that's a pumpkin Guggenheim), or something way better. You can also hear the hidden history of the South Street Seaport on Friday, take an underground subway tour complete with ghost stations, or go behind the scenes of an abandoned Ellis Island hospital on Saturday, plus much more.
4. Reap some Bad Seeds.
Remember when Nick Cave the singer and Nick Cave the artist were both in town and some people thought they were the same insanely talented person? That was silly. The Australian musician plays just one of four U.S. dates with his band the Bad Seeds this Saturday at the Barclays Center. (And just so we're all clear, it's this guy.) Also, this weekend Minus the Bear comes through on their farewell tour, playing Irving Plaza on Sunday and Monday, and everyone's — or at least Nick Kroll and John Mulaney's — favorite dad band Steely Dan is at the Beacon Theatre on Friday and Saturday (as well as Monday and Tuesday). Get your fill.
5. Light a torch.
Harvey Fierstein's Torch Song is currently in its first full revival in 35 years, and headed to Broadway after a hit Off-Broadway run. This round of the Tony Award–winning comedy stars Michael Urie and Mercedes Ruehl, and of the production at Second Stage, our critic said the play was "charming, intelligent, and, at 40 years old, often strikingly fresh."
6. Bike through the Bronx.
Before hitting the Halloween candy, take a bike ride. The free Tour de Bronx happens this Saturday, where you can be one of thousands of enthusiasts biking through waterfronts, greenways, and burgeoning neighborhoods (helpful if you're scouting out affordable housing). There are two routes to choose from, 25 miles or 40 miles, taking you everywhere from Pelham Bay Park to the Throggs Neck peninsula, and both concluding at the New York Botanical Garden with a live musical performance. Don't forget your helmet — they won't let you participate without one.
7. Keep your dreams cool.
Inspired by artist Carrie Mae Weems's Kitchen Table Series, funk rock pioneer Nona Hendryx created the immersive, multimedia and one-night-only Refrigerated Dreams concert at Joe's Pub in her role as the inaugural recipient of the Vanguard Residency and Award. Directed by Niegel Smith with dance choreography and performances by Francesca Harper and Josh Johnson, just add a Martini and be whisked away. It happens twice on Saturday.
8. See some groundbreaking film.
Through October 30 is the 30th anniversary of NewFest, which gives voice to the international LGBTQ spectrum through film. Tonight see Boy Erased, based on Garrard Conley's memoir about surviving conversion therapy, catch a 10th-anniversary screening of Milk on Saturday, a 20th-anniversary screening of director Lisa Cholodenko's High Art in 35 mm on Sunday, plus much more.
9. Laugh for a cause.
Sunday at the Bell House, they're bringing the comedians out to benefit the Trayvon Martin Foundation. Hosted by Michael Che, the lineup includes Kerry Coddett, H. Jon Benjamin, Larry Murphy, Maeve Higgins, Jon Glaser, Negin Farsad, and special guest Gbenga Akinnagbe. If you can't make it, you can also donate to the foundation on the event page.
10. Spread the Love.
A trip up to Hudson this weekend is not only worth it to see the turning leaves, but this Saturday at Basilica Hudson is the Pioneering People fundraiser for the venue, this year celebrating Courtney Love (former Hole bandmate of the Basilica's co-owner Melissa Auf der Maur). With a star-studded host committee, including Ryan McGinley, Chloë Sevigny, and the National's Aaron Dessner, the lineup is equally heavy-hitting, with performances by Michael Stipe, Natasha Lyonne, Justin Vivian Bond, and Kenny Mellman, Meredith Graves, and more, with participation by Ms. Love. And if you'd rather get a taste of Hudson without leaving NYC, this Sunday Zak Pelaccio of Fish & Game cooks dinner for a caviar-themed cruise on a ship called, coincidentally, Hudson's.