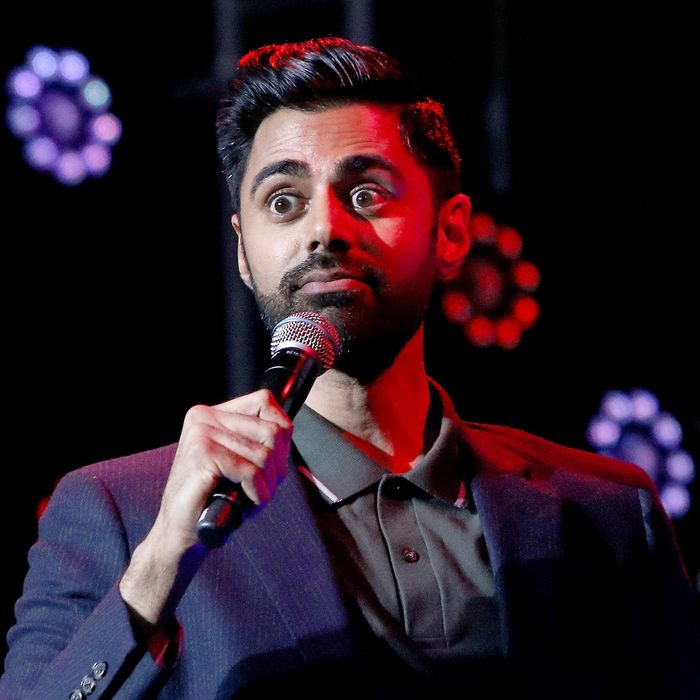 Let Hasan Minhaj tell you some jokes.
Photo: Jim Spellman/WireImage
Events to check out this weekend, October 18 to 21.
1. Go au naturel.
The provocative Sarah Lucas of Young British Artists fame rose to superstar status on her side of the pond with brash, often humorous works subverting gender and sexuality norms. But she's not known as well Stateside as her cohorts, which include Damien Hirst and Tracey Emin. That might change with the first American retrospective of the prolific artist, currently at the New Museum, called "Au Naturel."
2. Find your light.
The White Light Festival is back through November 18, illuminating music's spiritual power across disciplines and cultures. Taking over six venues across the city, on Thursday the Takács Quartet with David Requiro on guest cello takes on Schubert's "String Quartet in C Major" at Alice Tully Hall in the Poetry for Strings program. Friday and Saturday see the stunning, logic-defying Borderline, by Bessie Award–winning duo Honji Wang and Sébastien Ramirez, blending contemporary dance, street dance, and aerial choreography. That happens at the theater at John Jay College.
3. Enjoy a fancy date.
It's rare to get a glimpse inside the storied Rainbow Room without an invite to a private event. But this Friday you can walk right in with the launch of this season's Live! From the Rainbow Room concert series with songwriter and performer Shoshana Bean, backed by a 13-piece band. When the music is over, the show continues with the panoramic views you'll have from 65 floors up. This Thursday though Saturday is also the BRIC Jazzfest marathon, where alongside music with performers, including Meshell Ndegeocello and Terence Blanchard, you'll find free talks, dance, and poetry performances.
4. Salute some funny patriots.
Hasan Minhaj's Netflix show Patriot Act launches later this month, making him the first Indian-American host to front a weekly comedy show. But you can catch the Homecoming King IRL tonight at Carnegie Hall in his show Before the Storm. See fellow Daily Show alum Wyatt Cenac on Sunday at Union Hall working out some new material, and on that same night spring for a cause when Janeane Garofalo, Negin Farsad, Murray Hill, and more come together at the Bell House for Persisticon II: The Rockening, comedy and music to benefit Emily's List, for equalizing the representation of all genders in government. Put your money where your mouth is.
5. Count down to scary town.
Wanna get in the Halloween spirit? Wander around a cemetery after dark. Nightfall at Green-Wood Cemetery on Friday and Saturday allows you to do just that, while stumbling upon musical performances, performance artists courtesy of the Bindlestiff Family Cirkus, storytellers, and films curated by Rooftop films. Plus an assist by Morbid Anatomy, all by the light of the moon and some flickering candles. If it's candles you're after, plus ghosts, this Friday and Saturday head to the Merchant's House Museum for a candlelight ghost tour. Reserve the midnight tour for a real-time ghost hunt with paranormal investigator Dan Sturges. Scary! But if you'd rather just drink and watch Ghostbusters, there's a place to do that, too.
6. Freak your 'nomics.
At the juncture of knowledge and lack of knowledge is the journalism game show "Tell Me Something I Don't Know," from Stephen J. Dubner of Freakonomics Radio, taping four live shows at Joe's Pub this weekend (two on Friday and two on Saturday). Learn something while being entertained with guest co-hosts, including chef Alex Guarnaschelli and comedian Christian Finnegan. At the very least you'll have something new to say at parties.
7. Check out a noirish opera.
Composer Nico Muhly's first work for the Metropolitan opera in 2013 blended an old art form with modern subject matter; exploring the dark side of the internet. His second, Marnie, is based on Winston Graham's 1961 novel about a bewitching young woman with multiple identities, which also inspired a film by Alfred Hitchcock. The dark opera opens this Friday, with Robert Spano conducting.
8. Say good-bye to an old friend.
This week came the very sad news that film-enthusiast haven Videology Bar & Cinema will close on October 27. But they won't leave you hanging, especially for Halloween fare. Visit tonight for a screening of The Neon Demon, with a live electronic music score. Or Live Dubbed Sitcoms tomorrow, where comedians improvise dialogue over muted Halloween-episode faves. Or the Beetlejuice drinking game on Saturday, a screening of Halloweentown with pumpkin carving on Sunday, plus much more. Say good-bye in spooky style.
9. Hear some new sounds.
And some old ones. This week, the series New Sounds Live, curated by WNYC's John Schaefer, tackles David Bowie's Berlin Trilogy: 1979's Lodger, 1978's Heroes, and 1977's Low — the three albums he made while living in West Berlin. Presented by Arts Brookfield, the free live performances tonight and tomorrow will be led by Shearwater's Jonathan Meiburg, with past and present members of Deerhoof, Xiu Xiu, Shearwater, Dirty Projectors, Battle Trance, and the Wordless Music Orchestra.
10. Rye the night away.
It's currently Rye Week in New York, with bars, distillers, brewers, and bakers hosting events all throughout the state. What does that mean for you? It means tonight that you can do a walk-around Great Ryes of America tasting at the New York Distilling Company for $25, tomorrow find Rye beers and whiskey tastings and products — including grains — for sale at the Greenmarket in Union Square, have your choice events at the Gatehouses at Kings County Distillery or hit up a "Rye & Shine Pairing" at Island to Island's Taproom at 642 Rogers Avenue. That one's Friday, which should give you enough time to recover before heading back to work.