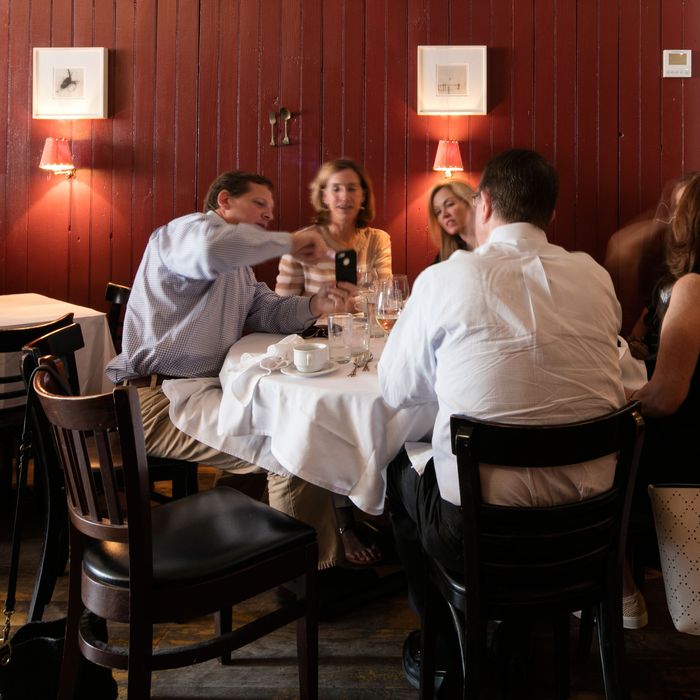 Jimmy Bradley's beloved restaurant will close in December.
Photo: Melissa Hom
The name of the Red Cat famously means nothing. When Jimmy Bradley opened his restaurant near the corner of 23rd Street and Tenth Avenue in 1999, he called it what he did because, he says, it sounded "warm, friendly and maybe a little louche." It's fitting that the name isn't any kind of specific reference, in a way, because it's a restaurant — beloved by its army of regulars — whose appeal is easier to define by explaining what it isn't.
It is not the Cheers of Chelsea, because that's too contrived. It is not Instagram bait because that would do a disservice to its real beauty. It's not a classic neighborhood restaurant, because the food is slightly too ambitious. It's also not a traditional destination restaurant because the food is also slightly too familiar. It's too new to be a throwback to ye olde New York, and it's too old to be hot or buzzy. The Red Cat, which will close at the end of the year, isn't necessarily even cool, because nobody who goes there would want it to be that.
These days, people like to refer to restaurants as a "third place," where people can connect outside of home (the first place) or work (the second), but The Red Cat isn't that, either. It's more intimate, like a first-adjacent place that's an extension of the living room everyone wants to have. Bradley told the Times that he wanted the restaurant to look like "New England goes to Paris without a stop at Martha Stewart's house." As he explained it further to me: "The architect came back with a Moroccan lantern and red cricket ball and said, 'This is the lighting, and this is the color.' At first I was like, 'Are you kidding me?' But then that was that." Save for a yearly paint job and new carpet, as well as artwork that's been swapped out, not much has changed since that initial conversation.
Bradley, a brash New Englander with a touch of Paul Newman charm, does make tweaks here and there — so subtle as to be almost imperceptible to even the most devoted regulars — but its strength is in its consistency. The bar is the sort of place where any given night of the week you could find yourself in conversation with local fixtures like gallery owner Jim Kempner or artist Jay Kelly, whose drawings hang on the restaurant's walls. The bistro-esque food, and especially the airy, crisp fried tempura green beans or pastas napped with duck or rabbit ragu, never wavers, despite who's heading up the kitchen. ("I wonder which New York City chef is going to outright rip off my green beans when we close," Bradley says.) And the staff will tie it all together. I said it's not the Cheers of Chelsea, and it's not, but the bartenders know your name and your order. Even though I no longer live a few blocks away, I can count on Alex to deliver my preferred martini — Hendrick's, up with a twist — before I even have to ask. "The thing that makes the Red Cat great is the people who work there," Bradley explains, bluntly. "It's a 'curtain goes up' business, where a team victory is more profound than an individual one."
As far as Red Cat regulars go, I was a blip on the restaurant's impressive lifespan (albeit a vocal one, as I've posted about it incessantly on social media). It didn't stop multiple friends from texting and DM-ing me "I'm so sorry for your loss" upon seeing the news that the restaurant would close. It does feel like a death, in a sense. For the couple of years that I lived in Chelsea, the restaurant was my place to have a dinner of herb-dusted French fries and a couple of martinis, alone at the bar after a rough day at work; to celebrate birthdays at the coveted round corner table in the front window; and to have my last dinner in New York City before I moved to Los Angeles last fall.
In other words, it's the kind of personal, honest place that is hard to define until you see it, which is probably why these types of restaurants open so rarely. My friend Mark Silver, a fellow regular, calls the Red Cat "the Grace Coddington of West Chelsea restaurants." That sounds about right: It's a little behind the scenes, unexpectedly brilliant and effortlessly stylish without caring what anyone else thinks or does. When something like that goes away, all you can do is look around and wonder, where are we supposed to go now?