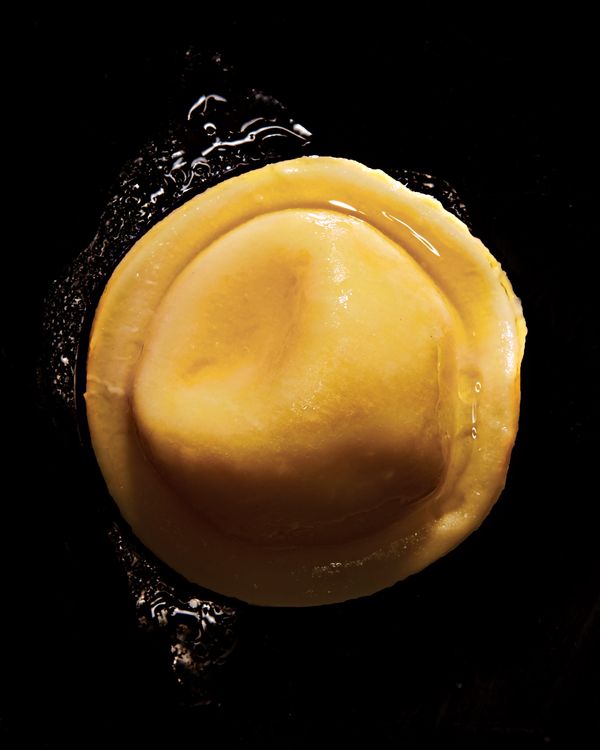 The mysterious occhi at Vic's.
Photo: Hannah Whitaker
The only thing greater than the number of obscure regional Italian pastas is the desire among Italophile chefs to discover an unheralded new one. That's what happened to Hillary Sterling of Vic's while she was traveling in Emilia-Romagna a few years ago. There, at the venerable Trattoria La Buca in Zibello — a town most famous for the cured-pork product culatello — was something called occhi: round, elegant little ravioli served in brodo. "I didn't like the brodo aspect," says Sterling. "I thought it needed sauce." Since then, she's served a brothless version at Vic's filled with everything from chicken-liver-mousse to potato and mascarpone. For a while, Sterling had the local monopoly on this bit of Emilia-Romagna arcana. But last month, her former A Voce boss and good friend Missy Robbins opened her Williamsburg pasta joint, Misi, and debuted her own take on the shape: occhi stuffed with sheep's-milk ricotta and garnished with bottarga and lemon. This is no mere coincidence. "Missy and I were traveling together; she was with me at the trattoria," says Sterling. Even so, the move came as a bit of a surprise. "She sent me her menu, and I called her on it. I've been running occhi for three years!" Or has she?
In what is turning out to be a baffling case of mistaken pasta identity, the trattoria in question claims never to have served the shape or even heard of it. "Occhi?" asks Laura Lanfredi, the fifth-generation chef-owner. "No. Perhaps gnocchi?" In point of fact, there is a round filled pasta at La Buca, only it's called anolini and can be ordered either in brodo or with a sausage-porcini ragù. To further complicate matters, occhi means "eyes," and a dip into the pasta-shape literature turns up a rarity called occhi di lupo ("wolf's eyes"), which is a tubular pasta, not a raviolo variation like the one the chefs ate in Zibello. Deeper digging reveals a whole kooky Italian tradition of naming pasta shapes after the eyes of not just wolves, but various creatures, great and small, everything from partridges (occhi di pernice) all the way down to fleas (occhi di pulce).
But this is par for the course in a realm where whimsical pasta names change from region to region, town to town, even household to household. As to why Sterling and Robbins remember them as occhi, who can say? Could it have been a culatello-induced delirium, or maybe a language barrier? Robbins thinks it was an off-menu special, forever lost to time. There's another possibility: "We must have drunk too much Lambrusco," she says. "We made up a pasta shape!"
*This article appears in the October 1, 2018, issue of New York Magazine. Subscribe Now!