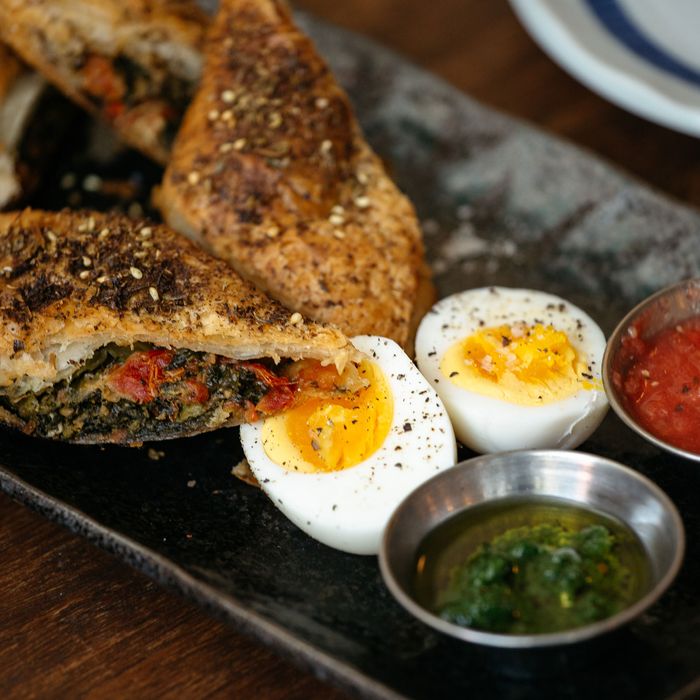 Go eat Ziva from Miss Ada.
Photo: Scott Heins
Every month in New York, there are a bewildering number of new dishes to eat, drinks to imbibe, and food-themed events to attend. Often, the hardest part is just figuring out what's really worth your limited time. So Grub kicks off each month with a curated collection of dishes, drinks, and events that should absolutely be on your agenda. Make your plans now.
1. Attend an event for one of the year's most anticipated cookbooks.
Writer and photographer Nik Sharma's debut cookbook, Season, is among those that Grub is most excited about this fall. (If you need to know how compelling Sharma can make a recipe column, just read the story he published after India overturned a law criminalizing homosexuality.) Sharma will be in New York this month to celebrate the book, first on October 9 at 7 p.m. (tickets are $29) at the 92nd Y for a talk and book signing with writer Korsha Wilson.
2. Start your day with porchetta sandwiches
More happenings in Brunchville, a.k.a. Fort Greene. The Middle Eastern restaurant Miss Ada has made Yemenite pastries a focus of its Sunday-morning menu, and for the fall it's added the Yemenite-influenced Israeli pastry Ziva. Made with a puff pastry similar to malawach, it's stuffed here with anchovies, broccoli rabe, Pecorino, and sun-dried tomatoes. Over at Roman's, they've retooled their menu to include dishes like an eggplant frittata with tomatoes and ricotta salata ($17) as well as a pricey (tip-included) porchetta sandwich ($22) on focaccia, the sort of thing that'll help you recover from a long night. Antojitos El Atoradero in Gowanus bar Parklife also just launched brunch this weekend, with Micheladas to drink and chilaquiles to eat.
3. Go to a Vietnamese pop-up with a soup flight.
The Vietnamese pop-up Saigon Social returns to Boys Don't Cry, the Chinatown bar owned by Nom Wah's Wilson Tang. On October 21 and 22, from noon to 6 p.m., Helen Nguyen will serve a holy trinity of soups: po, bun bo hue, and bun rieu cua. Show up day of and you'll get your choice of soup for $16, but reserve a ticket ($28) and you'll get a flight of all three. There will be appetizers, too, but they're still being determined.
4. Listen to Ruth Reichl and others talk about some of the year's best food writing.
Spend the night with the grande dame of food writing Ruth Reichl. On October 2 starting at 6 p.m., she'll be at Rizzoli Bookstore to talk about The Best American Food Writing 2018 with Bloomberg's Silvia Killingsworth, "The Splendid Table" host Francis Lam, and The New Yorker's Helen Rosner.
5. Head upstate to relive the aughts with Zak Pelaccio.
Two of the most formative New York restaurants of the last two decades were Zak Pelaccio's Fatty Crab and Fatty 'Cue, both demised. For one weekend only, October 5 to 7, the chef will revive them at his Hudson spot BackBar. There will be a party the last night (tickets are $50), and they'll serve old standards from the restaurants, like 'Cue-style pork ribs, crispy pork, and watermelon salad; and pulled chicken with sesame and chili salad.
6. Help support a culinary program that gets people in need back on their feet.
The Doe Fund is a culinary program driven by compassion, a nonprofit that helps transition individuals who have been incarcerated, homeless, or struggled with addiction. On October 25 at 6 p.m., it will host its fundraising gala at Cipriani 42nd Street. The tickets start at a cool $1,000, so maybe skip your weekly dinner at Masa? This evening is for a very good cause.
7. Go have dinner at Balaboosta, which has been resurrected.
Einat Admony's influential Balaboosta is back in business. The Middle Eastern restaurant has relocated to the West Village, replacing its sister restaurant Bar Bolonat. On the menu are dishes like red snapper with pickled okra and sour Fresno chili in chraime sauce; lemon cardamom pappardelle with Swiss chard, pine nuts, and kashk; and more.
8. Check out an inventive noodle shop's new dinner series.
Simone Tong's smart cooking at her Little Tong Noodle Shop earned her the spotlight and led to a second location in midtown. At that 16-seat location, she'll host weekend dinners, under the name the Cornelia Series, that doesn't sound like other "guest chef" nights: Tong and another chef will mix and match their different backgrounds in collaborative dishes and drinks. First up on October 6 and 7 (tickets are $180 for two, seatings are 6 p.m. and 8:30 p.m.) will be Jose Alvarez, sous-chef of the acclaimed midtown restaurant Ferris, who with Tong will cook a four-course, eight-dish menu.
9. Go to a hip-hop-inspired dinner in Harlem.
Head downstairs, uptown. From 6 p.m. to 9 p.m. on October 7, Ginny's Supper Club (the basement space under Red Rooster) will throw a hip-hop dinner. Dishes and drinks will be inspired by songs, as in a T-bone steak with cheese eggs and Welch's Grapes ($16), a nod to the Notorious B.I.G.'s "Big Poppa." Live music will be provided by PhearNone and DJ Masai, and walk-ins are welcome.
10. Celebrate Oktoberfest at an outdoor bar in Queens.
You don't have to go to Munich for Oktoberfest. Ridgewood bar Nowadays will be celebrating through October 6 with its Nowafast, fittingly featuring beers from Threes Brewing and sausages from the Meat Hook. What other reasons could you need to get a couple more outdoor nights in this year?
11. Talk and eat pastrami with Jake Dell at a night of Jewish food and storytelling.
The Jewish Food Society has announced details for its next edition of its storytelling event Schmaltzy. Luminaries from the food world will provide food and conversation, including sushi from Food & Wine restaurant editor Jordana Rothman, honey cake from Studio and Simon & the Whale baker Zoe Kanan, and pastrami from Katz's Jake Dell. There will also be a pair of rare dishes in the Tunisian dish pkaila, beef stew with fried spinach from La Boîte's Lior Lev Sercarz, and p'tcha, a preparation of cow feet, from author Darra Goldstein. The James Beard Foundation's Mitchell Davis will host, and Russ & Daughters Niki Russ Federman and Josh Russ Tupper will drop by.
12. Eat at one of London's best restaurants without leaving New York. The crew behind one of London's most famous restaurants, the Clove Club, will gallop into New York on October 11 for a pop-up (the dinner will cost $115) at the Four Horsemen. While the menu hasn't been finalized yet, you can expect dishes like sardine sashimi with Worcestershire sauce and some sort of roasted chicken. Of course, there will be plenty of (natural) wine, too.