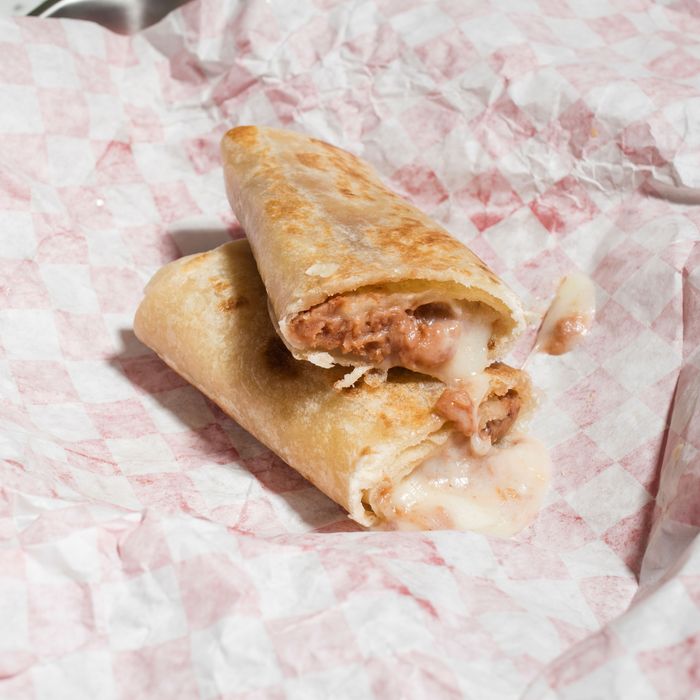 Burrito alert: The Goods Mart is importing Los Angeles's Burritos La Palma.
Photo: Melissa Hom
When you think of corner stores, you probably don't think of virtuous establishments. They're more like resources for cheap chips, industrial candies, whatever you might need (or, not) then and there. In the suburbs, they're places that people depend on, and in this time of wellness and comfort-oriented nostalgia, it shouldn't be surprising that someone decided to upscale it. Enter Silver Lake, Los Angeles's the Goods Mart, a convenience store for the age of Whole Foods and Goop. Today, the store has gone bicoastal with a second location in Soho.
"We're the perfect blend between 7-Eleven and Whole Foods, but more socially conscious," says its founder, Rachel Krupa, a restaurant publicist who works with restaurants on both coasts. (Krupa says that she'll expand more on both coasts, as well as to her home state of Michigan, or more specifically Detroit.)
The New York location is around half the size of the original, all black and white, like a pair of Vans turned into a room. The ceiling is painted with curving, thick lines by the artist Love Berto, whose geometric art also covers the exterior of the first Goods Mart. The space is also imbued with a mission. Tips will be donated to a different charity each month, starting with the NYC Parks Stewardship Program.
Here, there's a 200-product selection fit for Erewhon: Kettle chips, Eden Foods' roasted pumpkin seeds, Yum Earth's organic candy corn, Forager Cashew Yogurt, and more. Ugly fruit and vegetables (the stuff that tends to get wastefully thrown away) will be provided by Local Roots and Norwich Meadow Farms, which will also supply products like maple syrup and apple-cider vinegar. And not all of the prices will shock you. The coffee, for example, is from La Colombe and a reasonable $1.25.
A selection of prepared foods are also available, from the likes of Alidoro, which has created a sandwich just for the shop; Spoon & Sprout's curry-plantain lentil puffs; and Loosie's Kitchen and Café's quinoa salad. And, Krupa is doing one solid by the L.A. expats: She's importing burritos from Burritos La Palma, considered one of L.A.'s very best. (They were a favorite of the late Jonathan Gold, and even catered his funeral.) Along with the bean and cheese, she's convinced him to make a (forthcoming) special breakfast burrito for the store. And because this wouldn't be properly nostalgic without something Big Gulp–esque, there are slushies (yes, organic) from Kelvin Slush Co. in pineapple-ginger kombucha and strawberry and peach flavors.
The Goods Mart, 189 Lafayette, nr. Broome; 323-928-2404