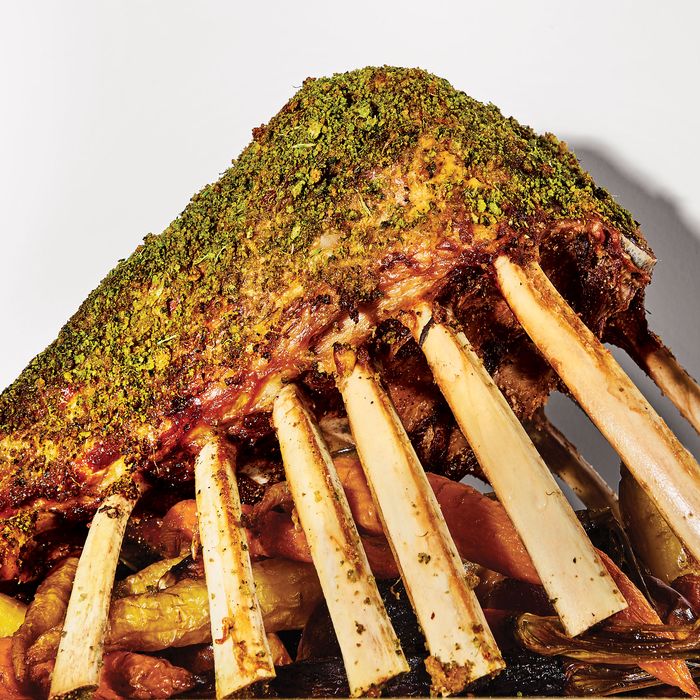 Full rack of lamb bracelet with roasted vegetables.
Photo: Hannah Whitaker
In these increasingly polarized times — dietarily speaking, in this case — how to please everyone at your Thanksgiving gathering? Frenchette's Riad Nasr and Lee Hanson have created a menu full of ideas for our annual holiday-food special. For the carnivores, the classic turkey has been replaced with a 16-rib rack of lamb encrusted with garlic and herbs and served upside down; on the vegetarian side is a tagine packed with artichoke hearts, carrots, beans, and fennel, spiked with exotic star anise and cinnamon. The common thread, aside from the way all these dishes happen to complement one another quite nicely (the tagine's rich barigoule broth, notes Nasr, "still works well with a slice of lamb, if you want it"), is the inherent spectacle: Eggs sunny-side up accompany a whole roasted foie gras; a heaping of aligot potatoes is swapped in for the typical mashed variety and loaded with pungent Cantal cheese and cream. Even the lighter touches, like a sucrine-lettuce salad topped with roasted delicata squash and shaved fennel, are drizzled with a hazelnut vinaigrette for acidity and sprinkled with roasted hazelnuts for an extra layer of aroma and crunch. And in pumpkin pie's stead is an appealingly not-too-sweet pièce de résistance, a crème-fraîche-topped chocolate Pavlova. "Dinner should be about having fun," says Nasr. "And we like it to look a little dramatic."
Menu for 8
Amouse-Bouche
Comté Madeleines With Jambon de Pays and Grated Black Truffle 
Appetizers
• Sucrine Lettuce With Roasted Delicata Squash, Fennel, Hazelnuts, and Shaved Pecorino
• Whole Roasted Foie Gras With Sunny-Side-Up Eggs
Main
• Full Rack of Lamb Bracelet With Roasted Vegetables
• Aligot Potatoes
• Tagine of Artichokes With Couscous
Dessert
• The Black Swan Pavlova With Chocolate Crémeux and Raspberries
Comté Madeleines With Jambon de Pays and Grated Black Truffle
(makes about 21)
1 stick plus 2 tbs. butter
¾ cup milk
4 medium eggs
1½ cups grated Comté cheese, plus additional for garnish
6 oz. AP flour
2 tsp. baking powder
1½ tsp. fine sea salt
6 or 7 slices jambon de pays or prosciutto
Black truffle, for garnish
In a medium pot, melt the butter, add the milk, and bring to a simmer. In a bowl, whisk the eggs. Blend in a small amount of the hot milk mixture to warm the eggs, then stir them into the milk-and-butter mixture and slowly add the Comté.
In a separate bowl, sift all the dry ingredients, then fold gradually into the egg-and-milk mixture. Transfer to a nonreactive bowl to cool, add a cover, and refrigerate for 2 hours.
Preheat oven to 375 degrees. Cover the bottom of each nonstick madeleine mold with 1½ tbs. of batter. Bake for 6 minutes, rotate the pan, and bake for 6 more minutes, or until golden brown on the edges.
While madeleines are hot, split their tops and insert a small slice of jambon de pays. With a Microplane, finely grate a little Comté and black truffle over top; serve immediately.
Sucrine Lettuce With Roasted Delicata Squash, Fennel, Hazelnuts, and Shaved Pecorino
Hazelnut Vinaigrette
¼ cup hazelnut oil
1 tbs. white balsamic vinegar
1 lemon, juiced (about 3 tbs.)
Sea salt and freshly ground black pepper, to taste
Salad
2 medium-size delicata squash
Olive oil
½ cup hazelnuts
10 heads sucrine lettuce (or 4 to 5 Little Gem lettuces)
2 baby fennel bulbs with green tops
2 tsp. lemon juice
¼ cup Fiore Sardo or another aged Pecorino cheese, grated
Vinaigrette: Place all the ingredients in a bowl and whisk together.
Salad: Preheat oven to 375 degrees. Cut the squash in half lengthwise, scoop out seeds, and place cut side down on a baking sheet lined with parchment paper lightly greased with olive oil. Bake for 30 minutes, or until the tip of a knife can easily pierce the skin, which should have some light browning. Cool to room temperature.
Reduce oven to 325 and toast hazelnuts until lightly brown, about 10 minutes; transfer to a tea towel and rub to remove the skins. When the nuts are cool, roughly chop them.
Cut the squash halves crosswise in the center, then cut into large batons about 3 inches long and ¼ inch wide. Snip ends of lettuce stems so leaves peel off; wash and spin-dry leaves. Cut the green tops from fennel and pick off fronds, reserving them for garnish. Shave the fennel very thinly on a Japanese mandoline, from the green branch end down to the root end. (Toss fennel in a little lemon juice to prevent discoloration.)
In a large bowl, combine the lettuce and shaved fennel, season with salt and pepper, and drizzle with enough vinaigrette to lightly coat the leaves when tossed. Arrange in a large serving bowl or on plates.
Scatter squash batons on top, then sprinkle with hazelnuts, grated cheese, and fennel fronds. Drizzle with a little more vinaigrette.
Whole Roasted Foie Gras With Sunny-Side-Up Eggs
1 cup Banyuls vinegar (sherry vinegar can be substituted)
1 lb. lobe foie gras (set at room temperature for 30 minutes)
Fine sea salt and freshly ground black pepper
8 whole eggs (at room temperature)
1 tbs. chopped flat-leaf parsley
Preheat the oven to 300 degrees. Reduce vinegar to syrup in a small saucepan over low flame: Keep close watch, as vinegar scorches. Set aside.
Remove visible veins or membrane from foie gras. Salt liberally and set aside. Place a large, shallow roasting pan or skillet over medium heat.
Crack each egg, making sure to keep yolks intact, into individual bowls; set aside. Once roasting pan is sufficiently heated, add foie gras smooth side down and begin to sear. Pierce center of lobe's backside with a fork to move it freely without burning your fingers.
Carefully sear all sides of the foie gras while guiding it with the fork to brown evenly. Remove pan from heat if it is getting too hot; gradually build a golden brown "crust." If the pan cools too much, place back over flame and continue. Once the lobe is evenly browned, remove fork and turn lobe over with a large spatula; spoon out the fat, reserving a little, then place pan in the oven for 5 minutes.
Check internal temperature with a probe thermometer — it should be 125 degrees (if not, return to low flame and lightly baste the lobe with its own fat, taking care not to burn rendered fat). Remove from pan and plate for 5 minutes, allowing a little fat to seep out. While it rests, remove rendered fat from pan and wipe clean. Place pan back onto low flame; pour fat from plate into pan and heat.
Pour each egg at opposite ends; allow to hold their shape and begin to cook. Season eggs with salt and pepper. Place foie gras in center of roasting pan with the eggs; cook until eggs are sunny-side up. If pan is not large enough to hold all the eggs, cook them in another skillet with some reserved foie-gras fat. Lightly spoon on some vinegar reduction and sprinkle with chopped parsley.
Full Rack of Lamb Bracelet With Roasted Vegetables
8 oz. plain bread crumbs
1 bunch parsley, chopped
1 tbs. chopped rosemary
1 tbs. chopped thyme
4 cloves garlic, roasted
1 stick butter, melted
Salt and freshly ground black pepper
1 full Frenched rack of lamb bracelet (order from a good butcher or lafrieda.com)
12 baby carrots
12 mushrooms (of your choice)
12 baby onions
Olive oil
1/3 cup Dijon mustard
Crust: Chop the bread crumbs in a food processor until fine, slowly adding parsley, rosemary, thyme, and garlic, and process until the mixture reaches a green color. Drizzle in butter and season to taste.
Lamb and vegetables: Preheat oven to 425 degrees. Season the lamb with salt and pepper on all sides. Scatter carrots, mushrooms, and onions over the bottom of a roasting tray, toss with olive oil, then place the lamb, bones down, on top of the vegetables and roast for 10 minutes. Reduce temperature to 325 degrees and cook for an additional 8 minutes; rotate the roasting tray and cook for 8 minutes more. (A convection oven is preferred; if none is available, add 5 minutes to overall cooking time at 325 degrees.)
Remove lamb; let rest 15 minutes.
Increase oven temperature to 400 degrees. Paint the cooked lamb with Dijon mustard and cover with bread crumbs, making sure to pack them firmly onto the lamb. Return to oven for 5 to 8 minutes or until crust becomes golden brown and internal temperature reaches about 145 degrees for medium. Allow to rest before carving. To carve, use a sharp knife to cut along backbone, then slide knife down against the ribs to remove the fillet. Slice into desired thickness.
Aligot Potatoes
4 large Yukon Gold potatoes (about 2 lbs.)
Sea salt
½ cup milk
¼ cup heavy cream
2¼ sticks good-quality unsalted butter, cubed
1 head roasted garlic, removed from skin
16 oz. Tomme d'Auvergne or Cantal cheese, grated
Freshly ground white pepper
Wash the potatoes and place in large pot; cover with salted water and boil until tender. Drain. When they are cool enough to handle, remove the skins and pass potatoes through a food mill or ricer. In a separate pot, bring milk and cream to a simmer.
Put riced potatoes in a medium pot, return to heat, and begin to add butter, using milk and cream to loosen the mixture. When all the butter, milk, and cream is incorporated, add roasted garlic, then begin to add the cheese slowly, with the burner on low. Do not go too quickly or heat the mixture too rapidly. Work the cheese into the potatoes until it forms long strands. Season to taste with salt and pepper.
Tagine of Artichokes With Couscous
Barigoule
2-4 tbs. olive oil
3 onions, cut into large dice
1 head garlic, peeled, cut into large dice
2 jumbo carrots, peeled, cut into large dice
2 leeks, cut into large dice
2 red bell peppers, seeded, cut into large dice
2½ tbs. coriander seeds
10 whole star anise
1 whole Ceylon cinnamon stick
1¾ tbs. fennel seed
¼ cup dried apricots
3 Roma tomatoes or similar, cut into large dice
2¼ cups dry white wine
Vegetable Tagine
10 fresh artichoke hearts (placed in acidulated water)
1 whole fennel bulb, cut into large chunks
1 bunch Thumbelina or similar-size carrots, peeled
8 haricots verts
8 yellow wax beans
1 zucchini, cut into 1-inch chunks
1 whole preserved lemon, flesh removed, the peel sliced thin
Garnish
Chopped parsley, cilantro, and basil
Harissa
Barigoule: In a large pot, add oil to cover bottom and place over medium heat. Add onions, garlic, carrots, and leeks, and sweat for 10 minutes. Add red peppers and continue to cook for additional 10 minutes. Add all the dry spices and apricots, mix with vegetables, and toast for 5 minutes. Add tomatoes and cook for another 10 to 15 minutes, or until tomatoes start to break down. Finally, add white wine and reduce by half. Add enough water to cover vegetables (about 6 cups), bring to a boil, and cook at a low simmer for 45 minutes, or until all vegetables are very soft. Check seasoning. Strain, pressing down on vegetables, and reserve barigoule liquid, discarding vegetables.
Tagine: Heat barigoule liquid in a large pot, add artichokes, and simmer until artichokes are half-cooked, about 5 minutes. Add fennel and cook for about 10 minutes, then add carrots. When artichokes are fully cooked, remove from the liquid and allow them to cool; cut into quarters or leave whole if preferred. Finally, add haricots verts, wax beans, zucchini, and preserved lemon, and cook until tender. Return artichokes to the liquid and reheat. Transfer to a platter, garnish with herbs, and serve over couscous with good-­quality harissa on the side.
The Black Swan Pavlova With Chocolate Crémeux and Raspberries
Crème-fraîche–milk-chocolate Cream
3.53 oz. milk chocolate
1 cup plus 2 tbs. crème fraîche
¼ tsp. fine sea salt
Chocolate Pavlova
1.76 oz. dark chocolate
2 large egg whites (sugar-to-egg ratio should be 2:1)
¼ tsp. salt
¼ tsp. white vinegar
½ cup plus 1 tsp. sugar ½ tsp. cornstarch
18 tsp. vanilla extract
Chocolate Crémeux
5.64 oz. dark chocolate, broken into pieces
½ cup plus 1 tbs. milk
1/3 cup sugar
¼ cup heavy cream
4 large egg yolks
¼ cup plain Greek yogurt
¼ tsp. fine sea salt
Garnish
1 pint raspberries
Crème-fraîche–milk-­chocolate cream: Melt chocolate in a double boiler. Remove from heat and allow to cool, then add crème fraîche and salt and whisk together. Allow chocolate mixture to cool and set (this is best done the night before).
Chocolate pavlova: Set a convection oven to 250 degrees, low fan. Melt chocolate over a double boiler and set aside to cool. Put egg whites (make sure there is no sign of yolk) into bowl of a mixer with a whisk attachment and whisk on medium-to-high speed. When the whites start to froth, add salt and vinegar; when they turn slightly opaque, slowly add sugar, scraping the sides of the bowl to make sure all the sugar is incorporated. Continue whipping on high speed until glossy, stiff peaks form. Gently transfer meringue into a wide-lipped bowl, sift in cornstarch, and very gently fold mixture twice. Add room-­temperature melted chocolate in 2 stages, taking care not to overfold. The idea is to leave the meringue very streaky. Transfer the Pavlova onto a cookie sheet lined with lightly greased parchment paper and gently ease into a circle, taking care not to overwork meringue, as it will fall. Bake in oven for 85 minutes. The outside should have a thin crust and be dry inside; it should not be tacky.
Chocolate crémeux: Melt the chocolate over a double boiler. Bring milk, sugar, and cream to a simmer in a saucepan. Put egg yolks in a bowl and beat; gently temper the egg with a little of the hot milk mixture, stirring continuously, then pour yolks into the saucepan, stirring with a wooden spoon over low heat till the mixture coats the back of the spoon. Strain over the chocolate and stir to combine. Once it has cooled, add the yogurt and salt.
Assembly: Using a wooden spoon, gently crack top of the Pavlova so you can fill it with crémeux. Top with quenelles of crème-fraîche cream and garnish with raspberries.
Frenchette Wine Pairings
From wine director Jorge Riera.
Madeleines
Francis Boulard, Grand Cru, Grande Montagne, Brut Nature 2009 
Salad
Laureano Serres-Montagut, Mendall, Abeurador Amforà, Catalunya 2017
Foie Gras
Jean-François Chêne, La Coulée d'Ambrosia, Aphrodite Douceur Angevine, VdF 2010
Roast Lamb and Artichoke Tagine
René-Jean Dard & François Ribo, Les Rouges des Baties Crozes-Hermitage, 2016 Magnum
Pavlova
Céline & Steve Gormally, Les Dolomies, Carmina Vin de Liqueur (Macvin)
Now We All Get Smashed (or Not)
With concoctions on both ends of the alcohol spectrum from bartenders behind some of this year's best and most anticipated bars. By Chris Crowley
Sweet
1. Booze: Chapulín
By Toby Cecchini, Long Island Bar's unnamed sister bar, opening this fall
Cecchini's makeover of the all-American Grasshopper isn't frozen as in his native Wisconsin; tequila, though, gives it a bit more pep.
1 part reposado tequila (Siete Leguas)
1 part white crème de cacao (Tempus Fugit)
1 part white crème de menthe (Giffard Menthe-Pastille)
1 part heavy cream
1 drop green food coloring
Bittersweet chocolate in block
Shake the liquid ingredients long and hard on ice and strain into a small dessert glass.
Shave chocolate over the top.
2. No Booze: Annatto Soda Chanh
By Wayne Lam, Di An Di
For his riff on Vietnam's refreshing soda chanh, Lam subs out lime for lemon and makes it sweet and rich with an alluringly crimson annatto-seed syrup.
1¼ oz. annatto-seed syrup
1½ oz. fresh-squeezed lemon juice
3 oz. club soda
Annatto-seed syrup:
3½ oz. annatto seeds
2 cups water
2½ cups sugar
Simmer annatto seeds, water, and sugar for 20 minutes. The syrup can hold for about a week in the fridge.
Into a tall glass with ice, pour the annatto-seed syrup and lemon juice.
Top with club soda.
Fruity
3. Booze: Ume Spritz
By Natasha David and Jeremy Oertel, The Hidden Pearl
A heavy pour can be a dangerous thing during the holidays but not so with David and Oertel's spritz, which feels as festive as a punch thanks to its fruity-spicy character.
2 oz. umeshu
1 oz. Amontillado sherry
½ oz. Lillet Rouge
¼ oz. lemon juice
¼ oz. cinnamon syrup
Dry sparkling wine
Build all ingredients in an ice-filled wineglass and stir. (Alternatively, multiply the recipe and build over ice in a punch bowl.)
Top with wine and garnish with a lemon wheel and an orange crescent.
4. No Booze: Not in This Hemisphere
By Eryn Reece, Banzarbar
Reece created a whole menu of low-ABV drinks for her bar above Freemans; for this tart, tropical drink, she takes alcohol entirely out of the equation.
2 oz. verjus
1 oz. pineapple juice
¼ oz. lime juice
¾ oz. simple syrup
Combine ingredients in a cocktail shaker. Shake with no ice.
Pour into a rocks glass.
Top with crushed ice and garnish with Fee Brothers whiskey-barrel-aged bitters and a sprig of mint.
Spicy
5. Booze: Santa's Slurring
By Ben Rojo, The George Washington Bar (opening bartender)
Inspired by Rojo's affection for rum-and-tonics and the grapefruit trees at his grandparents' Florida home, where he spent holidays, this drink marries two winter staples: piney rosemary and sour grapefruit.
1 oz. dark rum
1½ oz. pink grapefruit juice (preferably fresh)
½ oz. Campari
1 dash Angostura bitters
Rosemary sprig
Tonic water
Combine ingredients in a shaker, add ice, and shake vigorously.
Strain into a tall glass over fresh ice, top with tonic water, and garnish with rosemary.
6. No Booze: Cranberry Highball
By Bobby Murphy, Existing Conditions
The nonalcoholic drinks Murphy helped develop for the Greenwich Village bar are far from beginner level, so he's adapted his techniques for a caffeinated highball that blends spiced cranberry with coffee.
¾ oz. cranberry cordial
¼ oz. cold-brew concentrate
3½ oz. seltzer
Cranberry Cordial
2.2 cups cranberry juice
2.2 cups sugar
.2 oz. green cardamom
.1 oz. black caraway seed
In a blender, mix the cranberry juice and sugar. Toast the spices and blend with the juice. Let sit for 15 minutes; strain to remove spices.
Into a tall glass with ice, pour the cordial and cold-brew concentrate.
Top with seltzer, then stir.
Food styling by Jamie Kimm.
*A version of this article appears in the October 29, 2018, issue of New York Magazine. Subscribe Now!