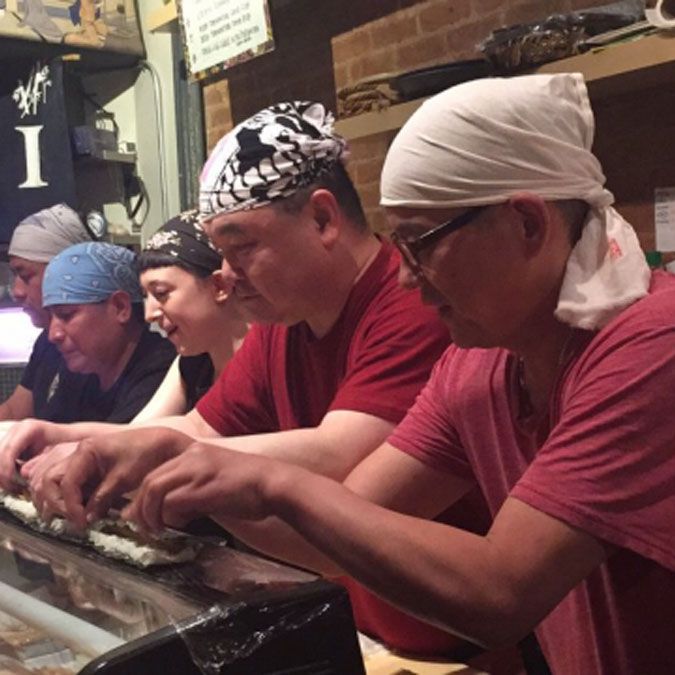 Toshio Oguma and chefs.
Photo: Tanoshi Sushi Sake Bar via Facebook
Toshio Oguma, who became one of New York's most celebrated sushi chefs after opening Tanoshi Sushi and Sake Bar in 2012, died on October 4. He was 58 years old. The chef had been in the hospital since June 27 after his gastric cancer returned, following a long remission, as a stage-four metastasized cancer. (Tanoshi remained open in Oguma's absence, and Grub will update this post with any new information about the restaurant's future.)
News of Oguma's illness became public after a family friend started a GoFundMe to help the family with expenses. According to an update posted to the page, Oguma died in the company of his wife and children and, along with a small ceremony in Japan, there will be a celebration of his life in New York.
Tanoshi caused a stir when it opened, with J. Kenji López-Alt calling it "the holy grail of New York sushi restaurants," and is widely considered to be one of New York's finest places for raw fish. This was because of Oguma's dedication to craft, and also because he was a gregarious host who clearly loved what he was doing and sharing that with people. Oguma was the sort of person who could make you feel like you and whomever you were with were the most important people he'd ever served. He was also generous in sharing his knowledge and passion, most notably with his apprentice Oona Tempest. In a lengthy remembrance posted to her Instagram, Tempest wrote that "Toshio-san always stood up for me … I could never thank you enough."
Tempest stumbled into the world of sushi, after a friend asked her to cover a waitressing shift at Tanoshi. It was there that her passion and talent was discovered and embraced. Sushi is a particularly sexist sector of the restaurant world; men say women are unfit for the job because their hands are warmer, which isn't true, or as the world famous Jiro Ono's son told The Wall Street Journal in 2011, "because women menstruate." Oguma would have none of this; he cared only about passion. In a video for Eater, Oguma recounts how a customer once told him, "I do not want to eat female chef's sushi." Not missing a beat, he responded, "You don't want to eat her sushi? I will not make your sushi either. You will go home."